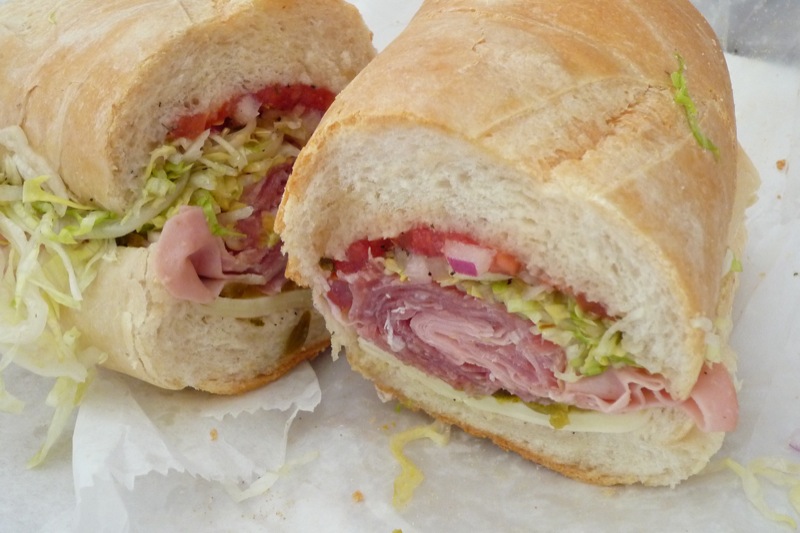 Mortadella, soppressata, provolone, lettuce, tomato, oil and vinegar. That is the V&S Special. There may not be a better sandwich in all of South Florida or, dare I say, Brooklyn. I know, I know very bold words. Well, let me explain. These guys are Italians from up north. They get it. They lived it. But, maybe smarter than me, they moved down to sunny Boca Raton 30 years ago and now are the number one game in town to satiate all the snowbird and transplants desire for a "real" Italian sandwich.
I found myself hear because I came to visit my cousin Nikki her husband Mario and my two nieces (thats how we call them in my fam) Meggie and Molly. As a budding tradition we always hit V&S while we are here. This time Ant was with me for the trip. Here is how everyone made out. Ohh, and let me just add. My V&S special was the best sandwich on the table.
Mario walked straight into this meal from work. Lucky.
Nik is the most fond of pics while eating.
Meggie and her Turkey Sandwich. BTW, Molly was taking a nap.
Ant and his roast beef sandwich. If you are interested in the full Florida set, check it out here.
V & S Italian Deli & Sub
(561) 395-5206
2621 N Federal Hwy
Boca Raton, FL 33431