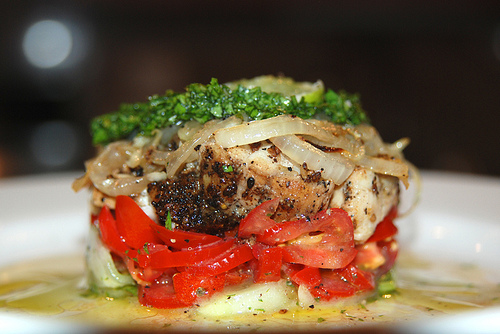 Pretty Fish Regimen
For some reason I like to make my fish pretty. Inspired by Immaculate Infatuation's cleanse I decided to take a deeper look into my calorie consumption over the next two weeks. A happy little app called "Lose It" is keeping track of what I eat and how I exercise. My stomach told my brain of it's disappointment with the little experiment due to a little holiday just 14 days away. Besides that little snafu I have taken to a semi pescatarian diet, hard for this die hard carnivore, and picked up a few goodies at the local fish monger.
The colorful tower above starts with a layer of thin sliced lemon juice marinated cucumbers and cracked black pepper. On top of that are thin sliced pear tomatoes in a red wine vinegar and salt slurry. The sesame crusted monkfish sits in the middle and is topped with carmelized onions and garlic. I snuck in a hint of Spanish smoked paprika too. Finally the chapeau is fresh made cilantro pesto. Delicious at 296 calories.
The left overs, along with some red snapper, are already in the lime marinade for tomorrows ceviche. And so begins the pretty fish regimen.