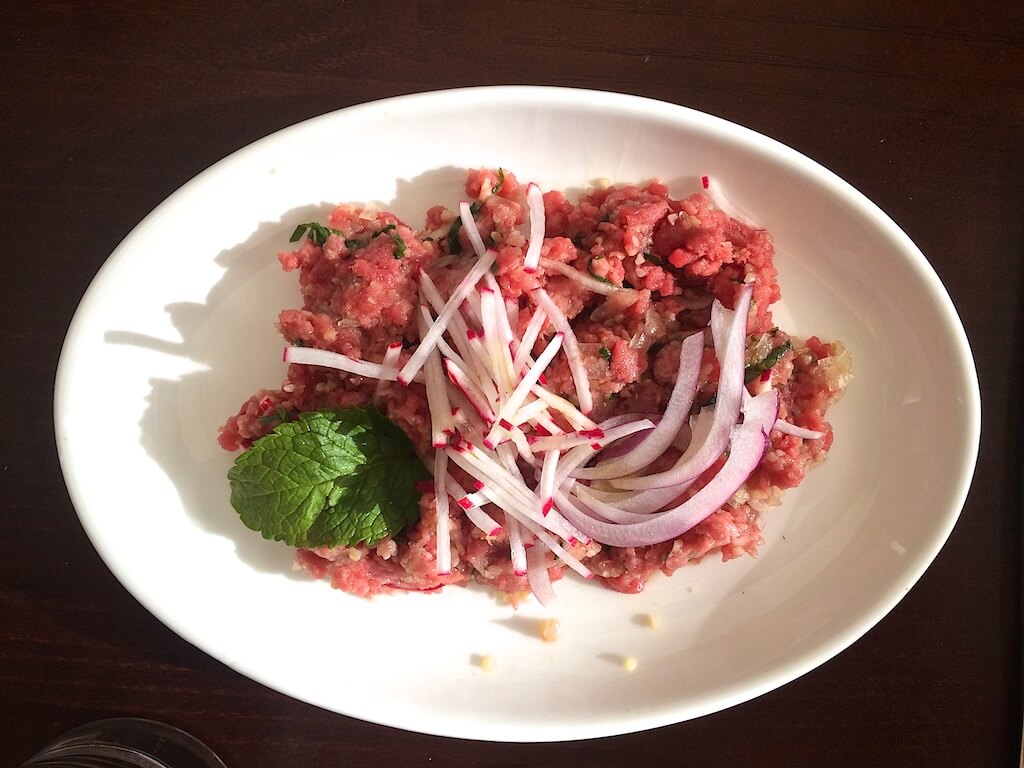 There's two things that are important in this story. One is my lack of travel, and therefore eating, in the middle east. Second, my man crush on Jose Andres due to his gusto and passion in everything he does. Let's tackle these one-by-one.
The middle east, a region that is highly debated internally and internationally with just about everything, the "borders" of the region maybe one of the least important. To diffuse the political onslaught of opinions and debate, I am ONLY defining the middle east borders for purposes of cuisine. They are some of the best in the world which have fallen outside of my travels for far too long. NYC does lots of regional foods fantastic but when it comes to the likes of Israeli, Turkish or Lebanese food the choices are slim. This void has made my itch to eat the authentic food of this region, in region, like a bad brush through poison ivy in July. Finding Zaytinya in DC was a touch of calamine lotion for my middle east itch.
Man crushes, a modern term along with bromance, dad bod and mancave, describing the machismo of American males, is fairly accurate but "admiration" works just as well to describe my feelings of Dr. Jose. If you've ever heard Jose Andres speak you immediately feel his freight train of energy smash you in the face. It's this firehose of excitement that makes him so interesting to me. Mashing up food flavors but keeping it grounded in tradition is one of the things I love most about him. When my french fries were served in a Spanish soccer shoe in his Las Vegas' Jaleo, I thought, "That is the best way I will ever be served simple hot oil bathed potatoes." His Think Food Group not only opens and operates delicious restaurants but uses food to be creative, innovate and solve problems. Something not far from my own process, as I realized a few years back. My artistic expression switched from traditional oil paints to graphic design and then to cooking.
So, on a quick detour to my cousins wedding, I bellied up to a table in the modern, sun drenched dinning room of Zaytnya and proceeded to order the entire menu starting with the Kibbeh Nayeh pictured about. That's a Lebanese style lamb tartare. From there, the Israeli, Turkish, Lebanese,+++ delights cascaded like a spring waterfall in what's known locally as mezze.
Simple hommus.
Feta and cucumber soup.
 Baba Ghannouge. Roasted eggplant with tahini, lemon and garlic.
 Soujouk Pide is a spicy sausage with kasar cheese. We had something similar to this when in Russia at a Georgian restaurant.
 Kale salad with  ladelemono (a lemon mixture) and fava bean base.
 Grilled octopus with split pea puree.
 Lamb Bahar. Better known as kebob.
 Keftedes Kapama are beef and lamb meatballs with feta cheese in a tomato, cinnamon, allspice sauce. Holy damn.
 Smoked sweetbreads with roasted hazelnuts
 Turkish style pastirma which is a cured beef loin on a salad of apricots and arugula.
 Halloumi. One of the best cheese on the planet.
 Garides me antho OR shrimp in a lemon sauce. Simple yet delicious.
 Turkish delight
 Greek yogurt and apricots
Turkish coffee. This must be where the term "mud" came from. I love it.
Those were just the best of the best. I think it's fitting to end this story where we started when we sat down in the restaurant. This is the cover of the menu and I think sums up the experience and the chef.