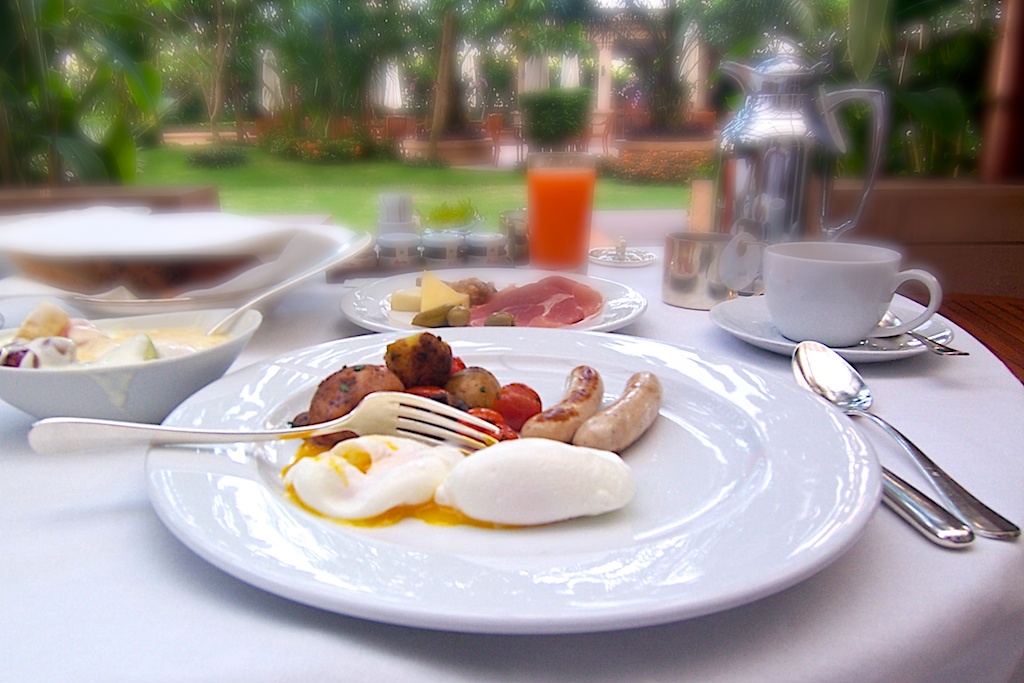 This killer dish isn't as much about the food as it is about the environment. Imagine you just landed in one of the most foreign places you've ever seen. You were accosted by hundreds of thousand of motor bikes swarming around your cab as you journeyed to the heart of a city that's been renamed for a man who has won two major wars in the name of his country and beliefs. Then suddenly, almost as quickly as it began, the may lay of Vietnamese commuters, the never ending hi pitch of the throttle slammed on fast, the smell of the fumes spit out by a catalytic converter-less 115cc engine abruptly ends. You turn into a driveway that at the top has one of the most pristine white facades you've ever laid eyes on. That is to say, the Park Hyatt Saigon is an oasis.
I sat on the inside of that palace when these perfectly poaches "American" eggs and wonderfully fried "British" chicken sausage rolled up to the back door of my hotel room. I swung open the doors. The fresh, thick air pushed in against it's low humidity, climate controlled sibling creating what felt like a stalemate battle between the two. I stepped outside in my robe closing the door behind me. I gazed up past the eggs and sausage. Past the roasted potatoes and proscuitto. Past the yogurt and fruit. Past the sterling silver coffee pot and fresh squeezed blood orange juice. I focused finally on the lush green grass that lead to a terra cotta patio and than to an aquamarine swimming pool. I could faintly hear the motor bikes buzzing which augmented the amazingness of my posh cocoon.
As I sat there breaking into my meticulously prepared "everything" I managed to silence my conscience that was screaming about how just off the hotel grounds were people who struggle to make as much money in a month as I spent on this breakfast. I evaded those voices long enough to relax. Deeply relax. To absorb the humid, jungle air into my lungs. To taste the antibiotic free yolk on my tongue and to smell the locally grown, harvested, roasted, ground and brewed coffee in my cup. Sometimes you need a break. A moment that allows everything to fade away. That break for me was fast but important. The meal lived up to it's namesake and I found myself on the back of a motor scooter less than 30 minutes later on my way to supporting the locals by purchasing as much as I could in the largest central market I have ever been in.
Go there:
Park Hyatt
2 Lam Son Square, District 1 Ho Chi Minh City (Saigon), Vietnam
Tel: +84 8 3824 1234 | Email: saigon.park@hyatt.com