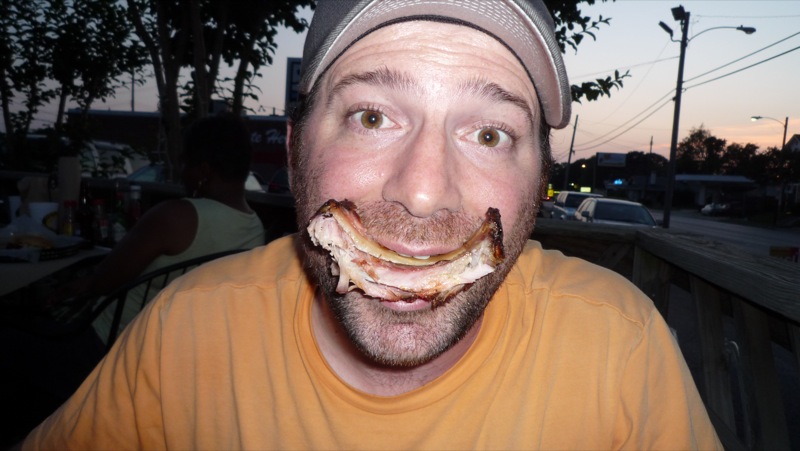 Yesterday I checked out the Memphis in May BBQ competition. I have wanted to experience this festival for about 5 years and so, after Miami I headed out to Memphis to eat some pork. I have 72 hours to eat as many ribs as I can so here we go.
After I poked around all the tents, I went and made some pitmaster friends so I could get some free ribs. I spent most of my time talking up the Whole Hog teams. This scene repeated itself over and over as I was invited into each teams camp. Everywhere I looked there was a huge raw pig and and a unique looking pit master prepping it for the smoker.
I started the eating with Corky's. I ordered a half slab which came with some slaw and some beans. The ribs, beans and slaw were all ehhh. I was not that impressed. The ribs were full of sauce and that usually turns me off a bit. The slaw was Mayo based and I prefer the vinegar based cabbage. Still the slaw was not drowned in mayo so it did carry a nice flavor.
Next was Willingham's BBQ. I ordered 3 bones. They were dry. Better than Corky's but still just ok.
My last stop at the festival for the day was the tasting tent. Here I tasted 5 pork shoulders, all different, and rated them against each other. Of the 5, two were dry, two were wet and the last was in the middle. I preferred the dry over the wet but that is usually the case with me. This was hands above any 'que eating to date in Memphis. Things were looking up.
Completely stuffed and slightly sunburned I headed back to my hotel to nap and digest. A good 4 hours later I woke ready for my next pork adventure. Central BBQ was my destination. It is about 15 minutes from downtown. I jumped in a cab and took the "scenic" route to get to it.
Memphis is a really interesting city with what seems to be such a clear distinction between white and black. In this day and age you would think this wouldn't exist in such contrast. It has everything to do with where the poverty line is drawn and who was on what side when they did it. What really upset me is the way the two races seem to respect, or rather disrespect each other. I am not even going to launch into this debate but, I did feel it necessary to mention. When you live in a city like NYC, day in and day out, you become accustom to the diversity and mutual respect human beings have for each other. Being reminded of the differences from city to city in America is something I don't ever want to forget.
I arrived at Central BBQ to a line out the door. 60 minutes later I had placed my order and was sipping a sweet tea waiting for the runner to bring out my half slab, greens and slaw. The ribs here were great. They fell off the bone perfectly and had a nice deep smokey flavor. Their hot BBQ sauce was delicious and their spice rub was also fantastic. (Hints of paprika and chili mixed with brown sugar and white pepper.)
On the way home from the joint I stopped on Beale St. to feel some blues music and have a few beers. The scene on Beale st. is much like Bourbon st. in New Orleans. After 9pm the street is closed to cars and to anyone under 21. Open containers are permitted in the streets and beer and booze is served about every 10 feet both inside and outside the bars. The bar lined street stretches 5 blocks and is adorned with neon, flashing signs and live music all over the place. The patrons of the street run the gamet. So, great people watching. All colors and creeds dressed in various attire. Some are decked to the nines in heels and tight dress'. Others are in caps and shorts. I have to say it was quite pleasurable to watch this jigsaw puzzle of people wander in, out down and across the pleasures of Beale St.
I blues-ed and drank myself out around 11pm and I headed back to my hotel to get some rest and nurse the sunburn a bit. Tomorrow is another day and I have to be in shape for day 2 of ribdiculous eating.
Corky's Poplar (East Memphis)
5259 Poplar Ave (inside the 240 loop, near White Station)
Memphis, TN 38119 • (901) 685-9744
Sun-Thur 10:45am – 9:30pm • Fri, Sat 10:45am-10pm
Central BBQ
2249 Central Ave
Memphis, TN 38104
(901) 272-9377