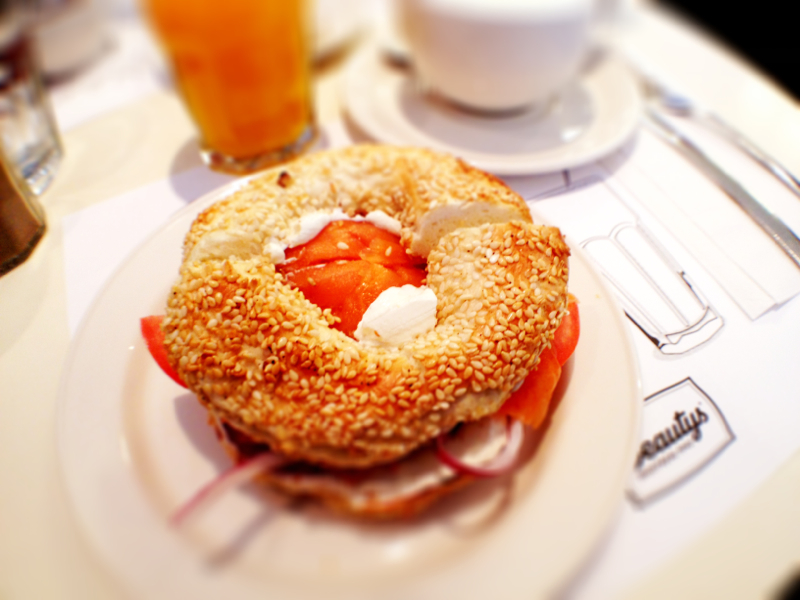 Eating Montreal
Parlez vous manger! Possibly one of the greatest eating cities in the world, Montreal boasts tasty everywhere you look. The French influence makes things more decadent yet the Quebecois keeps it casual. Believe it or not this was my first time to Montreal. For a guy who has been to far flung places like Saigon and Buenos Aires you'd think I would have taken the 5 hour drive from New York as soon as I passed my DMV test. Incidentally I flew. Landing in Montreal-Trudeau felt the same as a shuttle hop to Dulles or Logan but I had indeed crossed an international border. One that came complete with another language to boot. Instantly you recognize the French influence by reading dual language signs and listening to people in the airport converse with each other. Soon after, I learned Montreal is more French than I thought and by some accounts not very English at all. Luckily the bi-lingual, McGill alumni Missus Tasty was by my side to help introduce me to one of HER top five eating cities of the world. You can't go a block without discovering another restaurant or shop serving up a gastronomic wonder, old favorite or newly invented mouth waterer. Book a ticket and start fasting now. You'll need an empty stomach for this one.
The Bites
Day 1
Beauty's: Get a St-Viateur bagel with lox and a schmear. Watch 90+ year old Hymie Sckolnick seat patrons like it was still 1942. Hey, they invented Montreal brunch, what else is there to say.
Rotisserie Romados: There are many Portuguese chicken rotisseries about town. Romados has a line out the door and for good reason. They are spinning, pulling and hacking up suckling spiced birds dawn to deep night. Be prepared to eat on your lap, seating is at a premium but 30 seconds into your first leg and you'll forget all about the fact that you are balancing on the radiator while propping your leg up on the door jam.
Rockaberry on St Denis: They started out with 20 seats and one location. Now they are up to six shops. That says a lot about their pies. Made fresh daily the options are overwhelming and the slices are gigantic. Anything with berries can't steer you wrong. Ohh, and don't forget the vanilla ice cream.
Drinkerie: If you are going to attempt to eat at the restaurant below you're going to have to wait. Yes, I know you made a reservation. YOU ARE GOING TO HAVE TO WAIT. Pop down a block and belly up for a few of, aptly named, Drinkerie's signature cocktails. Or, as Missus Tasty does, sample their bubbly section. It's a casual, unpretentious hang while the Joe Beef boys prepare to blow your mind.
Joe Beef: You've heard about it. It sounds like a ton of hype. Stop thinking. Just go. Every good eater city has one. Portland has Beast. San Francisco has State Bird Provisions. New Orleans has Cochon. Joe Beef is Montreal's. Read the menu and the wine wall and you'll understand. Read their cookbook and you'll be enlightened. Try and sit in the garden (Between May and October unless you are a masochist.) Ask for the tour of what's growing. Make sure to order some beef but try some simpler things like the sautéd beans and the tomato salad. Everything is done with such love and knowledge that each bite feels like a Harvard education taught by Adriana Lima.
Day 2
Lawrence: Go for brunch. The selection changes daily. Share a sweet and a savory option with your dining partner because they ace both sides of the taste meter. Then order a bubble and squeak for the table. Their mix of British specialties and Quebec inspired staples is done with a newness all it's own.
Première Moisson: You'll have been walking around Atwater Market gaping and drooling for at least 30 minutes when you hit this patisserie towards the back side of the stalls. The eclairs are as authentic as Paris. Get two. Eat one with your obligatory Cafe Latte and pocket the second for the metro ride back to your hotel.
Frite Alors: To say you have to eat a poutine when you're in Montreal is like saying you have to breath when you are born. The gravy and cheese curd smothered french fries is served just about everywhere in town but this spot offers variety and focus. Start with the original and work your way into the La Cochonne. This pork fat, grilled onions duo should be followed promptly with walk #2 in the map below.
Brasserie Les Enfants Terribles: The Outremont neighborhood is less touristed. Here is where you'll feel the hardcore French. Some places you can't even hear an utterance of English. The 'hood is a bit posh and Les Enfants is where the locals go to be scene. A large patio wraps the corner restaurant making your approach to the hostess stand an epic journey. Once through the Quebecois pleasantries you'll nestle in the who's-who patrons to get your drink and snack on. The menu is tasty but the presentation competes for priority with the food, as to be expected at a spot like this. Go to feel cool and people watch. You'll have a very solid meal but it will cost you.
Day 3
Restaurant L'Avenue: Before you even sit down in this place visit the bathroom. A mainstay for years, this diner like joint serves the early morning and late night party crowd giant plates of everything from triple decker sandwiches to curry chicken. It's loud, tight and a completely delicious indulgence. For god sake make sure you're drinking, or have been drinking, before going.
Le Comptoir Charcuteries et Vins: Translated this means The Counter. When you make a reservation ask to sit at it because that's the best seat in the house. The daily orchestrated small plates menu will unfold in front of you as you snack and sip your way through 4-8 courses of some of the most meticulously prepared, delicately plated and surprisingly unpretentious food you'll ever taste. The ingredients never seem to mix. The variety almost seems arbitrary. The kitchen calmness is erie. All that considered, every bite is a delightful and surprising adventure.
Day 4
L'entrecote Saint-Jean: Old school professionals lunch here. The menu is set. Everyone gets the same thing at the same price right down to the wine. As you look around the restaurant you can almost hear the stories the walls have to tell. The food has not changed in 15 years nor has the waitress'. Trust me, that's just the way you want it. This is an old school Montreal meal must have. Go for lunch and pretend you're there to close "the big deal".
Restaurant Hambar: If luxury cold cuts was something people said this would be the gold standard. These days it's referred to as charcuterie. Attached to the five star St. Paul hotel, Hambar keeps that service level intact. With dual Berkel slicers viewable from the dining room and an extensive by-the-glass wine list, you can sit here all day tasting meat and sipping grapes. It's a great final stop before heading out to the airport on your purposely scheduled late evening flight home. Go ahead, end on a salty cured bang.
The Map
Save as a Foursquare list | Save to your Google Maps
The Stories
Early Morning Montreal
Our first stop was in Old Town where we dropped our bags at our industrial loft style, old port, boutique hotel, Auberge du Vieux-Port. It was still early so we hopped in another cab up to Beauty's for breakfast. Beauty's is a corner brick in Montreal's food history. Hymie & Freda Sckolnick started this spot back in 1942 and apparently invented Montreal brunch. During our visit Hymie, well into his 90's now, was still seating guests in the bustling restaurant while a line 40 people deep formed outside.
Insiders tip: Go to Beauty's very, very early to avoid a long wait. Take a flight that get's you into Montreal super early and make it stop number one perhaps even before the hotel.
From Beauty's we walked, admiring the Jewish quarter and spilling onto Boulevard Saint-Laurent, the main drag of Montreal.(Walk 2 on map) The shops were just starting to wake up and we discovered a string of furniture, curiosity and home accessory vendors along the boulevard. V de V hit our Portlandia, Industrial aesthetic perfectly. We emerged an hour later relatively sane but $200 poorer none the less. I chalk it up to souvenirs. I don't need a Montreal t-shirt as much as a French olive oil bottle and a cast iron twine spool. Now that's memorabilia! The morning turned into noon as we passed Schwart'z, the heart of Quebec smoked meat. The line here is long and slow no matter what time of day or night you visit. In my town I have Katz, Second Avenue Deli and now Mile End. We took a pass and popped into a 90 minute Moksha Yoga class. The perfect thing to set up up for a day of eating.
Raw meat in the hand 
L'Avenue is one of those restaurants that will always be in Montreal. Part diner and part club, this eatery has the eclectic charm of a Palm Reader shop with a disco ball. It promotes pre and post party eating as its main draw. A quick look at the clientele will confirm this. As you walk through the restaurant to be seated you can hear and feel the pumped up party vibe with every step.
Insiders tip: Immediately after being seated, take a trip to the bathroom. It's one of the most interesting I've ever been in worldwide. Bring your camera you'll want to take a picture I promise.
On this visit we decided to try an "off" time to avoid much of the party vibe and crowd mentioned above. As we were being seated we noticed an older man walking from the kitchen with a cupped left hand held a pile of raw ground meat. His right hand sprinkled some salt on the mound and than grabbed a chunk raising it to his mouth and swallowing. We were seated and the man seemingly disappeared.
The menu is huge and runs the gamut of cuisine from burgers to curry. We settled on a filet mignon burger and a triple decker chicken club sandwich. As we waited for our food, the older man with the raw meat reappeared with another man of the same age. They were both deeply engaged in conversation speaking French when seated next to us. Occasionally a staff member would interrupt to say hello to them, ask a question while pointing to the menu or high five the first gentleman, the guy carrying the meat. We wondered the connection between him and the restaurant.
Our food arrived and they put a delicious burger in front of Missus Tasty and a plate of aromatic chicken curry in front of me. It looked delicious but it was a far cry from the sandwich I ordered. The waiter quickly took it away and went off to fix the order. The man next to us watched the interaction with my waiter intentl. He gestured to the staff, said a few things quietly in French and a few minutes later he was eating the chicken curry plate that was removed from our table.
As we waited for my sandwich, which stretched into the 10 minute zone, the man kept looking at the kitchen and gesturing. A manager came over and he whispered in his ear. The waiter passed and he shouted some French at him. He gestured into the kitchen again and again. We were curious but confused with his attention to our situation.
A long five minutes later, as we were finishing up our wine, beer and the burger, an enormous chicken club with a mountainous pile of fries was placed in front of me. Apologies from the waiter with a leering old man next to us followed. As I dug in, the old man leaned over and apologized saying the mix up was unacceptable and the wait for the right food was atrocious. I asked him if he was the owner or GM. He said he was not. Even more confused I kept eating, enjoying every savory bite of the sandwich.
Finally licking my fingers after devoured both the sandwich and the Everest of fries that accompanied it, I pushed the plate away from my extended belly and we asked for the check. The old man sprung to attention and the waiter leaned closer. Interrupting the waiter the old man waved his hand and told us there would be no check. Our mouths' dropped and before we could utter a word he said there was no excuse for the mix up or our wait for the correct meal. Clearly we were not disputing this decision so we thanked him profusely asking him if he was sure about his mandate. An adamant yes came back as suspected.
We graciously stood up from the table and tipped the waiter on what would have been a $70 CAD meal. As we left the restaurant we peered back at the old man who was looking right at us to deliver a wink and a smile.
Of course the our walk for next 12 blocks was used to discuss this unprecedented event and determine the connection the old man had to L'Avenue. A regular, the mob, a silent partner, the owner, all came to mind. Regardless of the answer, we witnessed customer service that matches few places we've ever been. Yes, the service at some high end restaurants we've patronized is incredible BUT when customer service really counts is when there is a problem. I'd swap white glove service, overly delicate food presentation or multiple waiters per eater for a place that will solve problems with ease and efficiency any day. What the old man did was take a horrible service experience combined with an amazing food experience and make it right. He saved the restaurant more clients than just the two of us. I write this story to all of you. I have told everyone I have discussed Montreal with since the day this happened. For the small cost of some meat, chicken, beer and bread he made us, not only patrons but, advocates for life.
Parked on the street 
Montreal has rich people as do many other places I've visited but there is one thing different here than any other place I have been. The rich parallel park. It didn't matter what neighborhood we were in I saw a $120,000+ car stuck in between a Honda Accord and a Lexus.
I'm not sure if this is done out of necessity, blatant disregard for the value of money or just cultural norms. Either way it seemed crazy. I know I wouldn't be leaving me Lambo parked at the meter while I dashed into Frites Alors for some poutine.
To give you an idea of the kind of rich I am talking about here is the run down of the top exotics I spied in the 4 days I explored Montreal.
Bentley Continental – $209,600
Ford GT 500- $149,995
Aston Martin DB9 – $171,184
Audi R8- $200,000
Porsche 911 convertible – $120,000
That's a grand total some where in the $870,000 range! My wife was less impressed but I had to stop and snap some pics of these beauties as I discovered them. If you are a car guy, or gal, keep your eyes peeled for some rare and pricey Montreal rich people toys.
The Pictures
The exotic cars of Montreal. Parked on the street no less.
The whole, succulent, chopped chicken at Rotisserie Romados.
Pie at Rockberry
Line at the famous smoked meat joint, Schwartz's
Breakfast at Lawrence
Atwater market sausage stall
Street art by EN MASSE
Frites Alors poutine snack.
A sculpture representing the fragility of the human condition.
The chicken club from L'Avenue
Lobster tart, slow cooked onion, roasted tomato, tarragon and creme fraiche at Le Comptoir.
One of the 4 part prix fix at L'Entrecote Saint-Jean
The open air slicing room at Hambar