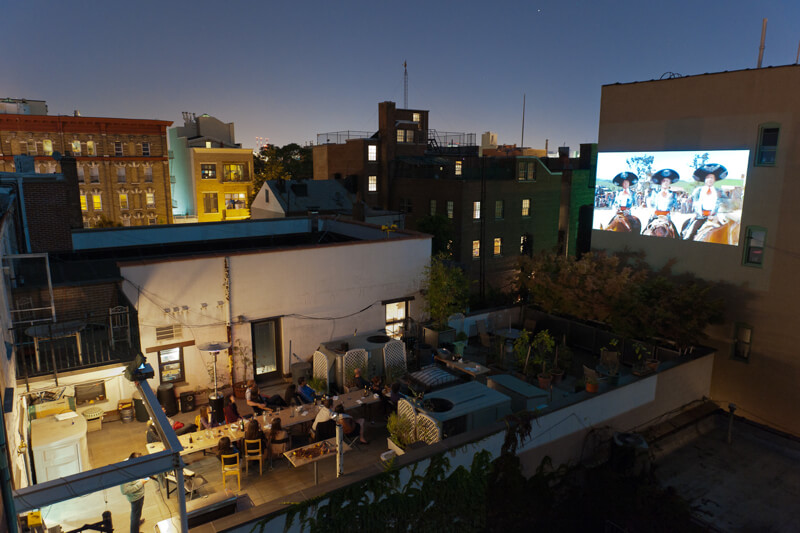 photo credit: Kun Kim
Ariba! Ole! and Amigos!
The season 3 finally of REEL TASTY went off better than we could have ever expected. Again we bit off a little more than we could chew. In the end the Mexican fiesta, with our favorite three amigos, was a pinata smash hit.  Although we didn't have an actual pinata we did have everything else very well represented form pork to beans to tequila.
For those who are unfamiliar with our dinners, Reel Tasty is Forking Tasty's summer supper club where Aimee, my co-chef/host, and I screen a movie on a 2 story building while our guests sample some of our latest and tastiest gourmet creations. As many of you who follow know, we had a few run in's with the weather this season. For our final dinner on the deck, mother nature gave us a treat. A 78 degree day with a cloudless sky in October blessed our deck. This set the scene for a lovely, unusually warm evening to unfold.
As our guests arrived  they were greated with a pitcher of pomegranate margarita to ease them into the mood and begin snacking and mingling. The wines for a Mexican dinner were tough to choose. Lily, of Dandelion Wines, decided to go the Latin route from two prominent Latin wine regions. Chile and Spain are much more known than Mexico for their vino. Although we looked for some Mexican wines, we just kept coming up tequila. She settled on a Spanish white rioja and a Chilean carmenere to pair with our quinticenssial snacks. Guacamole & tortilla chips along with mini corn muffins with bacon-jalapenos started off the snacking and gave the tequila some place to land.
photo credit: Kun Kim
The big hero of the night had already been in the oven for 3 hours when our final guests arrived. As the slow and low continued we started with our first appetizer, a short rib taquitos with crema & tomatillo-poblano salsa. These little gems were succulent, crispy double bites of Mexican heaven and our guests snapped them up with crema smeared smiles.
photo credit: Kun Kim
Next out was the sweet potato-chipotle soup topped with creme fraiche and chorizo. That was followed quickly by a super fresh shrimp & scallop ceviche served in bibb lettuce. We always try to choose a menu that encapsulates all regions of the country we've focused on. With this myriad of appetizers we were able to travel from the mountain towns to the sea villages while still getting in traditional favorites.
photo credit: Kun Kim
The food and beverages seemed to spark some great conversation and our guests started to cozy up rather well. Watching the transformation from strangers to eating friends is one that never gets old for us. It always remains a huge reason we produce our events.
photo credit: Kun Kim
While our guests continued to get acquainted the kitchen was coming close to finishing up the entrees. A mind boggling 8 dishes were about to hit the table. The tough part about cooking Mexican is that it's very difficult to edit down a menu. How could we not have rice? Or pork? Or beans? We couldn't. But, we also had to twist up the traditional preparations a bit which only added to the complexity. It just wouldn't be as fun if we didn't challenge ourselves.
By now our hero had been removed from the oven and was being handled by the business end of my 9 inch Wusthof for several different dishes. There was a cast iron pan with sizzling contents on the stove top with a bubbling, giant crock pot behind it. In the oven was a 12" stainless saute pan chirping with goodness. Simultaneously, a fork was fluffing a hotel pan of rice which awaited it's final ingredient and some beautifully glazed legs, thighs and breasts were being pulled from the grill.
All of that finally culminated into a presentation that rivaled some Mexican parades. In a very particular order, here is the food fiesta rundown.
3. Slow cooked chipotle heirloom beans

4. Flame kissed garlic chicken with tequila glaze

5-8. Roasted suckling pig four ways

The vision was to reconstruct a pig with pork in various ways. To do this we started with the head and the feet. We pulled the pork from the butt and thighs which filled in the pigs rear. We then pulled the pork from the ribs, shoulders and belly and simmered it in a home made adobo sauce. That filled in behind the head creating our shoulders and the top part of the body. The last two dishes were smoked danish bacon and chorizo sausage. The thick cut bacon filled the gap between the adobo and pulled roast pork. The chorizo flanked the entire length of our reconstructed body. The presentation was grand as we paraded the pork board out to our guests and placed it on it's own serving table. This is the first time we asked our guests to stand up in order to serve a dish. Although a bit against our family-style-serving-grain, the drama of the presentation and the picking from the pig board proved a smart decision.
photo credit: Kun Kim
As entrees were being finished up and the pig was reduced to a head (minus the cheeks) and feet our three other heros lit up our make shift screen. This movie is one of our favorites and being able to craft a meal with it as inspiration was lots of fun. We kept the food coming by providing our guests with a hot chipotle buttered popcorn snack while the people of Santa Poco greeted the Amigos on screen.
photo credit: Kun Kim
As the Amigos attempted to defeat El Guapo we cooled and cleansed our guests palettes with a scoop of homemade margarita ice cream.
photo credit: Kun Kim
That prepped them for our final treat of the evening, a chile-spiked chocolate pudding with fresh churros.
photo credit: Kun Kim
Of course no recap is complete with out recipes and a shout out to the crew. They are the backbone of our whole operation and a huge thank you is as due them as you'd give us. The biggest thanks always goes to our guests. You guys are the best. Our next dinner will be annouced shortly make sure you are on the list to get the update.
Recipes:
Whole Roast Suckling Pig
Ingredients:
10 15 pound dressed, oven ready suckling pig (see Note)
1 1/2 cups orange juice
3/4 cup fresh lime juice
3/4 cup fresh grapefruit juice
2 tablespoons coarse sea salt
1 tablespoon freshly ground black pepper
1 grapefruit, quartered
2 oranges, halved
2 limes, halved
1 head garlic, halved
Lemon, lime, or apple for the mouth
Salt and pepper
Directions:
In a bowl, combine the orange, lime, and grapefruit juice and whisk together with some salt and pepper. Place pig in a large garbage bag and combine with marinade. Turn pig every 3 hours. Marinate for 12 hours minimum.
Preheat the oven to 325 degrees.
Remove from bag and pat the pig dry with paper towels. Sprinkle inside and out with salt and pepper and place it in a large roasting pan, belly side up.
Place the grapefruit, oranges, limes and garlic inside the cavity and skewer it closed. Turn belly side down and place a rolled up piece of aluminum foil about the size of a lemon in the pigs mouth. Skewer the legs into position by pulling the forelegs forward and bending the hind legs into a crouching position (if the pig will not fit, lay it on it's side curling the rear legs up and between the front legs. Tie the legs into place).
Cover the tail, snout and ears with small pieces of foil to prevent them from burning. NOTE: spray teh foil with cooking spray before wrapping so it does not stick to the pig skin. Place the pig in the oven and baste with the citrus juice mixture. After the pig has roasted for 15 minutes, baste it again with the citrus juice mixture and reduce the heat to 325 degrees. Roast for 20 minutes per pound longer, basting generously every 15 or 20 minutes with the juice mixture and then the pan juices. To test for doneness, prick the thigh with the tip of a sharp knife to see if the juices run clear. The internal temperature should read 165 degrees on a meat thermometer inserted into the thickest part of the leg.
Remove from the oven and allow to rest for 10 minutes, loosely tented with a large piece of aluminum foil. Remove the foil from the tail and ears and replace the foil from the mouth with a lemon. Carve at the table.
Churros
 Ingredients:
Canola oil for frying
1/2 cup plus 1 tablespoon sugar
1 teaspoon cinnamon
1/2 cup or 1 stick butter
1/4 teaspoon salt
1 cup all-purpose flour
3 eggs
Directions:
Add enough oil to a large saucepan or deep skillet to come to a depth of at least 2 inches; heat to about 350 degrees. Mix 1/2 cup sugar and the cinnamon together on a large plate.
Combine remaining sugar, butter, salt and 1 cup water in a saucepan over high heat, and bring to a boil. Turn heat to low, and add flour, all at once. Stir constantly until mixture forms a ball, about 30 seconds. Remove from heat, and beat eggs one at a time into mixture, stirring until smooth after each addition.
Spoon dough into a pastry bag with a large star tip (or simply drop spoons full of batter into oil). Press strips of dough about 4 inches long into hot oil. Cook as many as will fit comfortably at once, turning as they brown, 5 to 10 minutes each.
Remove churros from oil, and drain on paper towels, then immediately roll them in cinnamon-sugar mixture. Serve hot or warm.