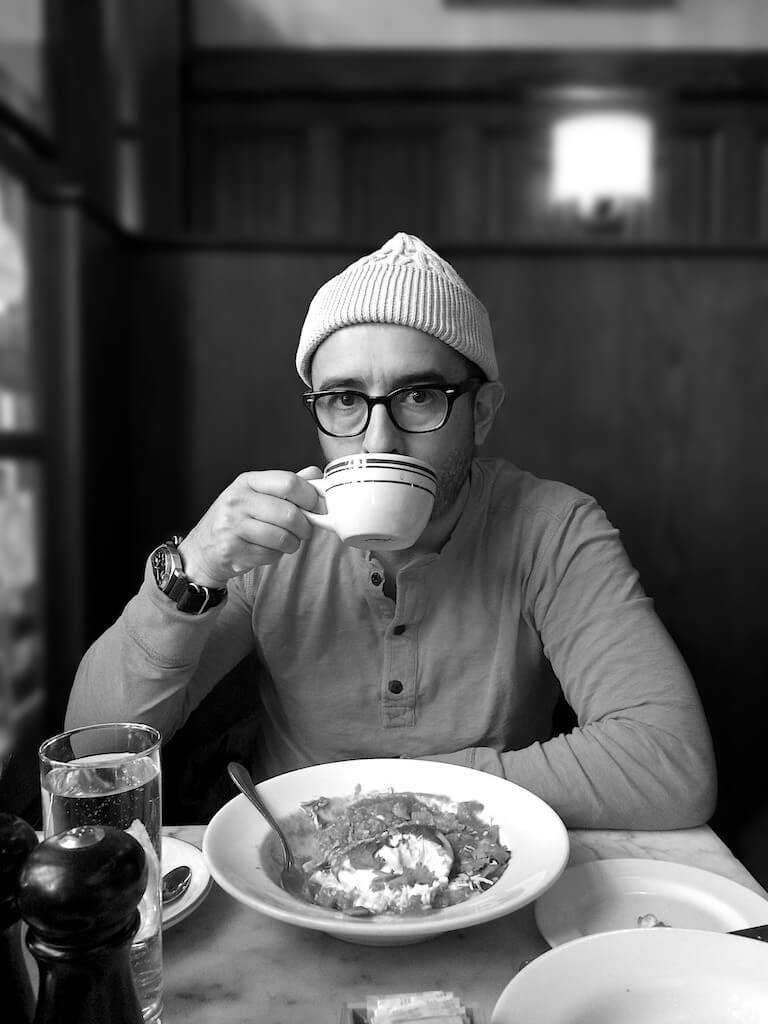 Forked with Ricky Montalvo
Ricky might have more stamps in his passport than I do. An intrepid documentarian and traveller, Ricky sees life frame by frame. We met back at Yahoo! and have been friends ever since. His brand of story fits perfectly with my desire to tell them. Through the years he's made visual storytelling his craft covering everything from the Olympics to his 2 1/2 year old son to "my hair". When it comes to food, he'll make a story of that too. Although, his usually starts with a cocktail. He's a great guy to have at a dinner table because he's sure to tell a tale and also snap the moment. Sometimes it's one in the same. He's that fast. We sat down in Greenwich Village on one of his recent NYC stopovers. Here's what he had to say about TV dinners, tortillas and fatherhood.
What do you think when i say dinnertime?
Surprisingly, my family rarely ate together since they both parents worked a lot. I think about my brother and I fixing our own dinners which were usually meals we'd have to heat in the oven or microwave, and we always had tortillas.
What is your favorite meal memory?
It's TV Dinners from the 70s when we were kids, specifically the Swanson's "Hungry Man" fried chicken/mashed potatoes/brownie/peas combo that were in tin foil which you had to use an oven to heat.  Both my parents worked, usually till 6-7pm, and made very little, so we knew when we got to eat these that it was special and my parents had a good day.  
If you could have your last meal with one person who would it be? Why?
My son. He's 2 1/2.  I'd want to just sit in front of him while we both eat and tell him as much as I could about life, things I've learned, mistakes I've made and things he should do that I didn't. 
Food you love?
I love spicy food in any form: Mexican, Thai, Mediterranean
Food you hate?
Eggplant.
Favorite food city, state or country?
My favorite food country is Italy. Seems that everything has homemade or farm to fork feel.
If you were a food what would it be?
I'd be chips and salsa.
Eggs or pancakes?
Pancakes.
Last person you ate with?
My video crew in Iceland at the Hotel Ranga while on assignment for our travel show.
What time is dinnertime?
Dinnertime is that pause in the long day to talk, catch up and share.
What did we eat?
We met at Hundred Acres for brunch in the village. Ricky had the chilaquiles with poached eggs, ranchero sauce, crisp tortillas, cotija cheese and lime crema. I went for the Goat Cheese-Sage Bread Pudding with Poached Eggs, Wilted Spinach and Lemon Butter.
Hungry for more? Check out the whole Forked With series.