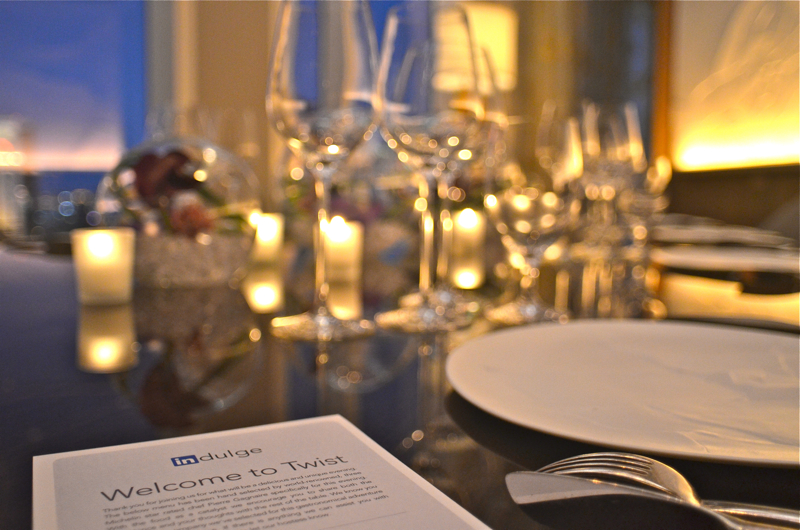 The past two weeks I've been a bit busy to say the least. Those of you eagerly awaiting the REEL TASTY season finally recap, I promise it will be up next week. The delay is not without good excuse. Another example of how my Manifold world overlaps with my food world, I was called out to Vegas by LinkedIn to orchestrate 10 super high end experiences with a gastronomic twist for their top VIP clients. These days Las Vegas is a new Mecca for amazing dining experiences. It's not just the TV chefs that have restaurants popping up either. International chef's like Pierre Gagnaire and Joel Robuchon have built beautiful restaurants tucked into some discrete corners of the biggest casinos on the strip.
To create these incredible, unique and delicious dinners we hand picked what, we think, is the best of the best. Then we went directly to the chef's to get their input on both the menu and the ambiance. All of the dinners were executed in private rooms adding to the exclusivity and the "once in a lifetime" event. The dinners were orchestrated simultaneously sending our 88 VIP's to 10 different fantasy locations.
The first trick was fishing them out of the almost 2000 other attendees that were at LinkedIn's Talent Connect conference. To do this we utilized an SMS concierge so that our VIP's simply had to follow their blackberry's to the initial meeting location. What awaited them was a fleet of jet black, luxury buses and a team of onsite valets. The valets loaded the buses with the appropriate guest list and sent them off to the different restaurant locations. Each bus was then met by a hostess that escorted the group through the casino maze until they were safely seated in our private rooms. Our hostess then helped our VIP's with anything they needed during the evening that fell outside our chef's realm.
Once the guests were seated and the meal began, most chef's made a special appearance introducing themselves and explaining the treats our VIP's would enjoy. The conversation started flowing immediately. Part of everything I do is aimed at fostering good conversation and this was no exception. From the luxury bus to the intimate table for 12, each step was carefully crafted to spark this connection and chatter. That leads us to the food.
A conversation starter in itself, the menu's pulled out no stops with unique flavor profiles and decadent preparations. I suppose it's appropriate to reveal our restaurant list at this time along with a few of the delights that hit the table. Ohh P.S., the below all were paired with wines for each course.
PEARL
Wok-fried Boston Lobster with Thai sauce
Fillet of Australian Rock Cod Garoupa
Pan-seared Filet of Kobe Beef Tenderloin with Black Pepper Sauce
CRAFTSTEAK
Hand-Cut Wagyu Beef Tartare
A5 New York Strip
A5 Skirt Steak
2 lb. Braised Maine Lobster with Tarragon Butter
BERTOLOTA
Ligurian octopus salad, olive oil, lemon
Oven-baked imperial langoustino with aromatic bread crumbs
Grilled Adriatic cuttle fish, salmoriglio sauce
Sheep's milk ricotta ravioli with Tuscan pecorino cheese and Marsala wine glaze, *white truffles
SINATRA
Lump blue crab, brioche croutons, tomato, cucumber, tomato fonduta
Agnolotti filled with bufala ricotta, fresh white truffle, parmesan sauce
Braised veal ossobucco, risotto Milanese and gremolata
SCARPETTA
Oysters & Caviar – Golden Osetra Caviar & Leek Zabaglione
Seared Scallop – Cauliflower, Lemon & Bottarga di Muggine
Milkfed Veal "Osso Buco" – Saffron Semolina Polenta, Gremolata & Veal Sugo
Pumpkin Swirl Cheesecake – Graham Cracker Crust, Pumpkin Seed Brittle
MILOS
Fresh Maryland Lump Crab Cake
Grilled Mediterranean Octopus
Grilled Mediterranean Bass with Santorini Capers
Colorado USDA Prime Lamb Chops
JOEL ROBUCHON
Emulsion of blood orange on a wild berry gelée
Light chestnut cream with foie gras on lardons foam
Black Cod in a yuzu radish velvet puree
Braised veal cheeks in Thai broth, vegetable couscous with broccoli
TWIST
Scallops Ceviche, Mimosa Langoustines, Jerusalem Artichokes Gelée, Celeriac & Horseradish Cream
Grilled Alaskan Halibut Fillet, Chicory Fondue, Fennel and Orange, Potato Alexia
Grapefruit Marmalade, Hibiscus Syrup, Rose Kirsch Parfait, Rose Cristal de Vent, Exotic Fruit Salad, Hibiscus Granite
PICASSO
Pan Seared U-10 Day Scallop
Sautéed Steak of "A" Foie Gras
Roasted Tournedo Loin of Colorado Lamb
BOUCHON
Marinated Olives Rillettes aux deux Saumons Pâté de Campagne
Sautéed Scottish salmon melted leeks & sauce beurre blanc
Pan seared prime flatiron caramelized shallots, maître d'hôtel butter & pommes purée
Now that you are done freaking out and drooling all over your keyboard I'll add my own experience to the mix. As research (read perk), I was able to dine at my choice of the above establishments. Given the limited time I had onsite and not already booked I was only able to choose one and believe me it was not easy.
I settled on Twist and made my way to the 23rd floor of the Mandarin Oriental. I was seated by the window and treated to the 6 course tasting that my VIP's enjoyed the night before. Pierre was in town so he added a little switch to my courses switching the veal for the deer. We normally see this on a menu as venison but Pierre put it the way it's killed. DEER. I admire that. A beautiful, rich, roasted loin of deer accompanied by sautéed sweet potato hyssop and a gorgeous rich reduction sauce was the first plate of a three plate course. Not uncommon, I had quickly learned, for Pierre. The second plate was a juniper marinated deer leg confit with roasted foie gras. The third a sauerkraut and smoked bacon sour red cabbage ice cream with thinly sliced mustard seasoned sausage "Strasbourg". As you can imagine each one of these items was wonderfully delicious on its own and uncannily complimentary of the other dishes. A truly masterful chef orchestrating an unforgettable experience. As I looked out the sky-high window and soaked in the seemingly entire glitter of Las Vegas I thought distinctly that it didn't get much better than this. But it did.
After my next 3 courses, a macchiato and an escort from my table back to the elevators, I returned to the first floor of the hotel and asked for a cab. Moments later a late model, freshly waxed, black Mercedes pulled up. The bell hop thanked me by last name and explained that Casey would take me home in the house car. I can't lie, I felt pretty special. As I spend a lot of my time crafting amazing experiences for others I often harp on the details claiming that every single thing counts. It will ultimately add, or subtract, from the experience. Every once in a while I get a taste of my own passion and this night was one of those moments.