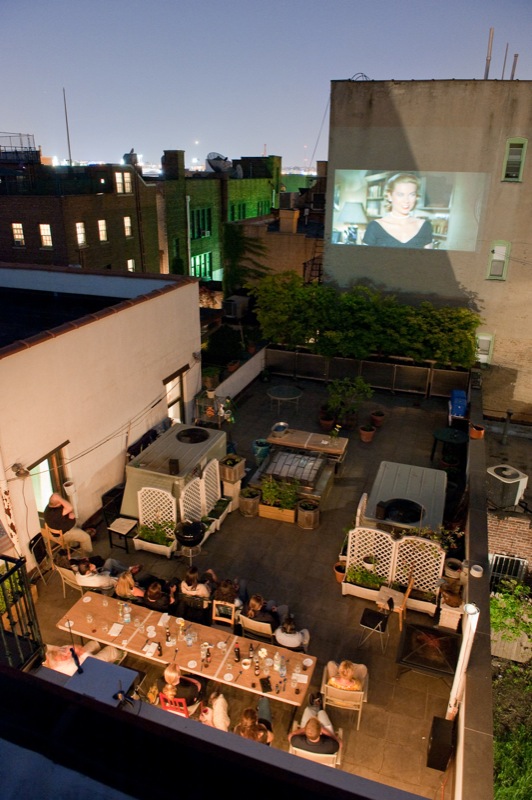 Our second dinner on the deck was a ton of fun. Sorry it took a while to get this post up. We want to, again, thank all our guests for making the evening super special. This Reel Tasty Brooklyn dinner featured Grace Kelly and Jimmy Stewart in Rear Window paired with some wonderful dishes.
For those reading about this for the first time, Reel Tasty is our summer supper club where we screen a movie on a 2 story building while feeding our guests some gastronomic creations. Aimee and I had a great time and we think our guests did as well. We are both really excited about planning our next evening. Right now, we're thinking late July.
The day was beautiful. Perfect weather. Perfect temperature. We started the evening with some snacks just before the sun started to dip.  Candied bacon and peanuts, roasted red pepper and olive tapenade and parmesan tortilla crisps kept guests satiated long enough to make each others acquaintance.
photo credit: Kun Kim
We followed that with three appetizers. First was a grilled shrimp with chorizo butter. And next was a pastrami-cured salmon crostini. I still don't know how Aimee does that one but YUM. The third app was a late addition. We served Aimee's famous tarts for our guests that didn't eat "swimmers".
photo credit: Kun Kim
Guests got to know each other while munching and sipping.
photo credit: Kun Kim
As dusk settled over the deck our guests were seated and we plated the main course. Grilled hanger steak finished with a malbec reduction was accompanied by orecchiette with carmelized onions, sugar snap peas and ricotta cheese. As a final dish we created a jicama cucumber salad to balance the bite of the steak a bit.
photo credit: Kun Kim
Once seated and eating a quiet fell across the table as everyone dug in. Aimee and I topped up the Vino and retired to the kitchen to do a bit of cleaning. From inside the clanging of forks to plates, the thump of a glass being placed back on the table and the dull hum of conversation between bites is always music to my ears. Knowing we have provided 16 people with a unique place where they can connect with each other over delicious food makes me extremely happy. The love that happens at a dinner table, at least in my opinion, is some of the strongest there is.
photo credit: Kun Kim
photo credit: Kun Kim
Dusk thickened up to dark and as our guests were about halfway through their meal the screen lit up and Alfred Hitchcock did his thing. We brought down some of the deck lights and served some spiced popcorn to allow guests to further settle into the cinema portion of the evening.
photo credit: Kun Kim
With about 30 minutes left in the film we served a pavlova with chocolate curd with fresh whipped cream and raspberries. That was followed with a scoop of homemade marscapone ice cream.
photo credit: Kun Kim
photo credit: Kun Kim
As the evening came to a close, Aimee and I finished straightening up the kitchen and were able to enjoy some time with our guests before they started trickling back out into the cool, summer, Brooklyn air and dashing off to their various parts of the city.
If you are thinking about coming to a future dinner drop us a line at dinners@forkingtasty.com so we can put you on the notification list. Thanks to everyone again for making this evening great. We hope to see you all on the deck again soon. As always, below are some of the recipes from the evening.
Recipes:
Ingredients:
1/4 cup extra-virgin olive oil
1 tablespoon dried oregano
1/2 teaspoon freshly ground
black pepper
12 (6-inch) corn tortillas
1 cup freshly shredded Parmesan
1/4 teaspoon salt
Directions:
Preheat the oven to 375 degrees F.
Line 2 heavy large baking sheets with aluminum foil. Whisk the oil, oregano, and pepper in a small saucepan over medium heat just until warm. Set aside for 15 minutes. Brush the oil mixture over both sides of the tortillas. Stack the tortillas and cut them into 1/2 to 3/4-inch wide strips. Arrange the strips in a single layer over the baking sheets. Sprinkle the cheese and salt over the strips. Bake until the strips are golden brown and crisp, about 12 minutes.
Do-Ahead Tip: The tortilla strips can be made up to 2 days ahead. Store in airtight containers and keep at room temperature.
Jicama Cucumber salad

Ingredients:
1 jicama root(diced or julianned)
3 cucumbers (seeds removed then diced or julianned)
1 bunch cilantro-chopped fine
pepper and saltgood olive oil
cider vinager
2 lemons
Directions:
1. mix cucumbers, jicama and cilantro
2. add 3 pinched of sea salt and a few gulps of olive oil
3. mix through
4. add a few pinched of pepper. mix through and taste.
5. add cider vinager and lemon slowly for a touch of punch. mix through. repeat until you have a hint of acid in each bite.
Hanger Steak w/Malbec reduction and Horseradish sauce

Ingredients:
3 hanger steaks
1 bottle malbec
fresh horseradish
yogurt
2 limes
2 lemons
salt and pepperolive oil
Directions:
1. rub salt pepper, juice of one lime and olive oil on steaks
2. put in fridge for at least an hour
3. grate horseradish(watch your eyes) and mix with yogurt
4. adjust flavor and potency with lemon juice and yogurt/horseradich ratio. refrigerate until ready to use.
5. pour entire bottle of malbec into sauce pan. reduce on high heat until 1/4 volume
6. 30 min. before cooking pull steaks from fridge
7. cook steaks on high heat 6-7 min per side for medium rare
8. when you flip steaks turn reduction back on high heat. watch closely. looking for a consistancy where is coats the back of a spoon when you stir teh reduction through
9. remove steaks and let rest for 6 min.
10. slice to desired thickness and por reduction over the top
11. serve with side dishes or horseradish sauce.
Orrechiette with Caramelized Onions, Sugar Snap Peas, Fava beans, and Ricotta Cheese

Ingredients:
2 tablespoons extra-virgin olive oil
4 cups (packed) chopped onions
1 8-ounce package trimmed sugar snap peas, cut into 1/2-inch pieces
1 8-ounce package orecchiette (little ear-shaped pasta) or pasta shells
1/2 cup whole-milk ricotta cheese
1/4 cup torn fresh basil leaves
1 1/2 teaspoons finely grated lemon peel
2 cups of fresh fava beans beans-cleaned, blanched and peeled
Directions:
Heat oil in large nonstick skillet over medium-high heat. Add onions. Sauté until onions are pale golden, about 5 minutes. Reduce heat to medium; sauté onions until tender and deep golden, about 15 minutes longer. Transfer 3/4 cup sautéed onions to small bowl. Add peas and beans to onions in skillet. Sauté until peas are crisp-tender, about 3 minutes. Remove skillet from heat.
Cook pasta in large pot of boiling salted water until just tender but still firm to bite. Drain pasta, reserving 1 cup cooking liquid.
Add pasta and 1/2 cup cooking liquid to onion mixture; stir over medium-high heat 30 seconds. Mix in ricotta, basil, and lemon peel, adding more cooking liquid to moisten as needed. Season with salt and pepper.