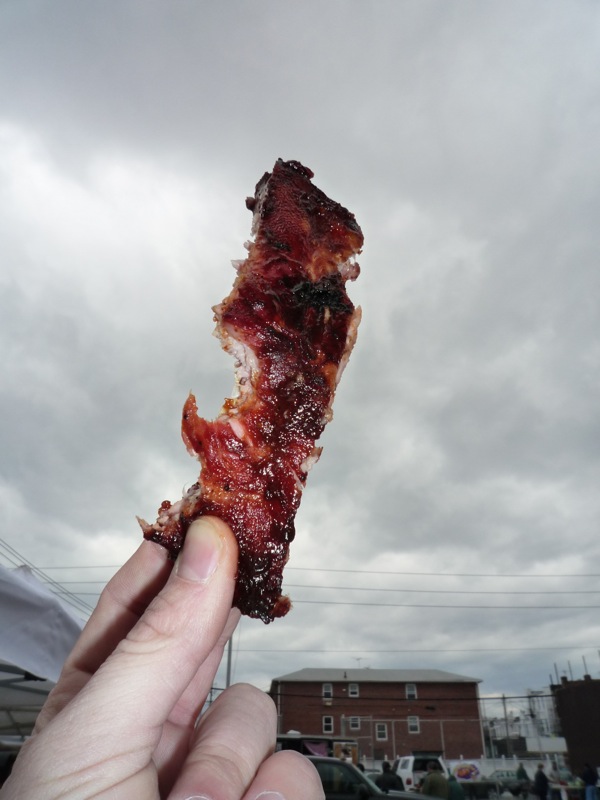 This past Saturday, as I headed to my nephew's 4th birthday party in LI, I had to make a quick stop in Sheepshead Bay. I know, not quite the most direct route to the north shore of LI, but it had to be done. Think of it as Richard Dryfuss' mashed potato sculpture and subsequent journey to the space ship in Close Encounters.
The 2009 Grillin' On The Bay BBQ competition was on and I needed to check it out. The event was sanctioned by The New England Barbeque Society and sponsored by RUB BBQ and Butternuts Beer and Ale. It had about 12 teams all cooking up their best fish, chili, pork and house special. Some of the teams represented BBQ joints from NY, RUB and Wildwood to name a few, but I concentrated on the schmooze. After all, I had a birthday part to get to.
So, lets jump right in. I quickly realized that in order to get ribs I needed to make friends. Typically in a BBQ contest the chef's are making food for the judges not the public. So I got to making friends with the teams so I can later sample the ribs. As I buddied up with the teams, it became more apparent how I was going to score some ribs. A few well placed pork jokes and some help from my friend Jeff would do the trick. Jeff came with his buddy Harold, who is a chef at Perilla in NYC. Between the two of them I had enough juice to  start asking for samples.
This was Jeff and Harold's friends team. They did a nice baby back rib. It was wet on the outside and moist on the inside.
Another friend of Jeff's, these guys had the most tender ribs I tasted all day. They literally fell off the bone.
These are the only ribs for sale. These came out of that giant smoker that I was admiring when I first walked in. They were good. Nice and pink with a dry rub, sauce on the side.
These are my favorite of the day. Cherrywood smoked with a dry rub. Very tender but they didn't fall apart. Also, the guys who made them were the easiest to snag a rib from. They actually called me over as i was working on vuah dah-ing another team. The pic of the rib at the top was the sweetest and wettest rib i tried all day. Number 2 in my ranking. These guys took the most work to snag a rib. They are a team of two. One guy makes the sauce and one guy makes the ribs. Neither of them know what the other guy does so the recipe is always in parts. Good protection, I guess, if you are really worried about the theft of the recipe.
There were ribs her a second ago I swear. And, they were great. All in, I hit about 7 ribs, made 14 friends inside of 64 minutes. Not bad for a pitstop before a birthday party.