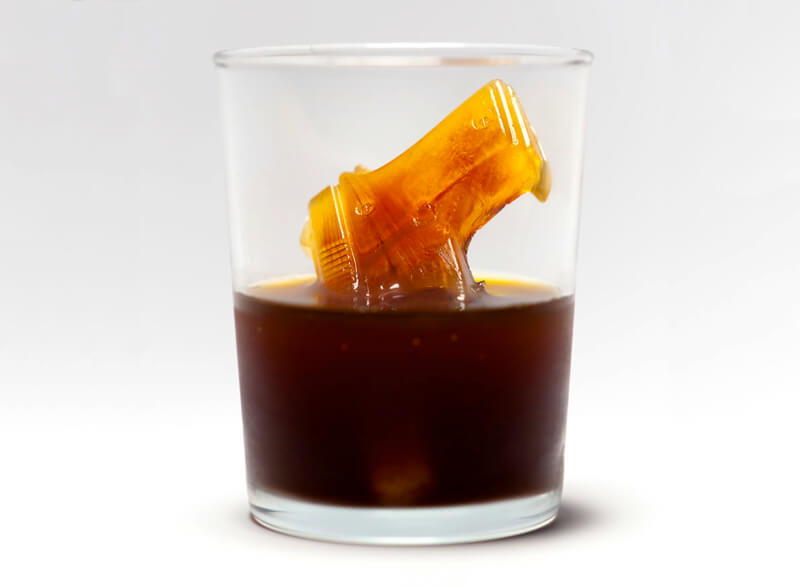 You talkin' to me?
The season 4 opener of REEL TASTY was quite the oasis of an evening. It may have taken us a while to get going this year but we kicked off with a bang. The night itself was an unexpected 84 degree evening complete with a slight breeze. Sandwiched between two blistering hot weeks in July, we lucked out is an understatement.
For those who are unfamiliar with our dinners, Reel Tasty is Forking Tasty's summer supper club where we screen a movie on a 2 story building while our guests sample some of our latest and tastiest gourmet creations. This year we twisted it up a little by focusing on our Italian-American heritage. The goomba season is a mash up of our childhood favorites, regional Italian specialties and Italian centric cinema. To kick off this new format we decided to show A Bronx Tale, a film that my father swears was based on his childhood, only in Greenwich Village instead of the Bronx. Of course, the main character shares our last name so how can we possibly not LOVE this movie.
As our guests arrived they had the standard Italy breadstick and vino table snacks to start them off. Lily, of Dandelion Wines, picked three wines for the night two reds and a white. During antipasti she went with an Ortrugo and a Tuscan Sangiovese to compliment our Tuscan menu items. For primi and secondi she switched the red to an un-oaked Sangiovese. Here is what she had to say about each:
The Intrepid Wine Company 2008 Ortrugo – Ortrugo is one of many super-rare varieties hailing from various corners of Italy, this corner being the western side of Emilia-Romagna.  This wine is fresh and vivacious.  The crisp acidity makes this wine a great companion to food and summer fun!
La Parrina Toscana Rosso – A 3 liter box of Tuscan Sangiovese is equivalent to 4 bottles of wine but in a more economical and ecologically-friendly package.  Not like your crazy Aunt's box of wine!  Real wine in a box is perfect for parties and large group events, or even if you only prefer one glass per night, this packaging allows each glass to be as fresh as the first… Salute!
Sorelle Palazzi 2009 Sangiovese Toscana – Sangiovese is most famous for being the main component of Chianti, possibly Italy's most well-known wine.  This is a young, un-oaked Sangiovese with bright red fruit character and an earthy spice.  A great food wine from Tuscany, imagine that!
As guests were sipping and nibbling we started the antipasti which was a delightful mix of Tuscan inspired favorites and our Italian-American staples. First out was a simple grilled calamari dressed with fresh black pepper, a mature olive oil and a squeeze of lemon juice.
photo credit: Kun Kim
That was followed by a classic Tuscan peasant soup called riboletta. The soup is thickened with day old bread and has the consistency of oatmeal. Not much to look at but packs a delicious and unexpectedly complex taste. Cannelloni beans and the stale bread are the heros of the soup. We added a sliver of parmaggiano reggiano to each glass to give a salty beginning to the soup.
photo credit: Kun Kim
The apps kept coming as we presented a spiced up version of our meatballs that my wife, a meatball fanatic, developed. A chorizo sausage mix replaced the standard pork and we eliminated the veal since the heat would overpower it any way. We did cut the chorizo just enough with ground beef keeping true to the Anello mix. We spiced up the red sauce a bit more than normal as well to give a double layer of heat to the skewered balls.
photo credit: Kun Kim
The final appetizer may have taken things over the top. Last year, while on a trip through Italy, I found an amazing, proper, panini shop. The brothers at Due Fratellini run a little hole in the wall shop turning out fresh rolls filled with the simplest but finest sandwich ingredients. Inspired by this quintessential Florentine experience we recreated two of our favorites.
photo credit: Kun Kim
On the top is homemade ricotta with 18 month aged san daniele prosciutto. On the bottom is fresh, thin slices mozzarella and grilled zucchini. Both are on fresh rolls we had our baker friend size special for this appetizer application. As our guests were finishing up the appetizers and getting more comfortable with each other the kitchen was deep in prep with the remainder of the meal.
photo credit: Kun Kim
With the new format we couldn't bare to produce a meal that didn't have a pasta. To properly enjoy a pasta we believe it needs to be eaten by itself. This results in us adding a sixth course to our already aggressive menu. As everyone found a seat at our trademark, long communal table they each found  their own ginzo money roll containing secrets into what they were about to be served.
photo credit: Kun Kim
Shortly after they settled and we filled up their vino glasses this simple lemon pappardelle with leeks and fresh snap peas was served.
photo credit: Kun Kim
As the pasta was being shared the kitchen was busy finishing the entree course, which was a big one. If there was a centerpiece in this meal it would be the Tuscan steak. A trio of 3 inch thick aged porterhouse steaks were presented, sliced and cooked as rare as possible. The Tuscan steak is a unique preparation in that it must be grilled and finished in the oven due to its thickness. Most steaks in Florence will be rare or cold in the center making it quite a unique meal for most. Since we were inspired by Florence but not actually there, we cooked it a bit more than tradition states providing rare, medium rare and medium cuts. Although, no one would be eating this cut of steak beyond rare if I had my druthers.
The steak was juxtaposed with a family recipe that we can't even trace it's origins. My grandfather cooked only one thing as long as I knew him. This is the dish. His sherry breadcrumb crusted bluefish made a weekly appearance on my childhood dinner table. He never told us where he got the recipe or why he liked it so much. When you think Italian you don't think bluefish but growing up in New York you are very close to some of the best bluefish in the country. So, we decided to bring this family classic to the Tuscan table and honor both my heritage and my grandfather. Those two entrees were presented with a simple salad made up of grilled nectarines and a mix of field green we picked up that morning at the market. We topped it with ricotta salata and the really, really, really good olive oil.
photo credit: Kun Kim
Guests shared, slurped, chatted  and chomped as we prepared to light up the big screen.
photo credit: Kun Kim
As Chaz and Bobby D told their version of my fathers childhood we brought a few more snacks to the table. First was our signature themed popcorn. This time is was parmigiana reggiano. About 30 minutes after the cheese slathered popped corn we served a few bowls of fresh fruit.
photo credit: Kun Kim
Another traditional Italian meal must-do. Fruit always ended the main part of the meal and preceded the sweet confections. Speaking of, just as "C" was trying the Door Test on the big screen we brought out our last two items. A healthy slice of my mother's New York cheesecake and a couple berries for color was first.
photo credit: Kun Kim
This was followed by the final twist to our new Italian format. We couldn't have an Italian meal with out coffee so instead of a homemade ice cream we decided on artisan ice coffee made especially for us by our friends at Upright Coffee just down the block. Of course we added some flair by making iced coffee gun shaped ice cubes. This perfected our chilled espresso shot. I love real life puns.
photo credit: Kun Kim
Of course no recap is complete with out recipes and a shout out to the crew. They are the ones that do the heavy lifting that keeps these dinners going. The biggest thanks always goes to our guests. Seeing them mingle and eat warms our hearts and gets us one step closer to our mission of bringing back dinnertime. As a final thank you we sent each guest home with one of my mother's ricotta cookies. you know, just incase they got hungry during the journey home. Our next dinner will be announced shortly make sure you are on the list to get the update.
Recipes:
Lemon Pappardelle
Ingredients:
3 lbs pappardelle (fresh)
2 lbs snap peas or english peas
3 leeks
Lemon olive oil
2 lemons (zested and juiced)
Salt and pepper
Parmagian cheese-freshly grated
Directions:
1. Saute leeks in olive oil
2. Blanch peas (30 seconds in boiling water)
3. Drain and shell peas
4. Heavily salt pasta water and bring to a boil
5. Boil the pasta to al dente
6. Drain pasta and retain some pasta water
7. Add lemon zest, juice (2 tbs) and lemon infused olive oil into the pan with the leeks
8. Add the pasta to the saute pan
9. Add a little salt and pepper to taste
10. Toss in peas
11. Toss all ingredients. Add a little pasta water and lemon juice if the mixture seems dry
12. Remove from heat and place in large bowl
13. Drizzle a little lemon oil over pasta mix
14. Sprinkle with parmagian cheese and mix
15. Top with a little more parmagian and serve