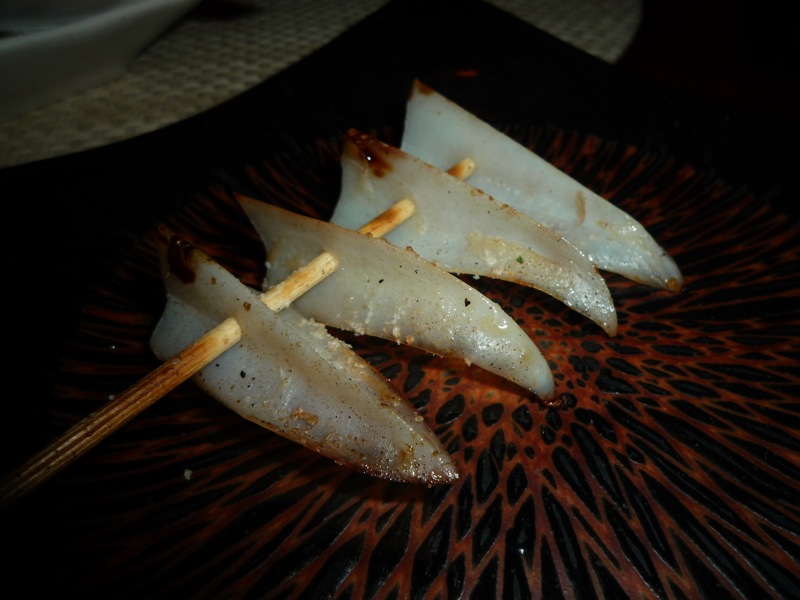 Way back in October I sat down for a meal with my buddy Erik Michielsen. Prior to this our shared meals have been complicated by me trying to keep 16 people fed and happy during one of my backyard supper club evenings. We finally had no other distractions and we picked a spot that would truly indulge our food curiosity and keep the conversation flowing, not that either of us have a problem talking.
Yakitori Torys was Erik's pick and I can't thank him enough for it. Over the 2 hour visit we chewed through a bunch of Sapporo, 14+ skewers and as many conversation topics. Erik is like me. He has his hands in a lot of projects. His latest and greatest is Capture Your Flag. Its purpose is to disarm fears you have and open future planning possibilities. Quite the mission I can get behind. In fact I did.
During the skewer above, which i think is chicken knee or soft bone, Erik asked to interview me. I love the project and we were in an eating frenzy so I gladly accepted. A little snippet from the interview is below. Besides my food world we touched on my Ad Man career, travel, what I inspire to and a bunch of other specifics about the world of me. Check out the full episode if you get a chance.
Next up was a new topic and a new skewer. Below is (I think) soft bone, chicken thigh and chicken heart.
Next topic was travel and the next skewer the famous meatball.
With a fresh Sapporo and another topic we chomped into our final round of skewers. Gizzard, Kobe beef, and Chicken Heart.
Actually that wasn't the end. We found a new topic. Michigan (Erik's home state), so we had a skewer encore. I can not remember what this one was but it was amazing.
What good encore isn't followed by a double encore? Our true last skewer was this pork belly.
Full, tipsy and talked out we rolled down the steps and onto the quiet midtownish/hell's kitchen streets. Our final topic to be discussed, transportation. We then split and headed to our separate transit letters to hopefully find a seat and start to digest. Whew. On the way home I secret thought someone was going to skewed and grill me. I would have been delicious.
Yakitori Torys
248 East 52nd Street
NYC
(212) 813-1800
http://torysnyc.com/