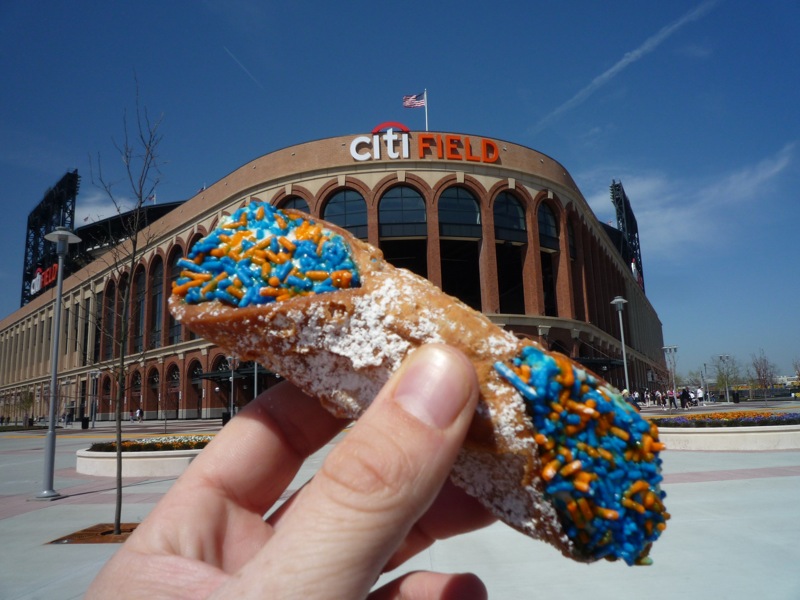 Last Saturday I went on a mission. The mission was to eat as much as I could inside 2 hours at Citifield, the new Mets stadium. I have to acknowledge a few things before I get into the meat and po….well….this will be mostly meat. First, the inspiration for the mission came from an old high school friend of mine, Chris Inzerillo. He commented on one of my other food images asking when he would see some of the eats from the Mets' new home. A sucker for a challenge and always wanting to please my friends, I started to sniff around for some tickets. That brings me to the second shout out. It was less than 10 seconds later when Jen, my partner in crime over at Yahoo!, told me she had an extra ticket. I jumped at the chance and the mission's details were set.
Saturday was a gorgeous 85 degrees and sunny. A perfect day for baseball and food. I got to the stadium a little early to get a jump on the food. Here is what went down.
I started out with a Lobster Roll from the Catch of the Day. Apparently this is an unamed Dave Pasternack Seafood Project. I don't know who that is by the way. They had something called a Sicilian Iced Tea on the menu. I have been to Sicily a couple times and never seen this. I am not even sure what supposedly made it a Sicilan iced tea. It tasted like a regular iced tea to me. The lobster roll was aweosme. $17, but awesome. It was fresh, creamy and totally not what you expect from a NY ballpark. I met up with Jen and the crew and we quickly headed over to Bluesmoke. I am a huge Danny Meyer fan as it is. When you mix BBQ and baseball I lose my mind. After looking at the menu for about 30 seconds, I stepped up to the counter and asked for everything on the menu except the fries. I could barely hold myself back from ripping into the neatly packed, brown boxes, but I managed to keep it cool until we arrived at the seats. I set up my food perimeter and started in with the hot wings first. A meaty set of six wings, with a side of blue cheese, perfectly slide down my throat leaving a nice buffalo burn and my saliva glands screaming for more.
We moved on to a Pulled pork sandwich. Look at that tastiness. The little bun, the suckling, dripping pork mildly tossed with sauce. Truth be told, I doubled my order on this and gave one to Jen. They were just too good to not share.
To close out the BBQ I opened the box of Beef Ribs. These were outstanding. I rave about Danny's BBQ and often claim it is my favorite in the city. Even though I was at a baseball game, up in the nose bleed seats, eating a concession BBQ rib they did NOT disappoint. I sucked these bad boys down to every bone and piece of cartilage that was in that box. I left no pickle or drop of sauce to be had. Washing it all down with a beer, I then needed some digestion time. I watched the Mets pitch and hit their way into what looked like a victory (they won but I left early) and then had to head out in the 5th inning. I had to run to a party back in the city so I bid the crew goodbye and headed for one last snack before I jumped on the 7 train.
I circled all the way around the back of the stadium to Mama's of Corona for a signature Mets Cannoli (pictured at top). On the walk I scoped the places I missed taking stock of them for my next game. I passed Box Frites, Shake Shack, Carvel, Verano Taqueria and Nonna's Deli to name the heavy hitters. I missed the Acela lounge and the Delta 360 restaurant. They are both sit down and fancier. I think those might have to be saved for a late September game, if we should be so lucky.

photo by jaman. Above is the crew. Jen was taking the picture
One more thing before I close this post. I searched hi and low for a food map of Citifield before I went in on this mission and came up empty handed. The best I could do was this post from New York Magazine. I borrowed the below illustration from Remie Geoffroi and added the locations of the food described above. I will work on a better map of my own over the summer so stay tuned. Ohh, and if you have not guessed already, the Bronx is up next. Also check out Ant's update post on CitiField.