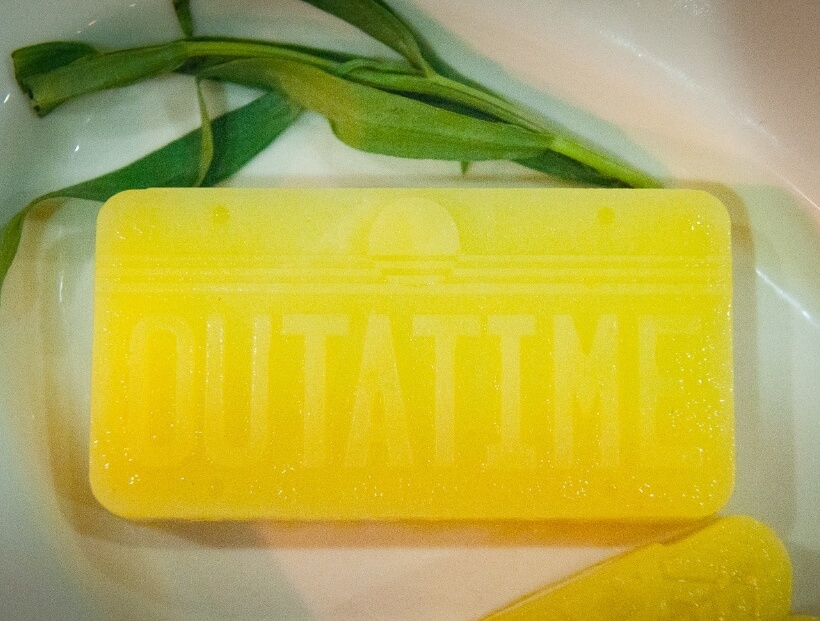 all photos by Kun Kim
Doc, this is heavy!
It was over two months ago now that the Deloreon and MJF blessed the deck with their 80's epic time travel tale. Let's blame it on a rip in the time space continuum that caused us to delay this recap for so long. Truth is we wanted to highlight some of the quirky and specific details the evening contained in a more unique way than we normally do.
For those who are unfamiliar with our dinners, Forking Tasty's events is our attempt to bring back dinnertime by seating a bunch of strangers around a table to share some food, conversation and laughter. This one was special for many reasons but the biggest being that the trilogy is one of Anthony and my favorites. We packed the evening with lots of deep cut moments from all three movies we hope most of you get them as we take you through the nights highlights.
We'll start this recap with a big thank you to Jesus Prudencio for lending us his amazing illustration of the biggest star of the Back to the Future trilogy. With his incredible "cars and films" project the Delorean sits amongst the A-Team van and the Pulp Fiction Nova. A rightful place in this royal list of car celebrities.
A second thanks goes out to our friends at Upright for sharing some of their curated craft beer selection and treating us all to a final futuristic vile of cold brewed ice coffee. It was an excellent pairing with our theme and final dessert courses. But let's back up to appetizers. As we work our way through the evening recapping the food and fun, we decided to pair some of our imapges with the scenes that inspired them since many of them are quite obscure. We hope you enjoy as much as our guests seemed to.
We started with a fried quail egg and fresh ricotta on toasted baguette. Inspired from Doc Brown's Rube Goldberg breakfast making machine, we added the ricotta to give the toast a bit more decadence and texture. Also inspired by the third movie and it's 1885 setting was a sweet Italian sausage and white bean stew.
Jumping back to 2015 and movie two, a mini onion and mushroom pizza replicated the "before" state of the McFly's rehydrated Pizza Hut dinner.
Bite size meatloaf and mashed potatoes seemed like the perfect fit with the 1955 scenes. We took Misses Tasty's killer recipe and tweaked it to have that quintessential ketchup glaze the iconic dish had on the kitchen tables of that decade.
As guests sat down at the long 20 seat table they were greeted with a yellow plum and heirloom tomato salad that sat on just a few leaves of butter lettuce. The lambrusco vinaigrette we dressed it with brought out the sweetness in the plums and tomatoes while simultaneously adding a zestiness to the soft textured flesh.
The main event was our mother's chicken cacciatore. Slow braised for 3 hours the tender chicken represents both our 1985 dinner time favorites and Marty's trigger word that drove him onto hysterics.
Grilled red mullet with tarragon butter and sicilian olives was our nod to the first movies climax scene, the Enchantment Under the Sea dance. The mullet was simply grilled and then drizzled with the butter and fresh tarragon to bring out the fish's succulence. Roasted baby eggplants and a simple ditalini and chic peas summer pasta rounded out the main course.
As guests shared and mingled we got ready to fire up the big screen and give all these food tie in's some context. Moments later Doc Brown and Marty took us on a time traveling adventure snapping many of us back to 1985.
With yet another twist and our predictable surprise, we created a powdered popcorn served with a spoon. We ground down some organic popcorn and with the help of a molecular gastronomy trick we made some powdered butter. Teh perfect future movie snack.
Before we all knew it we we're back in 1985 and Biff was "just starting the second coat of wax" on Marty's dad's Beamer. To accent this lovely decade and our childhood we served a cereal milk ice cream.
Of course the most important and exciting scene in the ending is when Doc comes back from teh future with the flying Delorean. In honor of this we created a Mr. Fusion Trifle (banana, chocolate, walnut).
As always, no recap is complete with out recipes and a thank you to our crew. The true backbone that makes these events possible is the tireless work our amazing crew does before we even start the evening. The biggest thanks always goes to our guests. The reason we do this is to see strangers become friends over some delicious morsels and communal table.  Our mission of bringing back dinnertime took another step forward with our guests traveling in time together on this amazing night. Our next dinner will be announced shortly make sure you are on the list to get the update.
This dinner's recipe is dedicated to our mom. She'd make this dish at least once a week when we were kids and we couldn't get enough of it. We've modified it a little over the years but she still makes the best of the best. We've never found anything in a restaurant or a home that can top it.
Recipes:
Chicken Cacciatore
Ingredients:
Chicken
tomato sauce
red wine
onions
mushrooms
basil
oregano
parsley
Salt and pepper
Directions:
Brown chicken 8-10 pieces with skin – both sides about 5-10 minutes each side
Remove chicken from pan. Take skin off chicken
Sauté onions and mushrooms in chicken fat and oil
Put chicken back in pan and add 16 oz tomato sauce, 4-6 oz red wine, sautéed onions and mushrooms
Add basil, oregano, parsley – 1 tsp each or more
Salt and pepper to taste
Cook in pan for 30 minutes. Longer it goes the more tender it gets
Add water to sauce if it starts to get thick