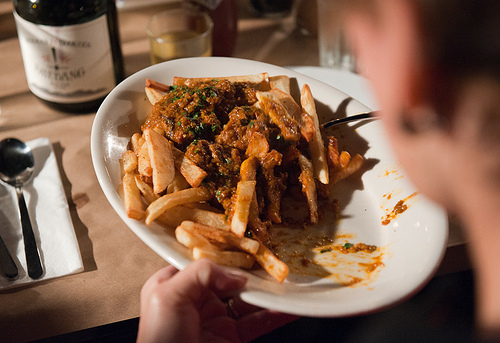 The British invaded the REEL TASTY deck last month with it's comfort classics and it's, now icon, international man of mystery. Aimee and I spun up our take on some of those classics while Austin Powers provided the entertainment. For those who are unfamiliar with our dinners, Reel Tasty is Forking Tasty's summer supper club where Aimee, my co-chef/host, and I screen a movie on a 2 story building while our guests sample some of our latest and tastiest gourmet dishes. What better way to start the evening but with a specialty Pimm's cup, some Port-glazed walnuts with stilton and some curry shortbreads. Ohh, how British.
photo credit: Kun Kim Choosing the beer and wine for this dinner was extra fun. Lily, of Dandelion Wines, took things in the spy direction with Sherman and Hooker's SHEBANG!. This paired great with the short rib shepards pie. For the white she went with Alpha Zeta 2009 Soave from Northern Italy. A stylish white that is crisp and clean as a whistle. For the beers we stayed true Brit with Bass and Bodingtons. The evening temperature was perfect for snacking on appetizers and letting our guests mingle as we prepared the main course. First appetizer from the kitchen were these gorgeous and scrumptious sausage rolls with fried quail egg & bacon.
photo credit: Kun Kim They were followed shortly by mini fish & chips and a few large platters of welsh rarebit. You can eat those for hours, I swear.
photo credit: Kun Kim So I have to admit, this meal was potato heavy. Everything we tried lead us right to a potato. This then translated into a lot of oil, crazy amounts of butter and the fattiest menu we have ever served. We went with it, realizing this was mostly unavoidable with the exception of our take on the mushy peas. We had an interesting crowd that ran the gamet from younger to older and newbies to old timers. That made for an easy and interesting bit of comradery and conversation, something we always love to see during our meals. The light faded away quick it being so late in the season and the deck began to twinkle as everyone buddied up a bit more.
photo credit: Kun Kim As the last bit of chips were pulled from the deep fryer our entrees were ready and guests took their seats at the cozy table set for sixteen. Our take on Shepards pie was the corner stone made with zinfindel braised short ribs in place of the ground beef. (recipe below)
photo credit: Kun Kim The hero entree was surrounded by a few other delicious items running from "just-as-unhealthy" to "fully-healthy". In order of unhealthyness, the curry chips were first. A special "straight-from-India" recipe was used to bring these crispy spuds into super tastyville.
photo credit: Kun Kim Getting healthier we served a classic walnut stilton apple salad. We threw in some fresh heirloom tomatoes because it was the tail end of tomato season and we just couldn't help ourselves.That was followed by those unmushy peas I mentioned earlier. Swapping sweet peas for edamame gave the dish some substance and freshness. We simply dressed them with a lemon verbena infused olive oil and fresh mint.
photo credit: Kun Kim Despite the heavy fat and potatoes our guests enjoyed and, if I didn't know better, reveled in the glutinous meal.
photo credit: Kun Kim As maximum consumption was reaches we turned the evening over to Mr. Powers and let our guests settle in to digest.
photo credit: Kun Kim Of course we always have a few more tricks up our sleeve. The evenings popcorn was an appropriate salt and vinegar. And, just before Austin foils Dr. Evil and saves the day two last surprises hit the table. Our home made tea and scones ice cream along with a fresh sticky toffee custard pushed anyone who wasn't quite there yet over the top. We can't help ourselves we want to make sure you leave full.
photo credit: Kun Kim Of course no recap is complete with out recipes and a shout out to the crew. Without the crew these evenings would not be possible. A new member of our staff took his rookie night in stride. A special thanks to the always hardworking and forever quirky Fletcher. Thanks as always to everyone who attended. You guys are the best. Our next dinner is a little up in the air. We need to move inside as the air gets colder. Make sure you are on the list for the next announcement. Hope to see you all soon.
Recipes:
Un-Mushy Peas
ingredients edamame (steamed and peeled) olive oil (lemon verbena infused if you can find it) salt fresh mint (chopped) directions 1. mix mint and peas 2. drizzle with olive oil 3. add salt to taste 4. serve
Shepard's Pie
ingredients 10 bone in short ribs 1 bottle of red zinfindel 4 cups of beef broth 3 onions-chopped frozen of fresh peas 10 yukon gold potatoes 2 sticks of butter 1 cup of cream 1 cup of milk 1 brick gruyere cheese-shredded thyme salt and pepper canola oil flour directions 1. Add 3 tbs of oil to a large cast iron pot 2. Salt and pepper ribs and in batches to caramelize on all sided 3. remove ribs and deglaze with 1/2 cup of wine 4. pour reduced wine and all the bits over ribs 5. add another tbs of oil to the pot and toss in the onions 6. when they are caramelized add back in all the ribs 7. add the rest of the wine and as much beef stock as needed to just cover the ribs 8. cover and place into a 350 degree oven for 3 hours 9. remove from oven. remove ribs. Place sauce and ribs in the refrigerator overnight 10. In the morning, remove the layer of fat from the top of the sauce and simmer on high to reduce by 2/3 11. Add ribs back to the sauce and place in 350 degree oven for 1 hour 12. remove from oven and strip meat from bones in a separate pan. Discard the fatty layer that attaches meat to bone. 13. shred rib meat 14. add peas to the meat 15. Add flour to water and make a slurry 16. With sauce still simmering, add slurry to sauce and whisk to thicken 17. Once thick pour sauce over rib meat 18. peel and boil potatoes 19. drain potatoes. add 1 stick of butter and cup of milk 20. mash vigorously. add cream and more butter until smooth 21. add fresh chopped thyme and a few pinches of pepper 22. Take an oven safe casserole dish and start to build your pie 23. layer half to 2/3 of the pan with rib-pea mixture 24. on top of that layer mashed potatoes 25. smooth with a spatula and be sure to use potatoes to seal the edges of the casserole dish 26. sprinkle with cheese over top 27. bake in 350 degree oven for 25 minutes until hot