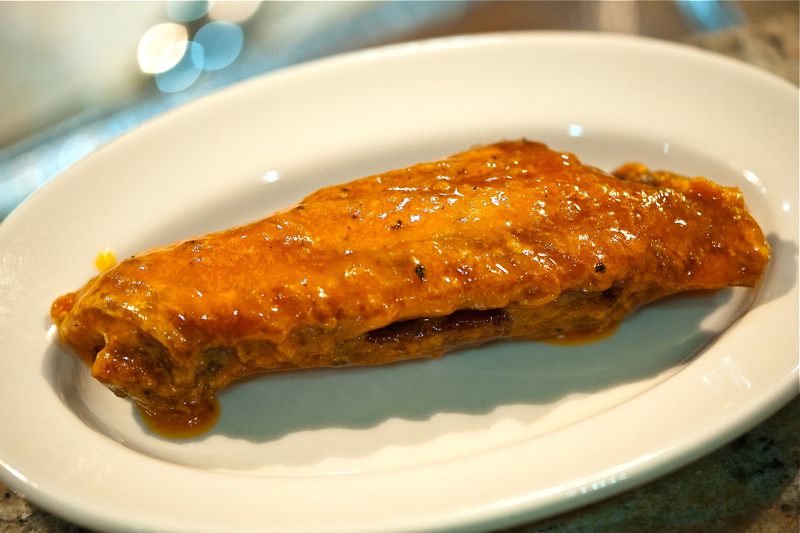 This past Sunday was our third annual Thanksbringing meal. Those not familiar with the ritual can brush up here. As the name implies, Thanksbringing is the yearly potluck in which I open my kitchen up to my wonderful friends who take turns cooking and heating up their contribution to the feast.
This year we played things a bit different in the meat department. In past years we have been partial to the drama of deep frying a bird. Although, all the recent talk about heritage breeds of turkey got to me and I needed to see what the hype was all about. Once I procured one of these difficult to find birds from the wonderful people over at D'Artagnan, I then started thinking through the flavor and cooking logistics. Generally the bird is supposed to have a more "wild" taste, have more red flesh and smaller breasts. Hold your jokes Bevis. Deep frying it would be a sin and the oven was needed to heat up all the side dishes. I reluctantly turned to the grill. Having never grilled a turkey before it was a big risk but I do like it on the edge. After 3.5 hours the result was an amazingly moist, succulent and delicious bird. The fennel seed, brown sugar and coriander brine helped as did the sage butter basting but the meat tasted distinctively different for the better in my opinion. A red bourbon breed turkey is not for everyone but it's a nice change of pace from the standard annual tradition.
That left us with a void. A perfectly good deep fryer with nothing to go in it. Worse, we had no real cooking drama. I couldn't let that happen. I decided the perfect use for the power house cooker was what you see above, Buffalo Turkey wings. Thirty pounds of them to be exact. Nothing but butter and Frank's Red Hot. Traditional wing sauce, holiday appropriate poultry parts and the deep fry drama proved to be a big hit as well as a tasty one.
As you all run out of work early today and head for your respective big tables of food and family consider your Turkey day risks this year. Maybe it's white meat instead of dark meat or a sweet potato, biscuit sandwich with cranberry sauce. Whatever it is, give thanks for the bounty, the friends the reminder that you'll have plenty of leftovers on Friday. Happy Thanksgiving!
Images and the below cake provided by my good friend Kun Kim
Here's an updated slideshow of the chaos. 40+ people this year!