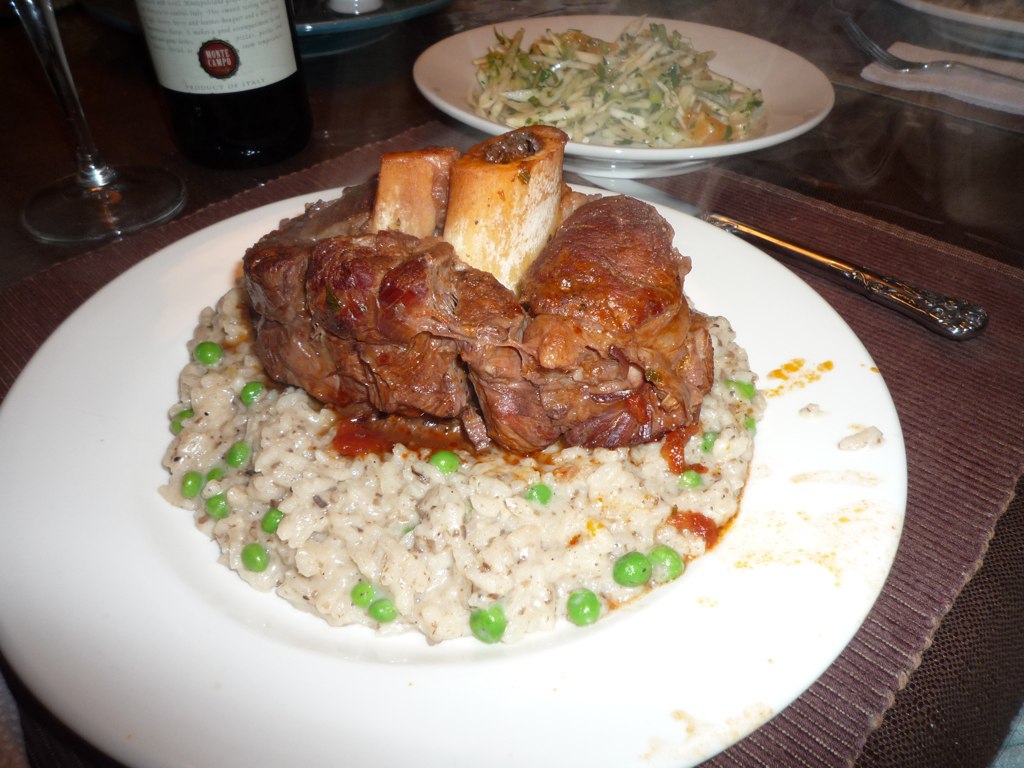 Making Mom Happy
It seems that in recent years my mother has acquired quite the penchant for Osso Buco, the Italian peasant food that is now a top priced menu item. If you as her she will tell you she has always loved it. Regardless, If a restaurant has it on the menu we are there. It doesn't matter what the restaurant looks like, smells like or where it is, we must go in and order the osso buco. In a lot of ways I think this is a fun little game but on the flip side, I can not help but think how easy it is to make the dish.
So, today I decided to make some osso buco for mom. I woke up eraly and headed out to Long Island stopping at Whole Foods for my provisions. It is not the cheapest place in teh world but I knew they would have veal shanks. They had them and $100 in veal later I was on my way to the house. As soon as I arrived I got to work. The worst part about the dish is that it takes a good 3-4 hours to hit that sweet spot. In short here is how you make it.
-Flour the shanks
-brown the shanks on all sides
-throw in some onion and garlic(maybe a pepper)
-deglase with some red wine. Then dump another cup of wine in the pot
-Add a can of stewed tomatoes and 4 cups of beef or chicken stock
-let simmer for 3-4 hours. Top off the liquid as it evaporates.
Not too tough and very little room for error. Of course this was my mom so I couldn't stop there. I accompanied the shanks with a mushroom and pea risotto. And, as a starter, I did a fennel and celery root salad with Peruvian tangelos. That turned out real nice. The recipe is below. The dish came out fantastic. Mom was delighted. She now knows hoe easy it is to make but my guess is she will still play the restaurant osso buco game or dial up her son and sweet talk him into making some. I think I can live with that.
Spring Root Salad
Ingredients
2 heads of fennel
half a celery root
parsley
3 tangelos
olive oil
cider vinigar
salt and pepper
scallions
Directions
1. chiffanad celery root and fennel
2. finely chop parsley
3. thinly slice scallions-whites only
4. seperate tangelos then slice then into small triangles
5. mix above ingredients together
6. add olive oil, vinigar and salt and pepper
7. mix through and serve