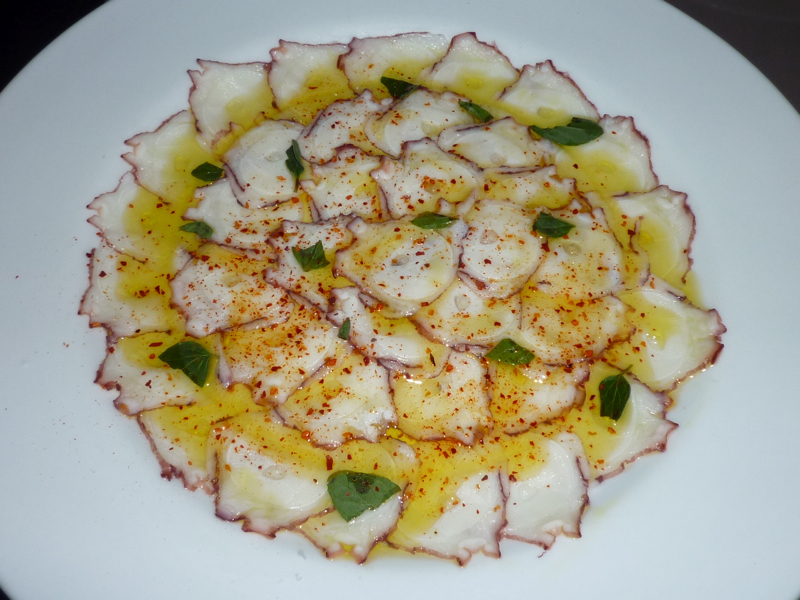 I have had latin fever lately. I am not sure why, but I like it. Seems that given the choice my go to is a new taco join or tapas spot. Coverage of this current food fetish starts with Txikito Cocina Vasca. I originally discovered this spot because of it's ranking on NY Mag's Best Burger list, which I have yet to have. Despite the allure of a double burger named after the devil, I stuck with Basque classics. The atmosphere is not quite as bar-ish as I remember San Sebastian. But, after the first bite of plate numero uno, I was transported back to a Tuesday in June 2005 when I stood in a small tapas joint struggling to order amidst the locals as the clock struck midnight and the nightly eating frenzy went full swing. The ARRAULTZA (sofrito, palacios chorizo and a fried quail egg) was delicate and delicious.
Plate dos came quickly on the heals of the quail eggs. The MARIJULI (sweet pepper, tomato, Jamón, Basque anchovy) excited both me and Josh, my eating pal and veteran of his own Basque tour some years ago.
Once the plates start coming they seem to start piling up rapidly, typical of my tapas experiences. Txikito was no exception. This roasted cauliflower hit the middle of our table before we even bit into the marujuli.
That was rapidly followed by the octopus carpaccio pictured at the top. This is one of Txikito's signature dishes. The way it looks, tastes and smells will make you happy you ordered it. Before I sat at the table I had a glass of wine at the bar and chatted up the bartender and a seasoned patron. They both raved about the octopus but I was skeptical. I don't like the idea of signature dishes and frankly, octopus carpaccio sounded like a bullshit money maker. I likened it to a short ribs special or the newest money making fad, bone marrow. That shit was thrown out 2 years ago. So much for my "signature dish" theory. This is a mandatory order upon every visit.
Next up was bocadillo-ville. One of my favorite Spanish words and an equally delicious follow up to the Octopus. BOCATA (warm sandwich of un-smoked bacon, melted cheese)
From there things got heavy, bold and super savory. MORROS PRENSADOS a seared veal jowl terrine, sweet onion vinaigrette made both of us turn into white eyed-candy store kid-blubbering fools. You'd never think a cheek could smell so amazing let alone taste good. Anyone with that thought would be wrong. I don't think this lasted on the table for more than 5 minutes as Josh and I made quick work of the slow braised, tender amazingness.
Every tapas meal needs an "over order" item. It is really a psychological irrationality. Small plates(tapas) equals small portions. Small portions means you have to make sure you alter your ordering strategy so by the end of the meal you are satiated (read full) In the midst of ordering most of us loose track of the quantity of dishes ordered and focus on our own, misconstrued idea of the portion sizes. Because of this there is always one dish too many ordered, at least. Tonight's winner was TXILINDRON a spicy cross-cut pork spare rib.
Again, this plate was done to perfection and easily slide down to join it's friends in our now overstuffed bellies. Need I emphasis how amazing this spot was? Need I rave about the delicate yet bold dishes more than I have? Suffice it to say I will be back, and soon. Hurry there yourself if you are in NYC. Tony B. just filmed his blog episode from there and I fear they may start to have that dreaded people pool that forms out front of new hot spots. Usually the pool is filled with d-bags and star f-ers more excited to be scene that care about the food quality but, Txikito is definitely food first. Leave you Dolce and Gabbana home but grab your bibb and I will see ya in San Sebastian soon.
Txikito
240 9th Avenue
New York, NY 10001-6602
(212) 242-4730
www.txikitonyc.com