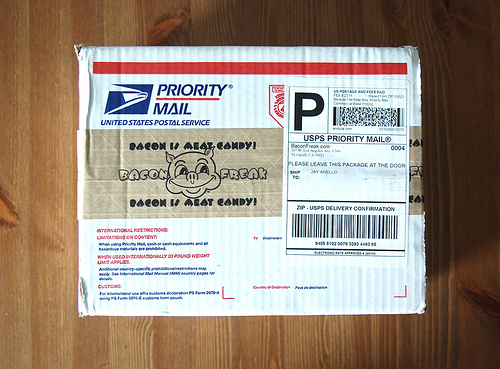 This came in the mail today. I didn't order it. Those of you who know my love of pork can imagine how curious and excited I must have been. Inside the package, which was open 15 seconds after I closed the door, was a seemingly endless array of swine goodness. As I pulled out pig I realized who this perfect package was from. A few days earlier my good friend Barb asked for my address and it had completely slipped my mind until now. Realizing Barb makes a living out of being unique, crafty and extremely dialed in to her clients and friends personalities it makes perfect sense she would send a gift so amazing. First out of the box were four packs of bacon jerky.
First was a peppered Bacon followed by a cajun bacon. Third out out was the hot jalapeno bacon. And, the final jerky was an interesting sun dried tomato summer BLT jerky. That has to go on a sandwich pronto. Fifth up was a T-Shirt that says exactly what I was thinking as I finished chewing and swallowing my second piece of cajun bacon jerky.
The grand finally was two full packs of cured bacon. The first was Hickory smoked and the second Honey BBQ rubbed.
The best part of all of this is my packing slip had a big sticker on it that said, "Your next monthly shipment will deliver the first week of MARCH". Hot damn, stay tuned. If you are wondering how you can get all this bacon goodness for yourself take a peek here and join the Bacon Freak of the month club. I don't think you will be disappointed unless you are vegan or an pig.