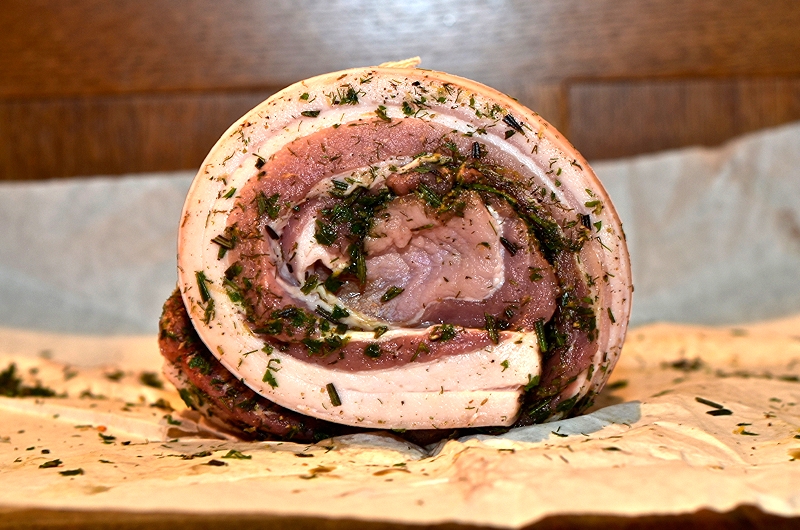 Porchetta Practice
This past weekend turned into a full on assault of the market, the kitchen and the stomach. The highlight was definitely the pig. Knowing I had 20ish people stopping by on Saturday afternoon I spent Friday afternoon procuring one of the finest and most delicately butchered pieces of meat you can buy.
In Italian porchetta refers to a whole pig that is deboned, stuffed with herbs, rolled and tied and then slow roasted for hours. Street vendors slice off sections of it and put it in panini. Restaurants cut thick cross sections and serve it as an entree. In Rome you can't walk two blocks without seeing a vendor.
We were not going to roast a whole stuffed pig BUT believe me, I thought about it.
Instead, we purchased this pricey gem from Fleisher's butcher in Park Slope Brooklyn. The cut is a pork belly with loin attached. It started out at $170 but I had them cut it back to kiss the $100 mark. Afterall, this was just a test. I know a cheaper way to create a porchetta is to buy the loin and belly seperate and roll them. I was just hell bent on this being one cut of meat straight from the pig. In the end the guys at Fleisher's sliced the porchetta down to $100 and threw in a frer rotisserie chicken for good measure. It was delicious btw.
Back in my kitchen I started, what I now realize, is a simple 4 step process.
Step 1: Spice prep
You can put almost anything in your spice rub but I opted for the more traditional ingredients. In my research I noted several recipies that had a dry and wet spice rub. For the dry I used salt, fresh ground pepper, dried rosemary and fennel seeds. For the wet I used fresh rosemary, fennel fronds and parsley. I blended the fresh stuff up with a little sweet red wine to muddle it all together a bit and add some sweet. As a final spice I prepared some red pepper flakes.
Step 2: The lipstick
As I mentioned my mini porchetta consists of a loin and the front one foot of the pork belly (better known as bacon). The belly cut technically extends all the way up to the back which is where the loin mussel is found. Here you can see the loin on the left (thats the back mussel) and then the long belly laid out off the loin. The ribs have been butchered out but the loin has been left attached to the belly. For more on how this is broken down check out my pig butchering experience.
In this position sprinkle on the dry spice. Once lightly coated (Don't go crazy like with a bbq rib dry rub) repeat with the wet spices. This time you can be more liberal. Try and coat the meat competely with a thin layer of the wet spice mixture.
Finally the roll. Starting with the loin end, roll tightly towards the belly. When you reach the end tie tightly with butcher twine.
Step 3: Rack and roast
From here its a cake walk. Find a large high walled roasting pan. Lots of fat will render out of the roast so make sure it's a solid vessel. Set up a cooking grate for the porchetta to sit on. Insert a thermometer probe dead center of the loin so that the point of it sits dead center in the roast.
Place into your 275 degree preheated over (mine was set on convection). Go have some wine for about 4 hours. When your temperature alarm goes off indicating 145 degrees, remove the roast and turn the oven up to 475 degrees.
When the oven is at temperature place the roast back into the oven for 10 minutes. This crisps up the skin and finished the roast with a delicios and dramatic crust. You can go longer or shorter on this step based on how crispy you like your skin.
Step 4: Carve and eat
After letting the roast rest for about 10 minutes its ready for slicing. Make sandwiches or plates. Whatever you do make sure you get the juices that run from the slices into your belly. My porchetta was a big hit with my guess on both taste and drama making this test a sucess. Looks like this one officially makes it into the Forking Tasty supper roster. Look for it at an upcoming dinner very soon.