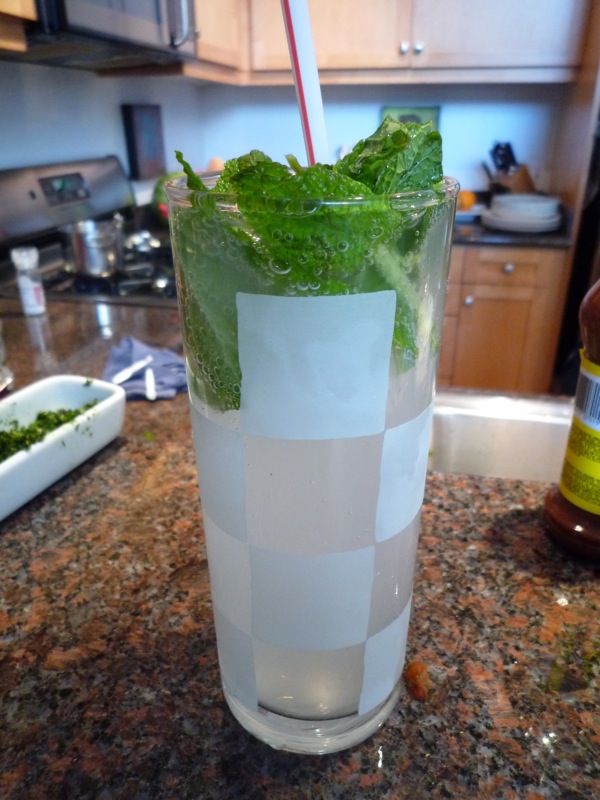 Tequila, Beef and Rock
It was after a long day of hiking in Marin when I finally pulled into the alley that my friends Brit and Ricky call home. It has become a staple stop on my San Francisco itinerary and this trip was no exception.
I first went to the wrong floor and knocked on the wrong door, a standard mistake with each visit. When I finally made it into their beautiful loft apartment I was immediately greeted with an ice cold Noe (pronounced, no way). It's a concoction Ricky made up containing tequila and fresca with mint and lime juice. See the pic above.
To my surprise my friend Lyniel was sitting at the bar nursing her Noe Way. Standard for Lyniel. The nursing a drink not the Noe Way. Lyniel and I caught up as Ricky and Brit orchestrated a delicious meal of carne asada, black beans, arugula salad and grilled onions.

After we housed the steak, cleaned the bottom of the salad bowl and put down our third or fourth Noe Way, the digestion activities began.

Unaware that there was a ritual of sorts when Lyniel and Ricky get together, we moved from the dining table to the livingroom where Ricky had already set up the Rock Band. For the next three hours Ricky and Lyniel banged on the drums and strings while Brit and I took turns with the mic. 

Not the best for digestion but great for this slideshow.
Some Tequila education from Foodista.