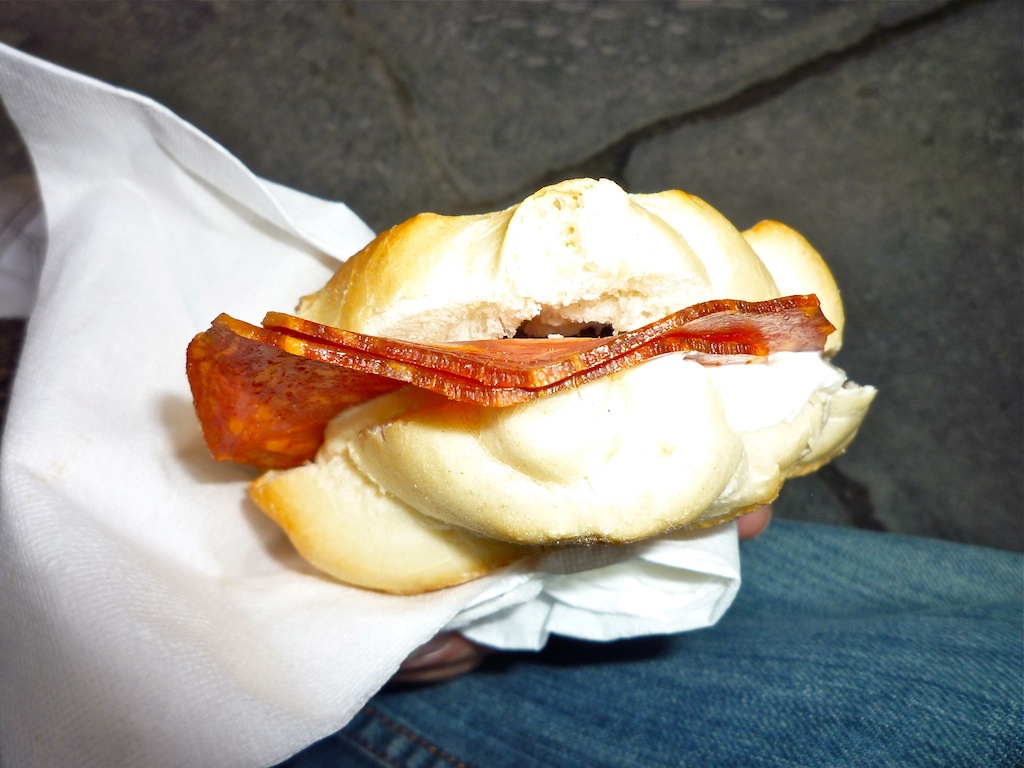 There are few places that have inspired me like this miniature sandwich shop in Florence. This little hole in the wall, literally, serves up simple sammies on the freshest bread as well as offers a huge selection of wines by the glass. Here I knocked back a sopressata and ricotta, maybe the Best Florence panini period. I washed it down with a barolo of course. The inspiration, beyond the fresh sandwich ingredients and perfectly balanced wine, was in the scene just outside the shop doors.
Located on a thinner than normal street that dead ends into the Badia Fiorentina, locals hang around to chat between sips and bites. Taking in this convivial moment I noticed a wooden board mounted to the wall just outside the shop. It had 5 thin shelves with numbers cascading down from 1 to 20. At first I was confused but after I saw a few wine glasses placed on the shelves and some others removed I realized it was to help free up your hands to eat. It's also what kept the crowd hanging out in the street. This, along with proper wine glasses, were the environmental hints asking customers to "hang out and enjoy". I watched as strangers began to chat with each other staying close to their wine shelf position.
The experience builds on what I have come to believe is the human factor to cities. With so many people in a relatively small space we become desensitized to the people that make up our neighbors. Restaurants bring us together over food but small tweaks like the wine shelf make all the difference in pushing us to make a more substantial connection with those we cross paths with. If I ever do open my sandwich shop you better believe I'll have a wine shelf. Number-up and all.
Eat here:
I Due Fratellini
Via dei Cimatori, 38, 50122 Firenze, Italy
Phone:+39 055 239 6096
Hours: 9:00 am – 7:00 pm