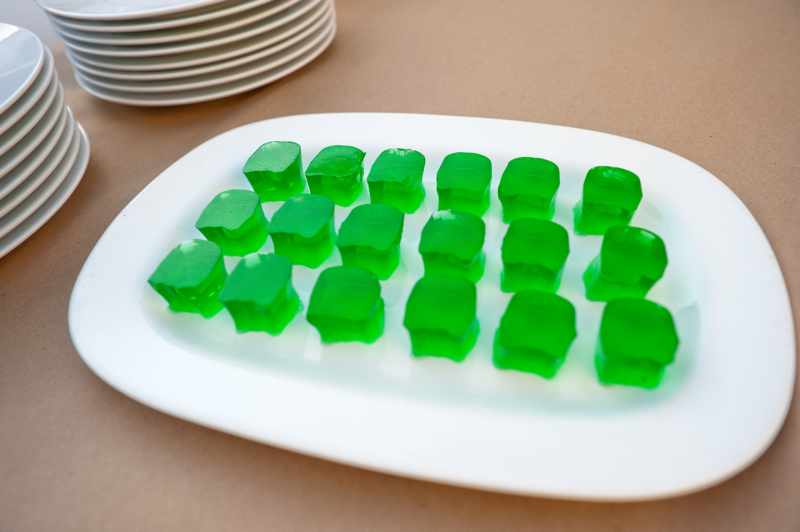 Last Saturday's public season opener of our REEL TASTY supper club was LEGENDARY. Ok, maybe that's channeling Barney Stinson a bit much, but the dinner was sensational. The day was gorgeous with barely a cloud in the sky and the temperature hovering around 72. I had 20 hens naked and ready for dressing as Aimee arrived with her usual box of treats. After the ritual "taste this-taste that" routine we stepped out onto the sunny deck to set up the evening.
For those who are not in the know, Reel Tasty is our summer supper club where Aimee, my co-chef/host, and I screen a movie on a 2 story building while feeding our guests the latest gastronomic creations our food blitz brains could imagine. My personal vision for this dinner was locked on creating a giant pile of ham wrapped hens for the table. Aimee's focus was on modifying a cookie cutter to look like a ghost. With that success we started off with her ingenious and made-from-scratch ghost jelly shots pictured above. We followed up quickly with these delicious, bite sized pretzel morsels. That was quickly followed up with mini pretzel hot dogs, grilled hangar steak bruschetta with ramp butter and finally a crab and mango salad with avocado puree in crispy corn cups.
photo credit: Kun Kim
As our guests mingled and ate Aimee and I were able to get started on the entrees.
photo credit: Kun Kim
After the bachelorette dinner, (I almost forgot a key component to the pasta) I decided to be a bit more organized with what hits the grill when. That choice seemed only to distract us but the wall did look cool.
photo credit: Kun Kim
Finally entrees were ready and the guests had settled into their seats out on the deck.
photo credit: Kun Kim
The roasted Cornish hens with mom's Italian sausage stuffing and a serrano ham blanket were piled high fulfilling my vision of serving that big 'ol pile-a-poultry. That was followed by roasted broccoli with caramelized red onions. Lastly we sliced and served the two pizzas; soppressata and fresh mozzarella pizza followed by ricotta and basil pizza. The guests got to chow down and the kitchen got its first rest of the evening.
photo credit: Kun Kim
Soon after the last of the hens were reduced to bones we fired up the projector and rolled into Ghostbusters.
photo credit: Kun Kim
Just as Zul was attempting to take over the earth we took over the table once more with dessert. A chocolate-bottom cheesecake with mocha-ed nuts and hot fudge was first to land its way into guests laps. Finally, as if part of the script, a bright green tub of homemade pistachio-marshmallow ice cream was passed just as the Stay Puft Marshmallow Man began destroying Manhattan.
As the night came to a close our guests seemed to want more. There was a sense about this crowd, a feeling that they were not quite ready to leave each other. As the REEL TASTY crew began to clean up, the lingering and chatting continued. With this observation we have developed a new twist for future REEL TASTY's that will allow our new friends to continue the "hang" for as long as they would like. Stay tuned for more on that soon,
Of course no recap is complete with out recipes and a shout out to the crew. The crew rocked the unusually hot kitchen (for May). As far as the first dinner of the year goes, there were no cobwebs to clear. Everyone was on point as usual.
Thanks as always to everyone who attended. You guys are the best. Our next dinner will be announced very soon. So stay tuned or expect an email. If you are not on the list yet. GET ON IT NOW. This season is sure to be packed with tasty surprises.
Get on our list for upcoming dinners dinners@forkingtasty.com
Recipes:
Roasted Broccoli
Ingredients
2 heads of broccoli
2 red onions
balsamic vinigar
1 head garlic
breadcrumbs
pecorino romano
olive oil
salt and pepper
Directions
1. Cut broccoli into 3-inch spears, toss with olive oil and bread crumbs.
2. slice red onions into 1/4 slices. place in bottom of roasting pan and drizzle with balsamic vinegar
3. Roast at 450 degrees for 45 minutes.
4. when onions are done. remove from pan. add broccoli to same roasting pan and place in oven for 15 min
5. add slivered garlic for last 5 minutes
6. remove. mix all cooked ingredients
7. sprinkle cheese over top and serve.