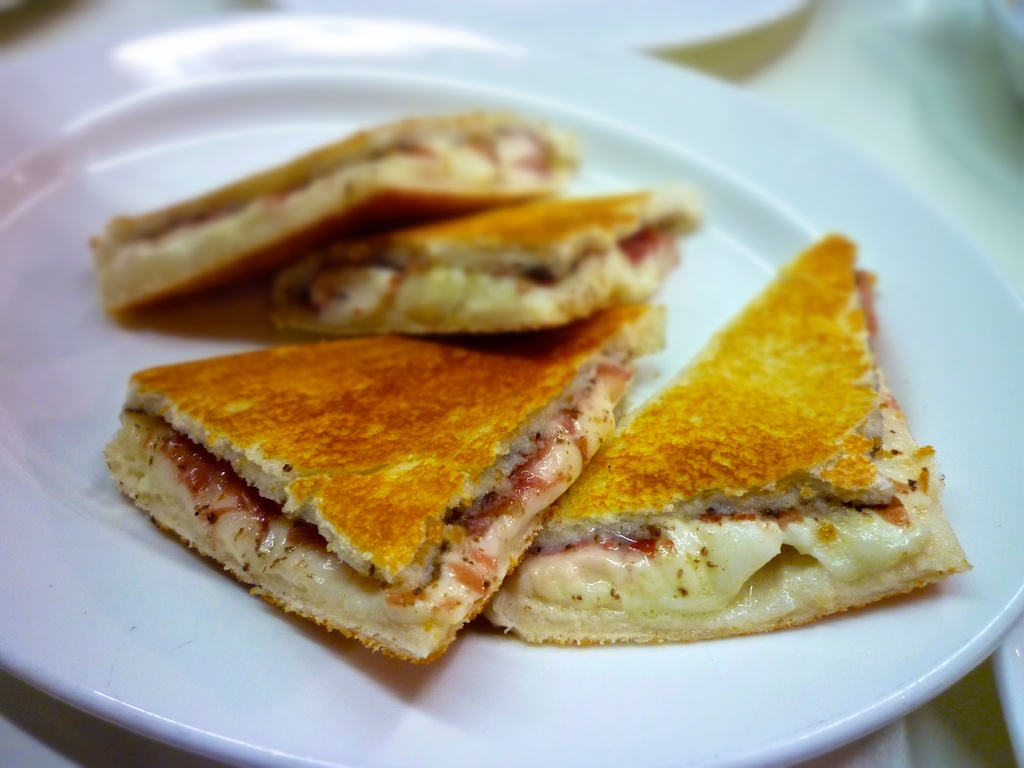 Eating Barcelona
I could live here. That's what I thought after my first visit to this city. Each subsequent visit always reenforces this desire. Barcelona's bright culture, food, architecture and people can't help but become infectious. In Barcelona the creativity is loose, curvy, spontaneous, random and risky. Spain as a whole is creative, partially a bi-product of a country that's seen it's share of strife and hardship, with everything they do. With a different flair than Italy and a slightly less structured approach than the Dutch, the Spanish have cultivated a culture that emanates energy, passion and excitement for life. Barcelona is the modern Spanish city that best allows visitors to embrace and experience this. I recently spent a solid week in Barcelona enjoying the 60 degree December weather, eating the freshest seafood around and finding creative inspiration in every building, museum or meal. Below is the hit list.
The Bites
Enrique Tomás Pelayo: The tourist trap of ham BUT in Spain it matters none because it's still better than anything you'll eat at home. Worth the stop if just to take a picture of yourself surrounded by 4 walls of hanging ham legs. Pick one of the curated menu items and have a break before heading back into your shopping frenzy.
Mercat de la Boqueria: One of the largest and oldest markets in Barcelona, Boqueria is right off La Rambla, the city's main walking street. Head straight to the center where you'll find more seafood species than you knew existed. Fresher than you can ever imagine, the selection is going to make you wish you'd rented an apartment with a stove so you could cook up the daily catch. On the way out grab some fresh cut fruit from one of the produce vendors and resist the urge to belly up to the tapas bar. They claim it to be one of the best but we found it to be more of a crowded, tourist stop than an authentic and relaxing snack break.
Forns Del Pi: Breakfast in Spain is simple. Grab a cafe and croissant at this patisserie just off La Rambla near the Barcelona neighborhood El Ravel. If you love orange juice, like I do, add a fresh Valencia juice to your order. A deeper orange than you've ever seen and the taste is fantastic.
Pastisseria Safont
: At some point you'll visit Park Guell, Antonio Gaudi's largest gift to the city. On the way back to the metro from your explorations, stop for a gimmicky, oversized, merengue bestowing the namesake of the parks creator.
Supan: A simple and delicious pastry shop. Get a bag of mini chocolate croissants and carry them with you as you explore.
Cervecería Catalana: If you are looking for the fanciest of tapas bars this is the spot. Most hotel concierges will point you here. They have all the classics done with contemporary twists and plating. It's a little touristy but worth the experience. Double up on the veal it's perfectly tender.
Tapas 24: Go here as many times as possible. Everything is amazing. Their signature bikini bocadillo is ridiculous. Serrano ham, cheese and shaved black truffle between two sliced of toasted bread can not steer you wrong. Also recommended is any seafood in a can. It's a Spanish speciality. They have some of the best and they will not break your bank. Chase that with a ham plate and a clara lemon (beer and lemon soda) and you'll be ready for siesta.
Nueve Reinas: A nice reprieve from Spainish cuisine and a quick trip to Argentina makes this spot worth a meal. A high end, white table cloth experience provides all the Argentine cuts you'd expect accompanied by some favorite, Spanish sides namely, tomato bread and fried egg french fries.
Joséphine: A french bistro done Spanish style. On Thursday and Friday you might even be able to catch some jazz. The menu contains standards that are tuned up with some comforting twists like the grilled pork and zucchini. Be sure to test the desserts. The assortment of mini pies makes for a nice finish.
Mercat de La Concepció: A walk through this market is necessary. Bigger than Mercat de la Boqueria it even has a full, proper, supermarket below the stalls.
Can Majó: Located in the tip of Barconoletta Can Mejo delivers on two things very Barcelona, fresh fish and amazing rice. Combine them together and you have the house special, Paella Mejo. Peruse the iced fish table before sitting down to see what interesting types of fish and shellfish they have on special. Be careful though, some of those items can get expensive. I was tempted to try the barnacles but after explaining that the're harvested by hand picking them off the rocks in between giant waves I realized the per pound price was equivalent to a BMW lease payment.
Kapadokya: The city has a huge Turkish population and the food, especially in El Ravel, reflects this. Our favorite was across from our first hotel. Late night, snack or early morning the donor is always ready for slicing.
Cal Pep: The best tapas bar in the city hands down. The food, the ambiance and the people all rock. 18 seats max, no menu and the kitchen behind the bar makes for a tasty, entertaining meal of meals. More on this below.
Restaurant in the Ciutat Hotel Barcelona: This sub-teranian spot used to be Colors restaurant. With the facelift of the hotel the restaurant was changed as well. It's a modern space that serves classics ranging from tapas to Catelonian entrees. It's a great lunch stop after the Picasso museum.
The Rest
Stay
Barcelo Raval: A newer hotel in the El Ravel neighborhood. We found the location and the decor to be awesome but the service was a bit hit or miss. Regardless the location is perfect for bar hoping and late night snacking and the price is right for the modern luxury you are getting. The lobby doubles as a singles club on many of the nights. They serve a range of cocktails and usually have a progressive DJ spinning in the corner.
Hotel Claris: A more expensive but luxurious hotel than the Barcelo located in the XXXX district. The rooms are outfitted with art, automated lights, automatic shades and bidets. The hotel has a great roof bar and is finished with leather and wood details. To add to those accents the rooms smell like an oaky, leather musk making it a pleasant mix of haberdashery and sauna.
See
Passeig de Lluís Companys: A promenade in the Ciutat Vella and Eixample districts with an amazing arch at one end. A fun walk to a different part of the city you may not ever see otherwise.
La Sagrada Familia: Gaudi's yet to be finished masterpiece, this church is an amazing testament to his architectural style. It's monolithic stance is undeniably incredible. A must visit for any Barcelona trip.
Parc Güell: This is like a kids play ground. Gaudi uses many different mediums through out the large park grounds that invite you to explore and discover the nooks and crannies of his design. The subway is the best way to get to this spot but be prepared to walk up hill a bit before reaching the front gates.
Casa Batlló: Another Gaudi design building, the roof and attic are the main draws here. Fantastic, sprawling views of the city can be witnessed from the top. Be sure to catch the apartment on the way down. It gives a good sense of what living in a Gaudi designed building with everyday practicality would be like. It also shows that for all his acclaim, he intending to build structures for everyday use not just spectacle.
Museu Picasso: This museum is located in the El Born neighborhood is well worth the trip. Part of Articket, which is a great deal which gets you into six museums, the collection is amazing and chronicles Picasso's early life through superstar. The old building the collection is housed in juxtaposes modern steel and glass creating a double art experience.
Shop
Vinçon: (UPDATE:Rumored to be closed) This shop is full of design products that fit anyone's budget. From giant champagne cork stools to modern lighting to kitchen accessories, Vincon has it all. It runs an entire block. Be carful you don't blow the whole afternoon poking around. Trust me, it's possible.
The Map
Save as a Foursquare list | Save to your Google Maps
The Stories
Hookers and Doners
The El Ravel district is still in transition from what used to be a junkie, pimp filled 'hood stretching from the docks to the middle of town. In recent years there has been a gentrification but like any other city in urban renewal it takes time. Some call it grit and some call it sketchy. Either way it gives you a sense of being a local but forces you to keep your wits about you. That feeling started when our cabbie from the airport told me not to pay him until inside the hotel. He didn't want anyone seeing him accept cash. Later that afternoon on a walk home from La Rambla we poked through the alleys of El Ravel discovering many Turkish and Muslim shops. From cafes to fruit stands to butchers the business' were ethnically non-spanish. In one alley we happened upon a prostitute starting her evening. A few blocks down another with her pimp. Clearly the gentrification had not been completed. A couple blocks later, standing next to our contrasting modern hotel we decide to rest before dinner. Looking out from the 12th floor of the hotel, El Ravel was sprawled out before us growing dimmer and dimmer until the twinkling lights took over.
A few hours later, hungry and ready to explore, we dressed for dinner and chose a local spot recommended in a lot of our pre-trip research. The alleys were thinner at night some how and as I looked at the map on my phone it directed me down a tiny street. Seconds in we realized this was a bad turn. Littering the street were prostitutes, pimps, johns, dealers and addicts. Although, that last one is an assumption. Luckily, they were not interested in us at all but it made the spider senses tingle enough to abandon the search for the restaurant and find a place on a main street that was well lit.
The next morning we explored the neighborhood again settling in for a doner kebab at one of the Turkish spots. As the week passed we discovered more cool spots from bars to restaurants to shops. We stopped in for a few more kebabs along the way and slowly, the seedy element started to become less frightening. Even less noticeable. In fact, the gentrification turned out to be much like San Francisco's Mission or NYC's Lower East Side. It goes to show you how not knowing your surroundings can play on your mind. The moral of this story is to always be aware of your surroundings but not to abandon exploring because of one bad turn. Had we done that, we might have missed out on some of the best kebabs of our lives.
The Most Real Tapas Bar in Barcelona
Tapas is as much a Barcelona institution as is Gaudi. Catalonia, the region Barcelona is part of has it's own take on the small plate tradition. It differs from the tapas of the Basque region and San Sebastian in that it's slightly more seafood based and uses milder flavors than it's neighbor to the north.
One of the greatest parts of starting this blog has been the global community of readers who share our gastronomic adventures. With this trip, like so many others, once word got out we were quickly introduced to a friend of a reader that lived in Barcelona. Regan was willing to help us navigate the food options. One of her recommendations was Cal Pep, a small tapas bar located off Plaça de Les Olles in the El Born neighborhood.
It was the last dinner of our trip and we arrived around 9pm. The restaurant was simple and narrow. A long bar with just 20 seats ran down the center of the space. All of them were filled. Behind the counter was the entire kitchen. Between the kitchen and counter were 5 men. Two worked the stove as if conducting a symphony orchestra. Two others worked the counter guests like campaigning politicians. Hellos, handshakes, winks and smiles were being dished out as often as food. The fifth man commanded the other four while fraternizing with all the guests. He had a squeeky, rough voice and an overly red complexion. He was on the heavier side. His white chef coat was pulling at the buttons indicating it was out grown since it's purchase. Thick rimmed glasses made his eyes look larger than they were when he looked at you which he did immediately after we walked in. We'd quickly come to know him as Pep, the proprietor, executive chef and namesake of Cal Pep. He smiled and gestured us to line up against the side wall. He gave me a wink and a nod and then turned back to his conversation with a guest. Minutes later another couple walked in and receive the same treatment. They lined up behind us and I realized the "real" tapas treatment was unfolding.
An efficient system, the line become the order new guests were seated. As we waited we sipped some wine and listened to Pep's squeaky conversation, the guests interactions with the two waiters and the laughter bursting out from other diners. The few feet from our waiting line to the counter and the four feet to the kitchen made us all feel connected even though we didn't know anyone else in the restaurant. From time to time, Pep would look up at us and wink reassuring us that we'd soon be seated.
When our seats did come up, Pep again popped out of his conversation and waved us over to two seats. We sat, as we'd later find out, between three french guys in for the weekend and a local couple that came every Friday night. There were no menus. After we were asked what we wanted to drink, one of the waiters asked what we felt like eating that evening. "Fish, meat?", he asked. We looked around feverishly realizing we needed to pick from plates we saw others eating or ingredients seen in the kitchen. The auxiliration of this made my voice as high as Pep's. Missus Tasty knew I was a lost cause of excitement for the rest of the night. She smiled and started rattling off some dishes we'd seen that looked delicious. The waiter nodded with each choice. Veal and potatoes, tuna tartare, jamon iberico and tomato bread started us off. Seconds later I saw a plate of sausage served to the couple next to us. I remembered the friend who had recommended this spot mentioned the fois gras Spanish links to be superb. We threw that on the list. We ordered another clara and cava, sat back in our seats and watched the kitchen at work.
Our waiter returned with a plate and started engaging us in small talk. The french guys next to us interrupted, apparently they had been there since 5pm. Before we knew it the six of us were all in a conversation about road trips. The waiter would duck out from time to time in order to serve some food, check on other guests or replenish our drinks but he'd always return never missing a beat in the chat. More food showed up and we dropped the conversation to indulge in the hot, tasty morsels put n front of us. We'd pop back in and out of the conversation between plates. Similar groups existed as I took a look down the bar. The entire restaurant seemed like it was a big party of friends eating a bunch of locally sourced, lovingly cooked food from the party's host, Pep. Our cups were never empty and we were never asked if we wanted another drink. It just kept coming. Sometime it was from the waiter, sometimes from the three french guys and sometimes from Pep. It all added to the atmosphere of the restaurant. We started speaking french, then spanish, then back to english. A dish occasionally showed up on the house. This whirlwind of food, drink and conversation continued until the line for seats had vanished and the front door was locked. 10:45 and the restaurant was not seating anyone else BUT those of us inside kept partying. Realizing this happened every night made me even happier. We concluded our evening by bidding farewell to the french guys as they moved on to their next bar, ordering the Spanish version of a creme brulee and letting our waiter tell us stories about his kids. The restaurant was emptying out. Pep went for a cigarette break. The chefs started neating up the kitchen. The night was almost over but not without one last conversation. The chefs started to discuss something that caught our waiters ear. He jumped in their conversation and then pulled us in. They asked Missus Tasty were she was from and they didn't mean New York. It turns out one of the chefs was from India and was inquiring about Missus Tasty's roots. Laughs and smiles materialized as we discussed everyones origins, family and how we all wound up in this tiny little restaurant in Barcelona.
Pep finally called it a night and we soon followed. We headed back to our hotel having completed one of the greatest culinary experiences of our lives not because the food was amazing, although it was. What I am always searching for is that feeling of home. What I create with my Supper Club amongst total strangers is the feeling of friends hanging out, sharing some food and talking about what's on their mind. Cal Pep does this same thing. The Meatball Shop does this very well also which is why when I heard Chef Holzman claim in an interview that Cal Pep was one of his inspirations for their restaurants it all made sense. The ability to create that atmosphere night after night is an amazing feat of business. It made our last night in Barcelona that much more memorable falling deeper in love with the city that already owned part of our hearts. You know what, maybe I could live here after all.
The Pictures
Mercat de la Bocaria
El Ravel Neighborhood
Parc Guell
La Sagrada Familia
Veal and pulpo Tapas at Cervecería Catalana
Casa Batlló
Risotto at Josephine
The goods available at Mercat de La Concepció
Jamon Iberico made from the famed black Iberian pig
Flamenco. A must when in Barcelona.
Paella at Can Majo
The cat sculpture in El Ravel
Fois gras sausage on white beans at Cal Pep