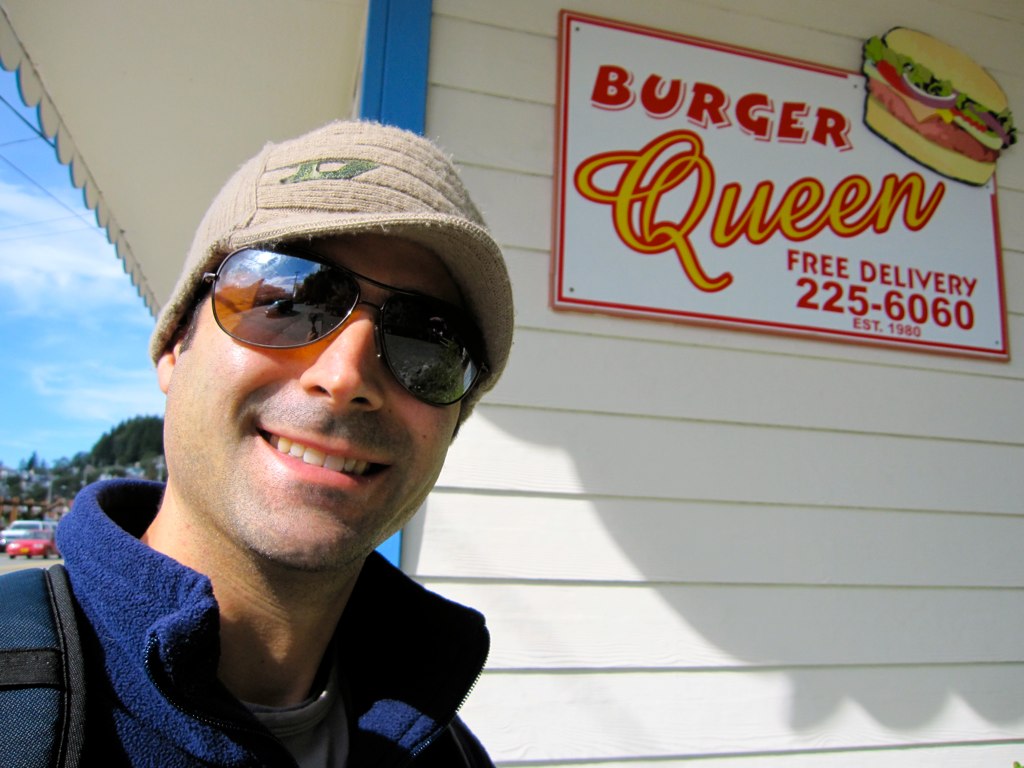 On my last contract on the ship a buddy and I were talking about the best burgers we've had. He mentioned to look for a burger in Ketchikan Alaska called Burger Queen. Now I am on the Volendam and the beginning of my contract is in Alaska and I finally made it there. Ketchikan is a small little town, as most Alaskan towns and are known for their salmon. However, I was looking for that burger. I'll get the salmon next week when I'm here again.
I found Burger Queen at the end of a tunnel. It is a small little shop with a few seats inside and a couple outside. All there burgers are cooked to order and there is a sign that says this could take about 15 minutes for the burger. That off the bat made me excited. Also what made me excited was the fact that all the burgers come with their home made 1000 island sauce. I ordered the Seattle burger that comes with onions, mushrooms and cheese. Then I sat down and waited. It really took about 15 minutes and there were only a few people there. In those 15 minutes three Alaskan local came in and sat at the table next to me. I had nothing to do but ease drop on typical Alaskan chitchat. It was funny how all they spoke about were fish and fishing. They were comparing records like who has caught the most salmon in a day or the biggest salmon they ever caught. Just thought it was interesting what three locals talk about over a couple burgers and what different conversations come out of different parts of the world.
Finally the burger came and it was good. I thought they over cooked it just a little but the 1000 island dressing was great and kept it nice and moist. Pickles and sauce on the bottom are put on the bottom and the cheese, onions and mushrooms on the top. No fries for me in case I wanted another burger. I'll have to give them another try next week. Although a very good burger, but not the best I have ever had. I was starving before eating the burger and wolfed it down in seconds. Afterwards I was still a little hungry. Instead of getting another burger I went for their halibut sandwich.
This came out in about 1 minute. Literally! It was tasty as well. Super hot. I burnt my tongue but was able to eat the entire thing. Next week I'll get another burger but will head in town and get some salmon.