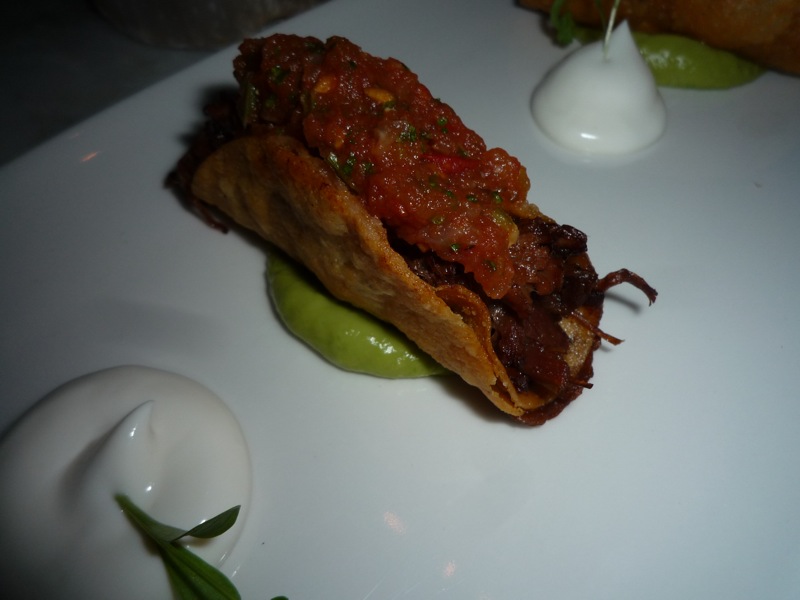 I don't get to LA very often and when I do I usually seek out a dose of the infamous LA scene. It's not that hard to find, especially if you know where to look. I rolled into town late last Tuesday to give a talk on Social Media to an internal Yahoo! audience. Also in town was an old colleague of mine from Dallas.
On my way to Santa Monica, where my hotel was, I gave Julie a call to see what her 20 was. As suspected she was up for a drink and we decided to meet at the top of her hotel in the lounge. She was staying at the Huntley a newer, swanky 14 story hotel that promised a "scene" on the top floor.
As I pulled into the valet I could see it was "on" right away. To my left was a gaggle of long legged, faux couture adorned blonds waiting for the good looking, struggling actor valet to retrieve their late model BMW or Mercedes. On my right was a couple, both beautiful and in their Tuesday night best, clearly more concerned with looking good standing with each other than actually having an emotional and mental connection as a couple.  They were so caught up they didn't even notice how out of place my burgundy ford focus looked as another handsome valet gave me a ticket and drove my eye sore to a parking spot.
Once inside the normal decor filled the lobby. A few Philippe Starck pieces, some pretentious, abstract art on the wall and a few too-cool-for-school hotel employees. I can never figure out why these people insist on acting like Cluny when they are clearly dressed as hotel employees and pinned with a name tag that does not say George. I'll chalk that up the mystery of LA.
A short ride to the top floor slides me straight into the LA fantasy. A land of people that have no clue teenagers are getting shot in Compton and homeless are eating from garbage cans downtown. The white frosted bar glows with hints of blue. White leather ottomans and chairs pepper the lounge. Sheer clad booths lined one side and a tan leather banquette ran along the other. I tend to dial up my NY when entering places like this. It makes for great fun when interacting with aloof maitre D's and stuck up waitress'.
I place my bag and jacket on an ottoman that faces the banquette and take a walk around the bar. In typical LA fashion, one-by-one the single ladies (and not so single ladies) at the bar look up and take a glance at the new meat. This is the big difference between LA and NY. Woman have no problem looking you in the eye. They are far more approachable but what they want is far more disconcerting than what they are after in NY. Now I know I am generalizing here but let me be clear. We are in a trendy LA hot spot that is serving $15 drinks and has enough high heels in it to play a full court easy spirit woman's basketball game. People come her for two reasons to hook up or be scene. One more note, there were some very attractive girls at the bar. I will not deny that. As I turned back to return to my ottoman I bumped into my friend Julie. Together we went back to our seat and ordered a few drinks. It took a while for the waitress to get over to us. It took even longer for the host to get me a menu. Yes, this post will eventually get to food.
Julie and I caught up a bit and people watched a little. I finally was brought proper menus and I ordered a few things to fill my belly and chase the strong tequila and ginger ale I was now about half way done with. First to arrive was the halibut ceviche.


Second was the short rib tacos pictured above.
Both came as triples, platted elegantly and finished with delicate touches of accoutrements to each plate. Despite my review of this experience to date the food takes a turn for the WAY better. First down was a halibut ceviche on a fried mini tortilla. Fresh and delicious my mouth immediately started watering and I reached for another. Stopping my self, I retracted my arm and focused back on what Julie was saying. Those who have not ate with me may not know that I tend to eat fast, especially when hungry.
It wasn't but a minute before my stomach was telling my brain to reach my arm out again. This time I focused in on a taco. Sitting upright in a base of thick guacamole and sour cream I grabbed a hard corn tortilla stuffed with tender, tasty, boneless short rib shreds. The soft meat and the crunchy shell made my taste buds dance and my olfactory system sing into overdrive. There is something absolutely perfect about well seasoned, slow roasted beef.
Feeling my stride, I dropped a bit of the NY and continued to enjoy myself as a few more tacos, halibuts and drinks rounded out the night. Julie and I finally parted after a well needed pow wow and I headed back down the highly designed elevator to retrieve my non-compliant automobile from yet another attractive valet.