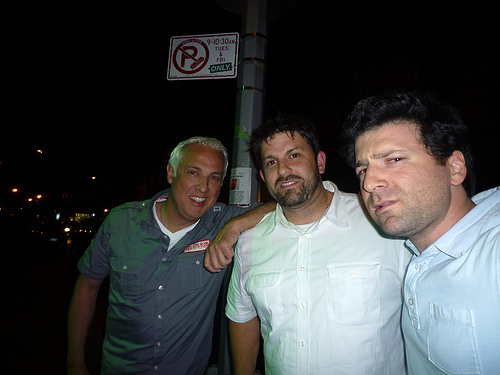 View NYC Food Tour 1 in a larger map
This blog has proven that I have a disposition to over indulge. It's a problem and a constant battle between my brain and my waistline. I rationalize my decisions to stuff myself with the idea that the opportunity at hand is unique and once in a lifetime. This is rarely the truth but often the perceived reality. Regardless of the motivation, this post trumps all the others in ridiculousness.
I had just flown back in town from Chicago and two friends from San Francisco when a txt message popped up on my phone. Two buddies from San Francisco were in town and wanted to go run-a-muk stuffing our faces all over town. Truth be told, Ben, Chef of SPICE Supper Club, had been riding me for weeks about the "eating tour" and now he was ready to roll. Irrationally deciding I had to go I hopped on the L-train and headed into Manhattan.
The Pickle
Asparagus goat cheese creme fresh
Artichoke salad
Scallops
Cast iron mussels
Gnocchi with cherry tomatoes
Bone marrow
Pate de fegato. aka-Duck fat English muffin bread chicken liver mousse fried egg bacon
Spicy Redneck
Roast beef and gravy with fresh mozzerella
Beef jerky
Cheddar puffed rice
Drunken cherries
Pulled pork
As the clock ticked past 1am, me stomach and brain were finally in agreement. "Stop eating" was the simple message and I obliged. We had successfully pecked our way around downtown Manhattan gobbling up goodness at most every turn. Looking back, I can't say I did the wrong thing. After all it was a once-in-a-lifetime opportunity. Right?