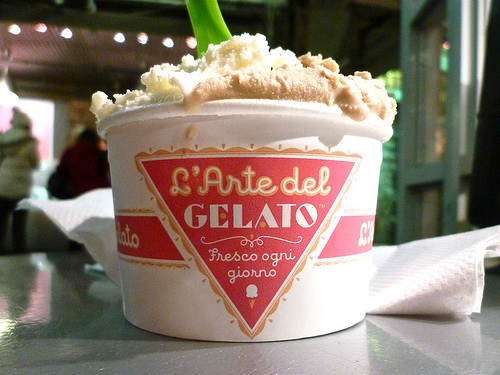 A few weekends ago I decided to take a gourmet food store tour as I meandered through my weekend errands. That's a lie. I completely put off the errands so that I could jump from store to store on an eating extravaganza. I loved it and this won't be the last. In fact, think of this as a first in a series of food store tours that will cover all five boroughs as well as my favorite non-New York cities. For now lets focus on NYC.
One of my favorite spots in all of Williamsburg. I was originally turned on to this place by the Canadian. We love the couple that runs this place and the food is always spot on. For one, the crepes are buckwheat which makes a lighter meal all around. We usually stick to our standards but I was tempted this morning by a special that screamed Anello. The handheld slate board read croissant stuffed with smoked salmon marscapone cheese and dill drizzled with olive oil. It had to be done. The croissant was crisp and flaky on the outside with a soft supple inside to hold the marscapone cheese. The salmon mixed with the Italian cream cheese perfectly dancing along my tongue with quick hits of dill accenting each bite.
After a fast L train ride and a long walk through Chelsea Market we took our second snack break with some hazelnut and marscapone gelato. At the very end of Chelsea Market(9th Ave. side) sits a gelato stand with a short list of fan favorites. The above picture says most of it. Let me just emphasis that this was the second marscapone hit of the day.

On the slow slothy walk back through the market we happened upon an oasis. A clean, well organized, well explained, makeshift shop in what is their old event space caught my eye. I am a sucker for basics. Oil and salt is about as basic as you get. The filling station is a dream come true. With a plethora of olive oil's, vinegars and salts to choose from it's difficult to make any choices at all. The best part is once you buy something you simply return with your empty vessel and fill up again for a discounted price. I stopped myself after some honey-ginger balsamic and black truffle salt but believe me I could have kept going.
Passing the Lobster Place we noticed a cart with fresh chilled tiger prawns sitting on a gorgeous crystal mattress of ice. A no-brainer, we snapped up a 5 pack and downed them in as many minutes.

Yes, a bit of a trek from our last stop but that's what a metro card and a 1 train can do for you. They have it all here and most of it is blessed. Straight to the bakery for an onion bialystoker kuchen. Truth be told we stopped for a few knishes on the way. A bit disappointing on the freshness I have to admit. We moved on quickly.
The trip from Chelsea to the upper west side made us hungry again and the bialy stop was a bust so we needed to find a suitable redeemer. Charcuterie from Chesere Casella was one of our main targets for this food tour and we were heading for a bullseye. Immediately we bumped into Chesere who is a very Italian-Italian looking man. Sharing a nose type with my Uncle Brian, a quick hello from him when we walked in gave me that "our-last-names-end-in-vowels" camaraderie. A little lambrusco and formaggio plate started us off as we waited for the main event. A plate of beautifully cured meats soon arrived. A guanciale, a thick sliced hot calabrese and a fennel salami slices super thin were sloppily displayed on an oversize white porcelain plate. It's important for me to see meat that is not to precious when presented. A good antipasti should be sloppy and we jumped right in with our hands.
Discovery of a new Trader Joe's is always exciting when you frequent the Union Square locations daily madness. In eye shot of the Salumeria was TJ's Upper West Side location. Three floors of food enticed us to fulfill our super bowl needs on the spot. Same great value. Way less people.
Stop 8: Secret Italian
Towards the end of Graham avenue is a little Italian restaurant that seems to have remained a secret. As most flock to Frost, Cono or Bamonte's this little gem bustles along unnoticed by the masses. They serve all the same southern Italian specialties as the aformentioned mainstays. What I love is the space and that you can always find an older silver haired Italian man at the bar drinking a Campari and soda. On this particular visit I indulged on fruita de mare linguine and wine braised short ribs.  I washed it all down with some vino de casa. Perfect.

I'm not even going to get into why this is good and why you need to get here. More silver haired old Italian men + standard banter + canoli + rainbow cookie + butter cookie + mini Napoleon + Cappuccino=my entire childhood

I thought the pastries that would close off  the evening BUT I picked up Anthony from the airport an hour after the canoli and he was a bit hungry from his flight across the county so we decided to hit one of the best diners in New  York. Always open. Aways friendly whether it's brunch or late night eats. They will make you anything you want on or off the menu and the cake selection is outrageous. I kept it respectable with a simple grilled cheese. Chedder instead of American cheese. That is a perfected item in my book.
A massive tour indeed. Perhaps I should make the next one a health food tour.