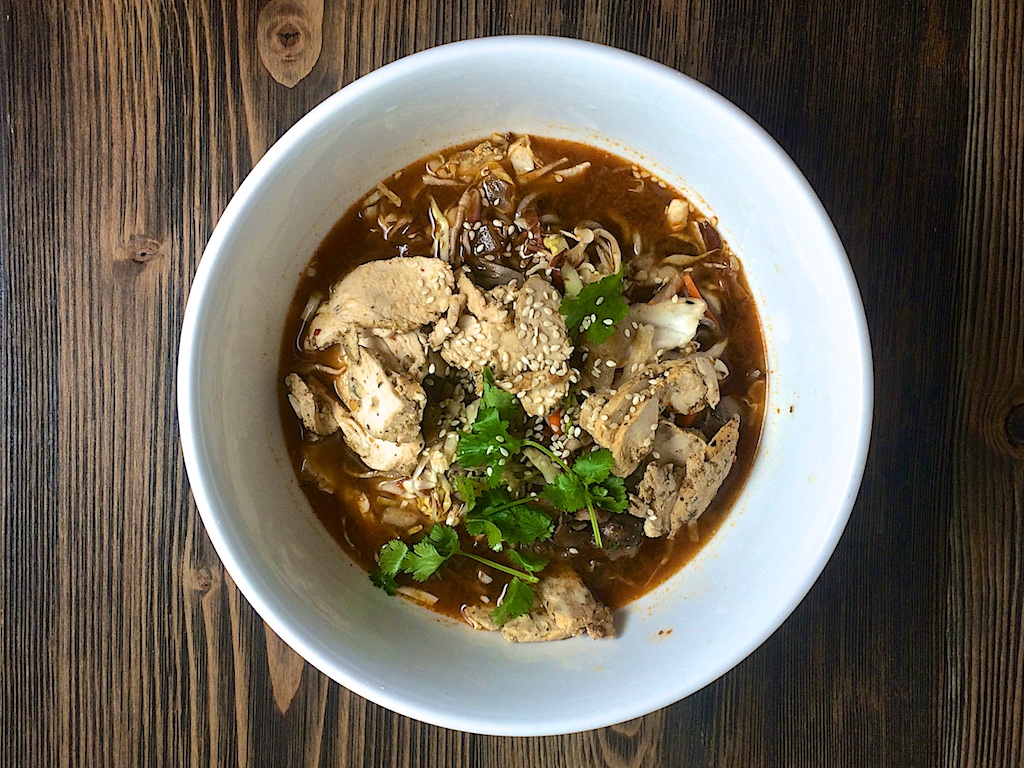 This is the perfect day for this story. There's nothing like a hot broth to warm up your insides and kickstart your depressed winter soul as that mercury barely edges past 20 degrees. I am also about to get crazy over my love for Panera Bread. Last time I did something like this it was a KFC obsession. This runs the opposite end of the spectrum with Panera's goal to be as good for the body and this planet as possible. That's not so much on the Colonal's to-do list.
It was just over a month ago when I had a sneak peek at Panera's new broth bowls. In a small kitchen in Little Italy, Chef Kish shared stories of his travels from Japan to China to Paris. From this journey he derived the mother broth below. The backbone to any good soup, stew, pasta, ramen or sauce for that matter is stock. His had just enough heat to give it punch but was versatile enough to mix with a myriad of accouterments. As we spoke the mother bubbled on the stove top and I couldn't help but grab a spoon and steal a few sips.
This story goes far beyond the tasty broth and all around delicious items on the Panera menu. I first got hooked when they debuts their lobster roll a few summers back. I must have had one a week while I was building this thing. Since then I look for my Panera fix outside NYC because the midtown lunch lines are bizarro and I just don't find the cattle call enjoyable. About 2 weeks before I had a taste of this broth my lunch options were revolutionized when I discovered the Panera App. You might be wondering how this is possible. Of course, I'll expalin. Panera's 5th ave store is a block and a half from my office. A 5 minute walk at most. The UX on this app is perfect. It knows what store is closest to me. It let's me Pick Two® (gotta stay compliant). It even suggests things I might like before I check-out. Payment is obviously built in with a one tap order button.
The ultimate moment happens when you arrive in store. I walked past the lunch zombies on line, scoot through the cluster of people waiting for their order to a tall shelf. A bag with my name on it is waiting on the upper left corner. I pick it up and head back to my office. Simple as that. No checkout, no validation, no bullshit. In short, I can press the elevator, open the app, order and by the time I get to the store my bag is there waiting for me.
With today's chill I opted for the Soba Noodle Bowl with Chicken. A hearty bowl of antibiotic free chicken, soft soba buckwheat noodles, fresh spinach, a little napa cabbage and roasted mushrooms are topped with sesame seeds and cilantro making for an umami in your mouth. Eat one of these and then re-read this. All that's just 380 calories. Now you guys know I don't count the calories but I thought that was worth mentioning for such a filling lunch. It'll keep you full right through happy hour. Another even more filling but with almost equal calories is the Lentil Quinoa Bowl. I'm partial to it because of my Peru adventure, the organic quinoa is blended with some brown rice and lentils. Fresh kale and spinach give some texture and it's all topped with a hard-boiled cage-free egg but the secret hero is the tomato sofrito. They could bottle that stuff. The deep tomato flavor mingles with the broth and gives you pops of roasted love in every third bite.
So, here's your assignment. Monday, when you feel that hunger creep in, download the app. Touch, touch swipe and then head to the shelf to pick up your brothy goodness. It will change your midtown lunch life, make your tastebuds sing and trick that winter soul into thinking your lounging in Iceland's Blue Lagoon.