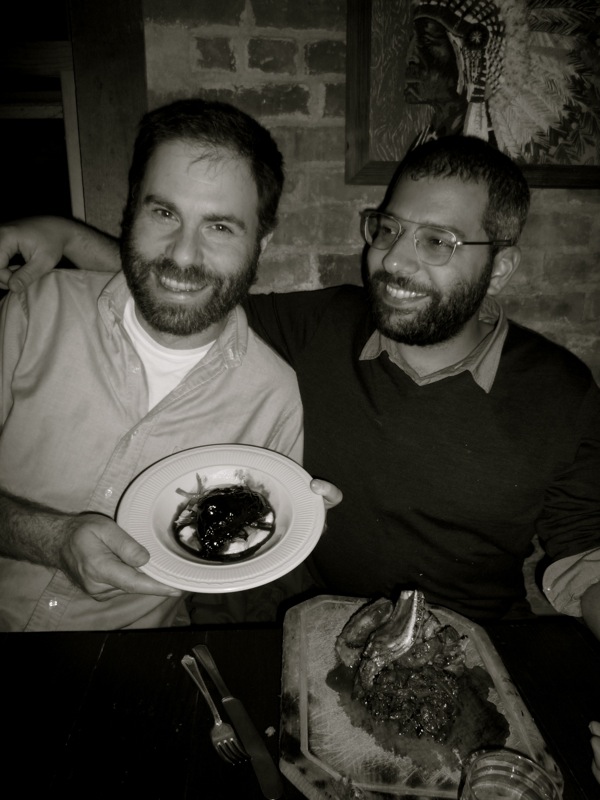 Forked with Tarikh and Josh
It's rare, even for me, when a work partnership turns into a friendship considering that the two guys above do not work with me everyday. Tarikh and Josh are the duo that make unbelievable ideas come to life at their company, Uncommon Projects. It has been just over a year now when I called up Uncommon and asked them to put a GPS tracker in a sneaker. They said no. Then I asked, "Hey, how about a bike" They agreed. (More on that picture taking, GPS enabled Yahoo! bike here) Thankfully we finally got down to celebrating the project at Vinegar Hill House about a week or so ago.
Josh Rooke-Ley is the quiet, coding genius who rarely is scene without a fitted Mets hat on his head. Among his many passions he has become quite the cyclist since the Yahoo! Bike project launched. For a while he was riding to the office in DUMBO all the way from his house in Queens. It even inspired this iPhone app. You know someone is into their work if it changes behavior in their personal life.
Tarikh Korula is a master of hardware and software mixing. In a world of new apps, programs and websites, Tarikh has the magical fingers to hack, invent, make and modify devices that can do things never before seen. Tarikh and I had more than one 4am night getting the bikes ready for shipment. Through those wee hours we covered everything from hip hop legends to failed relationships to beer preferences. I love to get him going on a topic he finds interesting. The conversation always goes to a great place. Outside of work he has gone deep into the ambient music world. He has started turning out performances that use all sorts of sounds in his melodies including old traffic reports. Super fun stuff to close you eyes to and listen hard.
Guys thanks for making work so fun and making play that much more interesting.
What we ate:
Farmstead Cheese & Salami with homemade crackers, pickled quail egg
Fennel Salad with provolone piccante, green olives, currants
Braised Beef Cheeks with celeriac, celery, chestnut honey
Red Wattle Country Chop with homemade sauerkraut