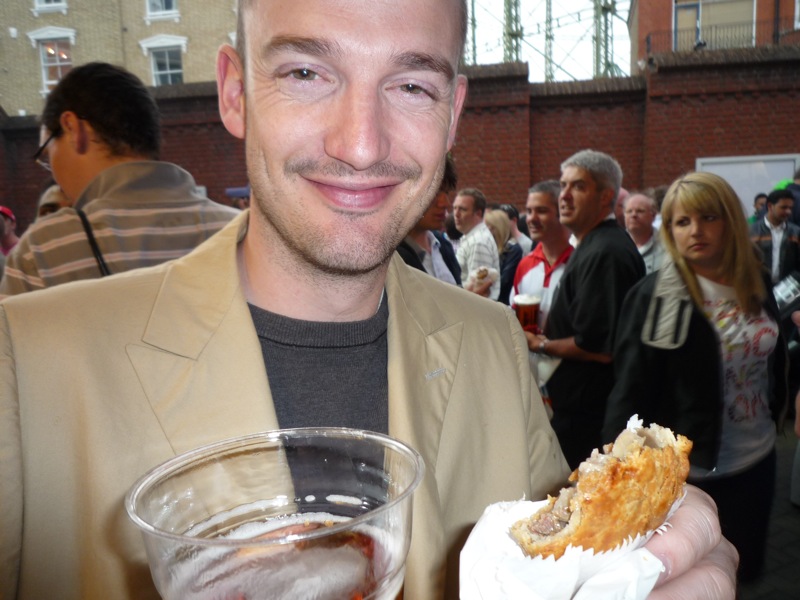 Yahoo! sponsored the twenty20 world cup of cricket. I am not going to get into how the game is played and what the difference is between regular cricket and twenty20. Learn on your own. But I will get into the snacks.
My friend and fellow Yahoo!, Andrew, invited me to a quarter final match between England and the West Indies. We had some rain. We had some crazy Pakastanies in the crowd making explosion sounds when planes flew overhead. We had a very close game, well not really but it felt close to me.
During one of the rain breaks Andrew and I ducked out early and grabbed some snacks. There is no official cricket game food. No peanuts and crackerjacks. Not hot dogs and knishes. What they do have are a wide array of pockets. Yes hot pockets but more like Jamaican beef patties on steroids. Of the wide array (meat, chicken, veggie) we settled on beef with stilton cheese. Of course we also topped up our beers. Sitting under the awning away from the rain, listening to the English accents recount the game thus far, devouring my pocket and sipping my lager gave me an honorary local feel. In the end England lost but our bellies were full.