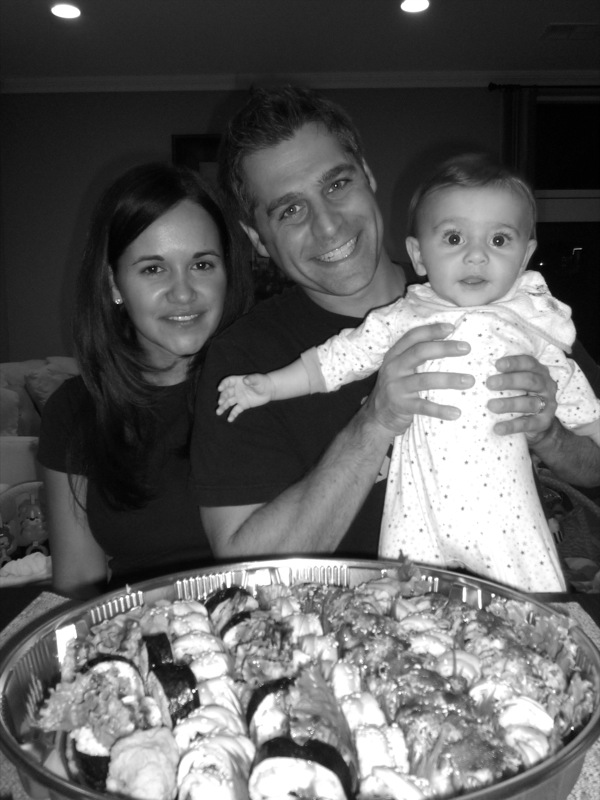 Forked with The Rocamboli's
A giant round of take out sushi at the Rocamboli's transitioned my "week" into my "weekend".  Avid readers of this blog know this division is more theoretical than tangible. None the less, I would celebrate this unrecognizable event with a trip out to Dave and Enid's in Jersey City. Usually the three of us find ourselves with a delicious plate of cuban food in front of us. This time we switched it up with miles of sushi anchored by the staple Godzilla role.
Dave is a doctor working out in western Jersey but hails from "the island". Dave and I shared tons of those awkward, right-of-passage moments in college and therefore never run out of fodder while pumping sushi rolls into our mouths. Such topics as the roach apartment, the robbery and the hole in the roof always seem to make their way into conversation. Enid is his lovely and astute wife who is currently on hiatus from fashion buying since little Lucas came along a few months ago. (We'll get to Lucas in a second). Only for context would I ever explain "E" as Dave's wife. If anything Dave is more "her husband". Simply, Enid is my friend just as much as Dave. Having had our own bonding moments over the years, we always revel discussing topics that Dave would rather pace in front of the TV for than participate in. Having not seen them in a while due to their new addition and my travel schedule we had a great night of catch up covering a myriad of topics and laughing a ton. Just the way it should be. Of course the evening was interspersed and augmented by outbursts from one of my newest friends, Lucas. This little guy is adorable and happy as a clam. His giant open mouth smile kept Uncle J. entranced for a good hour upon arrival. As dinner progressed Lucas was right there with us until his fake keys, laughter and squirm parties got the best of him. Like a light switch at 9pm his eyes shut and his head rolled into his right shoulder. Lucas had left the building. ZZZZZZZ. More laughter and brownie sundaes capped off the evening before Dave decided to attempt a 2 river/2 tunnel drop off in Brooklyn that I must say, was as easy as he had planned it to be. Thanks for the sushi, the laughs and the ride home. Next time it's my side of the rivers and my treat.
What we ate
Godzilla roll/spider roll/spicy tuna roll
Tuna and salmon sashimi
edemame
homemade brownie sundaes/cafe con leche