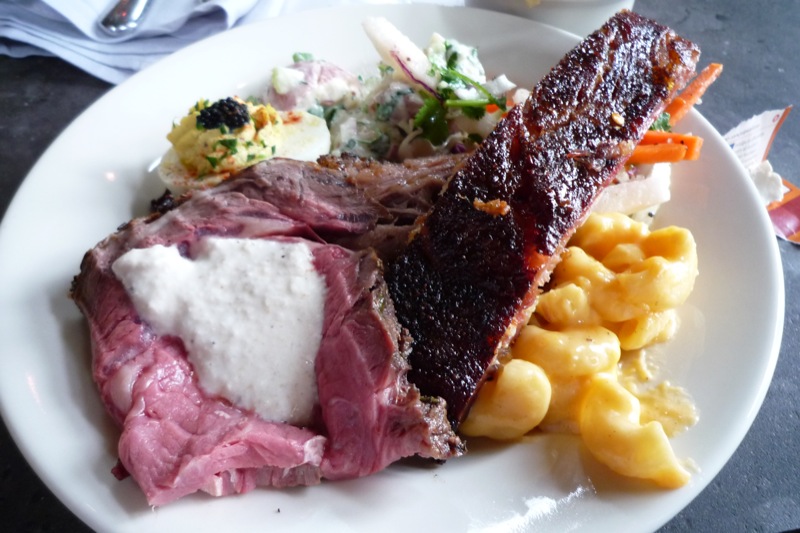 Last week I spent some time in Austin at my first SXSW conference. Although it was filled with networking, film, dev geeks and some amazing parties, I am going to focus on the best bbq in Austin for this post. In Texas the 'que is nothing to sniffle at and you can pretty much bank on it being good no matter where you go. That said, there has to be a "best". Roll up your sleeves and lets dig in. Keep in mind I am a rib man. So my litmus test requires at least one rib (pork or beef) in the mix to even judge a joint.
This is chili cheese grits from Lambert's. Along with the Rib plate pictured at top, this was a fantastic meal. Forgetting it was Sunday, we stumbled into the tail end of a brunch situation. We were afforded a buffet of all the top dishes which made this experience the critical of reviews. Everything was delicious. I would say the sides were on par with the ribs so I give it a solid B+. Lambert's is a little higher end then the other joints in this review. Rounding out the plate was Prime Rib with Horseradish sauce, mac and cheese, jicama slaw and a deviled egg(nice touch).
Stubb's was next. Actually it was the first spot I hit straight off the plane. Stubb's has a super authentic space. A huge outdoor yard where lots of music plays duringthe week. I caught it before the mayham and had a quiet lunch at the bar. Washing down a half slab of pork ribs, cole slaw and collard greens w/bacon and sport peppers with a cold one hit the spot. Stubb's gets a B on ribs and a B- on the sides.
Next up is Ironworks. right off the bat what I like about this place is that they have beef ribs along with the pork ones. I ordered from a small window by number. 1 beef rib, 6 pork ribs, done. Grabbed a coke and sat silently at a picnic table with a few other patrons elbow deep in sauce and bones. Ironworks gets an A for ribs and for ambiance. They keep it real simple and focus on the food. The dry rub is outstanding with real pink meat on teh inside and sauce is an add on, just the way I like it.
The final contestant was The Salt Lick. This spot is located about 30 minutes out of town. I was lucky enough to get invited to the iMEEM party which was catered by "the lick". I had heard about this place earlier in the week and was worried about missing it. Pork ribs were AMAZING. A+. A nice dry rub with sauce on the side but the ribs were so tender and meaty that you didn't even want sauce. I think that is the St. Louis in me. Above is a pic of the brisket sandwich I had at the airport on my morning home. The Salt Lick has an outpost there. Of course, not as good as the real place it was just enough to remind me of those tender pork ribs that were the winners of my own personal rib-off during my time in Austin.
The deets:
Lambert's  BBQ
401 W 2nd Street
Austin, Texas, 78701
512 494 1500
Stubb's BBQ
801 Red River
Austin, Texas 78701
512.480.8341
Iron Works BBQ
100 Red River
Austin, TX 78701
512-478-4855
The Salt Lick
18001 FM 1826
Driftwood, Texas 78619
512-858-4959