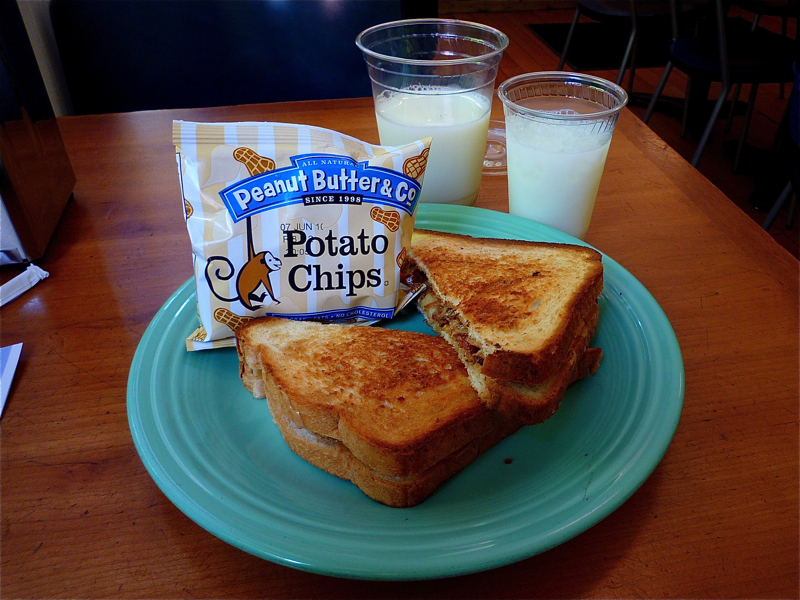 Most of you know that I keep strict rules when it comes to PBJ's. I am a purist. I think the fluff, nutella, etc should stay in the pantry. This is why I have avoided visiting Peanut Butter and Co. for years. This small shop in Greenwich Village has over a decade of sandwiches under it's belt. Through the years PB and Co. has diversified into jarred PB and even lunchboxes. Despite my dismay for breaking the traditions I made a stop for lunch. I perused the menu a bit and realized quickly that Jelly was nowhere to be found. I am sure it is somewhere on the menu but the PB and Co. master chef liked a whole bunch of other condiments a whole more. I decided to go with the craziest thing I saw on the menu. Something that didn't sound like it could work well together at all.
I settled on the Elvis; smooth peanut butter with bananas, honey and bacon on white toast. Accompanied by a glass of iced milk, I took my time tasting this conflict of ingredients. Pork and bananas? Together? Surprisingly it tasted good. They somehow complimented each other in a strange and dirty way. After half the sandwich I could have called it quits but I persevered. I wanted to make sure the back half of this experience didn't unlock any wondrous flavor explosions or buried culinary tricks. It didn't. It was a fun treat and adventure but I prefer to keep my PB with J. And once together, I'd like to keep them as organized and traditional as an Amish accountant on April 14th.
To better explain my process here is a clip I created a few years back for the Next Food Network Star. Obviously, Guy Fieri wasn't ringing my cell after the viewing.