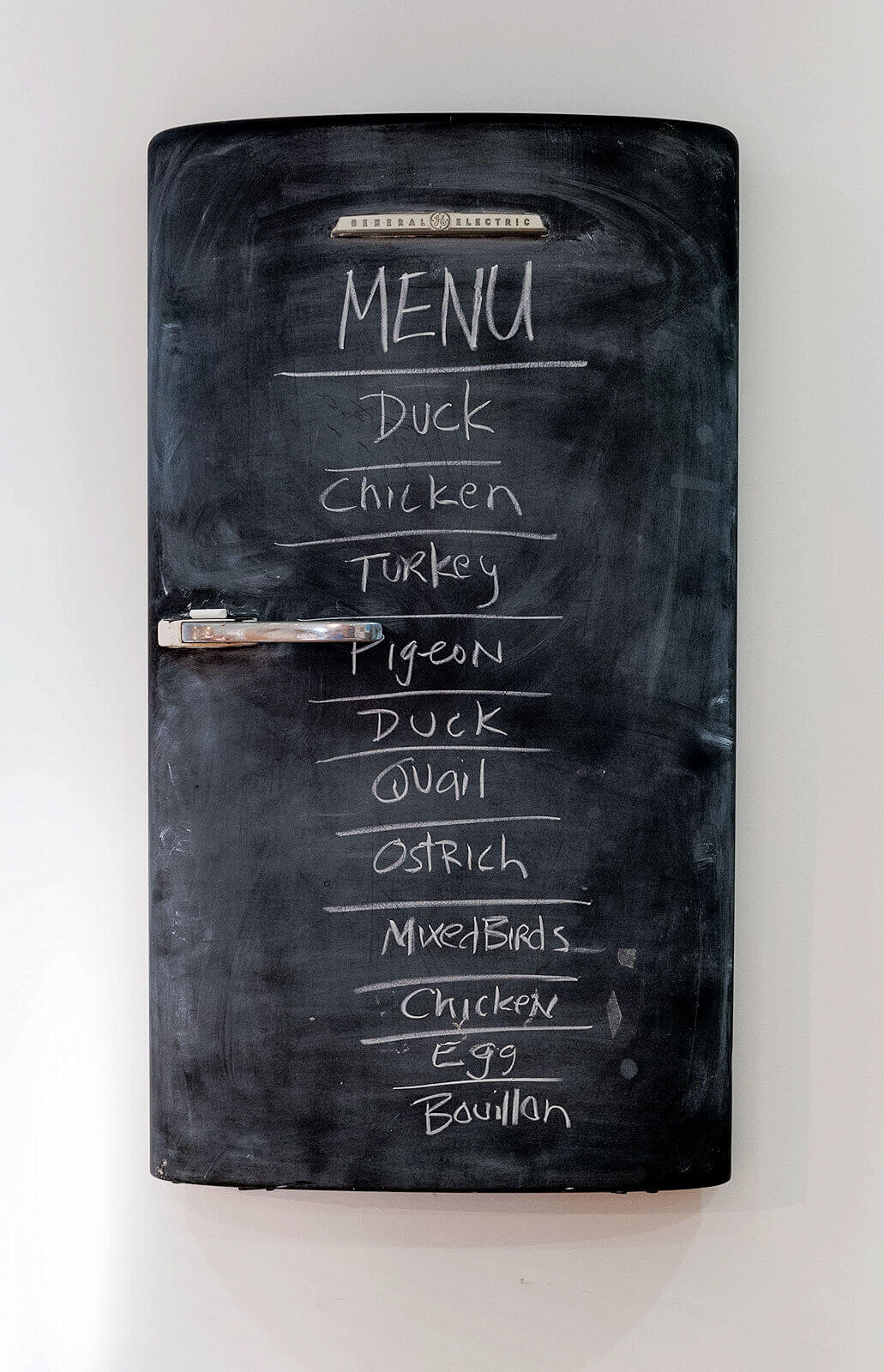 Tweet this!
It all started a few months back over some stiff drinks and a few oysters. Three food fanatics, me one of them, sipped and slurped as we brainstormed dinner themes. As the night grew longer the ideas piled up. Some good, some bad. As a counter idea to the unique but crazy thought of an illegal narcotics dinner I boldly suggested "ALL BIRDS". I'd envisioned a multi-plate dinner where every course contained a bird part. Smiles grew into the cheeks of my two gastro-passionate buddies and I knew we had a winner.
For those who are unfamiliar with our dinners, Reel Tasty is Forking Tasty's summer supper club where we screen a movie on a 2 story building while our guests sample some of our latest and tastiest gourmet creations. The seats are usually first come first serve but every once in a while we collaborate with some old friends. A while back we pulled off a Creole/Cajun feast in 102 degree heat for the Gastronauts, an adventurous eating group in NYC.
One of my two dinner brainstorming buddies was Curtis, the Gastronauts fearless leader and organizer. The other was my friend, and supper club counterpart, Mark from Whisk and Ladle. Our conversation now turned to foul and the various preparations possible. By the end of that night we had a list of birds from ostrich to squab we needed to get into the test kitchen.
Above is some squab and ostrich testing
Fast forward to a few weeks ago at 10:35pm when our last dish in an eleven course line up hit the 31 person table. High fives all around the kitchen for pulling off the largest menu and most guests of any REEL TASTY dinner to date. But, let's back up seven hours and start with prep for course number one.
We set the stage with some simple, delicious, easy drinking wines hand picked by Lily at Dandelion Wines. Also on hand was some Brooklyn Lager because, well hell, we believe you should always have some of that on hand.
Before the stove was ever turned on the whole dinner was turned inside out. Instead of our normal family style service we decided to plate all eleven courses individually. The kitchen was more crowded than usual in preparation for this adjusted service style with two sous chefs to Mark and I and 3 servers. We even had a captain on this one.
All photos below and above credit to: Kun Kim
Before long the thirty one guests were seated and ready to start eating. With so many courses it seems to me the only proper way to recap this dinner is to go course by course. Before we drop into it, a few words about the guests. From the below, I think it's safe to say they enjoyed. There was more open mouth amazement, camera snapping and mmmm-ing going on than any other dinner we've hosted. By the end of the meal you could feel the collective satiation from the crowd and the buzz of amazement still echoing off the two story movie screen.
photo credit: Kun Kim
Course 1
Duck confit stuffed gougères with asian pear chutney
The one element we were missing from last time was my co-chef Aimee. In honor of this absence we started the night with the above dish. Borrowed from a famous chef and adapted once by Aimee and a second time by me, we served these cute french sandwiches to start the evening. The last time we used this dish was at the 2010 Michelin award ceremony in which the top chefs in NYC ate our carefully prepared snack.
Course 2
Italian chicken meatball kissed with a poultry demi glace
This course I'd envisioned since day one. The idea of serving something out of a ubiquitous egg container thrilled me. At the time I just didn't know what I'd serve from it. The easy answer would have been deviled or hardboiled eggs but that was too expected and boring. The menu was void of any Italian influence at this point and it struck me that I could fill that gap and the egg container at the same time with a meatball dish. Chicken meatballs shaped like eggs of course. The problem was my family didn't have a solid chicken meatball recipe so I did some research. I finally settled on the meatball kings of NYC's recipe with a minor ingredient ratio adjustment. The egg shaped balls were then packed into the containers hot from the oven and served family style straight from the crate.
Course 3
Buffalo turkey wing with a blue cheese, carrot and celery slaw

The highlight of last years Thanksbringing was our third course. In my first attempt at this I didn't brine the wings. This time they were brined for over 12 hours in a spicy salt mixture allowing the heat to penetrate deep into the wing meat. Mark had a brilliant twist to the dish. He suggested a celery and carrot slaw with a blue cheese emulsion. This perfectly complimented my classic butter and Frank's Red Hot sauce. These prehistoric sized flappers went through a three stage cooking process before ending up on the table. They were received with gasps, wide eyes, perked up noses and drooling mouths while guests visually perused the cacophony of wings hitting the table.
Course 4
BBQ wood pigeon on smoked cream grits
This bird is one I was excited to cook from the get go. Originally I thought it would be squab (a young pigeon) but when the poultry market had fresh wood pigeons we modified the recipe. All in good measure too, our squab tests turned out mediocre at best. It's a difficult bird to cook perfectly. Mark started with a bed of creamy grits with his secret ingredient, smoke powder. This created a silky base for the sweet sauce glazed pigeon filets to land on after they were kissed by the grill.
Course 5
Duck breast tacos
A mexican twist, a haute presentation and a slow preparation was the key to this dish. The ducks we picked up from the poultry market were nice and big. The original plan was to slow cook the duck legs and thighs and then pull it Mexican pork style. When we broke down the birds Mark found the breasts to be so amazing that he switched to using them instead of the leg/thighs. He applied the same slow roasting process but instead of pulling them he simply sliced them serving the taco open faced. Accompanying the red  medallions was a super fresh salsa and some queso fresco leaving the dish simple and elegant.
Course 6
Butter lettuce salad with poached quail egg, turkey bacon and shallot lemon dressing
We knew we needed a green in this mix but bringing poultry to it was the conundrum. Hardboiled eggs seemed too easy and void of unexpected flavor. Raw yolk dressing seemed forced. I eventually settled on the simple, as is with most of my salads. Some fresh farmers market greens, frisee and soft butter lettuce, became my base. I lightly dressed them with some oil and citrus. That was sprinkled with a few crispy, turkey bacon flakes to create a nest for the final ingredient. Of course we wanted to use quail and the birds delicate, distinct flavored eggs were the perfect choice. Sous vide poached to a temperature that gave the egg a custardy look was nestled into the center of each plate. The idea was to allow the salad to "hatch" by bursting the delicate egg white allowing the yolk to run through the lettuce nest mixing the final ingredient into the dressing.
Course 7
Steak and Potatoes: Ostrich fillet on horseradish mashed potatoes
In the test kitchen this cut deceived even me and I knew what it was. Cooked properly ostrich has an almost unidentifiable taste, texture and appearance to beef. Playing on this we decided a "steak and potatoes" course was the perfect next dish. Borrowing one of my buddy Ben Long's favorite steak sides, horseradish mashed potatoes, we hoped to play with our guests minds a little bit. Seared quickly on the grill the same way you would a steak, these thick, breast cut, ostrich filets were placed atop the mashed potato with their medium rare centers pointed outward to start the deception. The kosher salt and course black pepper seasoning added to the charade as guests tongues began to decipher the dish. I love presentations like this because these types of culinary variances challenge both tastebuds and imagination for not just the chefs but, more importantly, the diner.
Course 8
Heart, liver and skin yakitori
We ordered 14 ducks and 14 pigeons from the poultry market. It took Mark two and a half hours to break all the birds down. We cleaned and prepped over 40 turkey wings. This left us with a plethora of "extra parts" to play with. We decided to turn to Japan for inspiration. Having spent some time in Tokyo, I have fond memories of the yakitori restaurants that pepper the different neighborhoods. I decided to work with the hearts, the duck liver and the excess turkey skin. I wanted to create a skewer that had three distinct bites. For this I called in a few other cultures. The hearts were braised in pigeon stock made from the stripped pigeon carcass' on hand. The turkey skin was deep fried until very crispy. The livers were quickly poached in water to solidify their texture. Then they were all skewered and grilled for a few minutes on each side. As a final flavor boost I added a drop of sirrachia to the heart, a dusting of smoked spanish paprika to the skin and a dollop of curried mustard to the liver.
Course 9
Flan ice cream with pumpkin carmel sauce
After eight courses we were finally tip-toeing into dessert. A custard based flan ice cream seemed perfect. Nodding to the change of seasons some fall squash was added to the base. Finally it was finished with a ribbon of carmel sauce.
Course 10
Gin egg white milk shake
That was followed by a frothed gin and egg white drink finished with a flavorful orange peel. Mini, dramatically white and successfully bird themed this post-meal drink bubbled across our guests palettes sealing in the flavors from the previous nine courses.
Course 11
Salted caramel bouillon cube
As a final treat we presented our take on the bouillon cube. The only dish of the night not containing a poultry part but the exception was allowed because of the visual nod to the animal class we had just finished celebrating.
As the final course was served Mr. Hitchcock's classic horror film finished up allowing the guests to digest and discussed the eleven course parade they just experienced. This brings us back to that kitchen high five. The kitchen sipped some celebratory gin shakes and smiled ear to ear with accomplishment. Then we turned back to our posts to start the clean up. Proper celebration waited a few hours longer until we converted the restaurant back into an apartment.
Of course no recap is complete with out recipes and a shout out to the crew. They are the ones that do the heavy lifting that keeps these dinners going. The biggest thanks always goes to our gastronomical guests. Seeing them mingle and eat warms our hearts and gets us one step closer to our mission of bringing back dinnertime. Our next dinner will be announced shortly make sure you are on the list to get the update.
Recipes
Horseradish Mashed Potatoes
Ingredients:
2 1/2 pounds baking potatoes, peeled and cut into quarters
3/4 cup warm 1% low-fat milk
2 tablespoons fat-free sour cream
1 1/2 tablespoons fresh horseradish
1 teaspoon kosher salt
1/2 teaspoon freshly ground black pepper
Directions:
Place potatoes in a large saucepan; cover with water. Bring to a boil; cook 20 minutes or until very tender. Drain. Combine potatoes, milk, and remaining ingredients in a large bowl. Mash potato mixture with a potato masher. Serve with ribs and cooking liquid.
Chicken Meatballs (Adapted from The Meatball Shop)
Ingredients:
2 tablespoons olive oil
2 pounds ground chicken breast
2 large eggs
1/2 cup 4c breadcrumbs
1/2 cup chopped fresh parsley
1/4 dry white wine
1 tablespoon salt
1.5 teaspoon ground fennel
1 teaspoon ground Black pepper
Directions:
Preheat the oven to 450°F coat a 9 x 13″ baking dish with olive oil and use your hand evenly coat the entire surface. set-aside
Combine the ground chicken, eggs, breadcrumbs, parsley, wine, salt, fennel and pepper in a large mixing bowl and mix by hand until thoroughly incorporated.
Roll the mixture into golf ball sized egg shapes about one and a half inches long. Make sure to pack meat firmly. Placed the balls in the  baking dish being careful to line them up snuggly and evenly.
Roast for 20 minutes or until the meatballs are cooked through. A meat thermometer inserted into the center of the meatball should read 165°F
Let cool for five minutes in the baking dish before serving