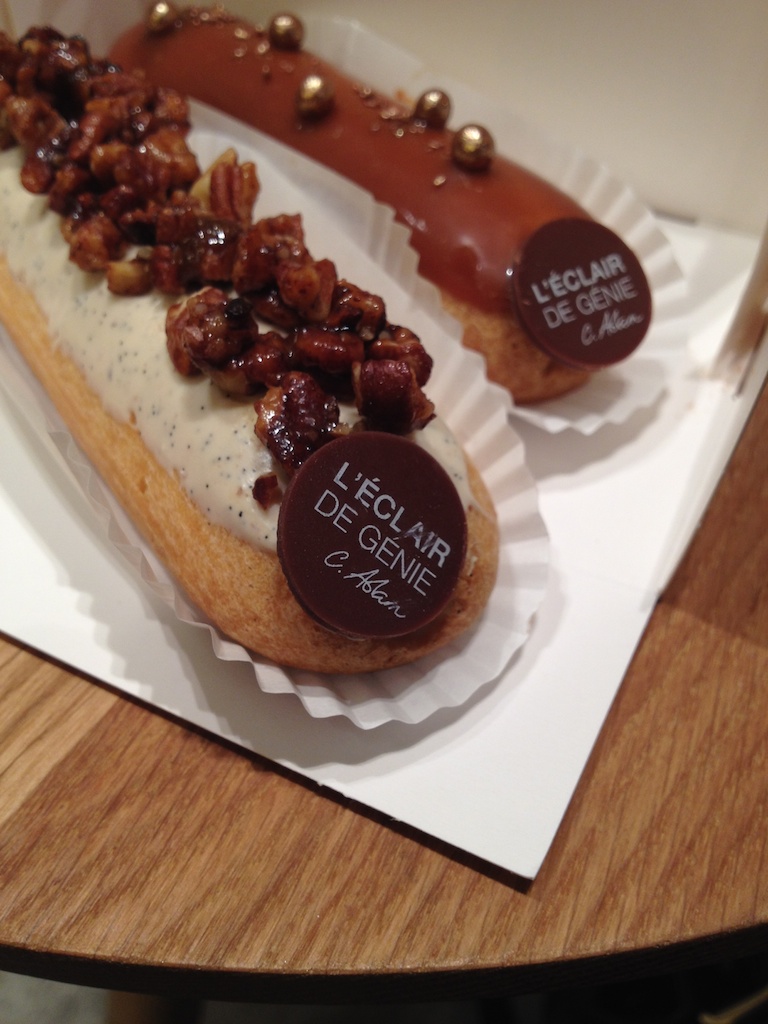 Another post from our Paris adventures. I know, Paris seems like so long ago with India and London now in the bag. Those posts are coming soon. They are already in the que we promise.
This was a quick, impulsive (well…stalkerish), quick stop.  Christopher Adam, the luxury pastry chef, opened this concept shop in The Marais that specializes in eclairs. We're not going to lie here. When we saw it we immediately thought of the LES in Manhattan. Hipster food concepts with single food focus are all the rage. Apparently that's made it to Paris.
The shop was closed when we discovered it but we stalked it for a few days forcing ourselves through The Marais between neighborhoods on hopes that we'd catch it open. And, we did. Like two kids in a cake shop…wait, we were in a…we went bizerko on the different flavor combinations. Limiting our minds with consideration for our precious stomach real estate we settled on two.  First was a Vanille noix de pécan which was Madagascar vanilla creme filled with caramelized pecans. The must have was the caramel beurre salé, a mascarpone caramel salted butter creation. Obviously well worth the diversion. Hurry, the shop won't be there too long.
Go there:
L'éclair de Génie
14 Rue Pavée
75004 Paris, France
+33 1 42 77 85 11
leclairdegenie.com‎