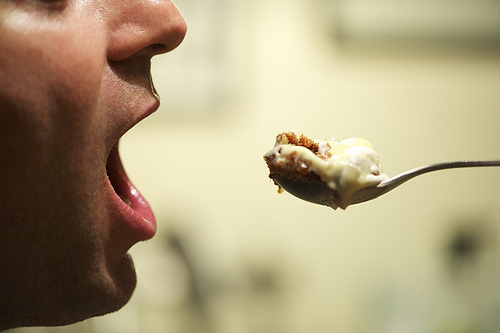 I learned it from my grandfather. Of course, he did it in 7 different languages including original Latin and the occasional Portuguese. It's been a while since we looked back at the roots of this blog. Taking a closer peek, the reasons why we started it and the reason why we continue to do it have not changed. What has changed is how we do it. If we really put this under the microscope, this blog started at birth. Although wordpress didn't exist in 1974, pencil and paper did. For as long as I can remember I celebrated food. Food inspired me and was visible in what I wrote, drew and did. I was taught immediately the importance of "Dinner Time" and the therapeutic nature of eating with family. When I was old enough "Dinner Time" became about discipline and work ethic as well as a check-in. I always say you laugh and cry, shout and smile at the dinner table. That is a universal truth around the world.
Most of you know, I have traveled extensively and witnessed first hand how cultures are oddly similar and extremely different. I compared some of my more unique meals and noticed one heartwarming trait. Whether it was fresh cooked grubs and rice wine in a Vietnamese hut, a 12-course nouveau german meal in Berlin ending with cuban cigars and a single malt scotch OR my 27 person Christmas Eve dinner complete with 27 lobsters and six other over-the-top fish dishes, you get intimate time with those at your table.  Thinking more about this I began to wonder how many of us take notice of this and, further more, use it to enrich their lives.
Now, I am not getting all psychological or mushy here but every meal you eat with someone you have their attention for at least 30 minutes. A lot happens in those 30 minutes. What I am attempting to bring to light is, no matter what happens, it bring you closer to the people you are sharing your meal with. Many of our "Dinner Times" were riddled with arguments and yelling and ended with huffing, puffing, crying and the occasional "storm out". Even with that, it brings you closer. People you have argued with you know better than those you have not. Think about that for a second.
My grandfather didn't want to miss a second of this precious time and that is why he always had a piece of fruit half in his mouth as he was shouting to the other end of the table. He understood it. He embraced those who surrounded him and that, believe it or not, made the food taste better. So, this blog is NOT so much about finding  and creating great food. It is about recognizing the moments spent eating and thoroughly enjoying every second and every bite.
I didn't realize most people didn't grow up the way I did. A large Italian family where most of the time everyone gathered in the kitchen catching up on things while chopping, stirring and tasting. As more friends came over for dinner throughout my childhood I realized a lot of them had the same reaction. Their house didn't work like that. It confused them maybe even scared them at first but they always came back. A meal at my house is like a drug. Once you get a taste of the chaos you need more. As Anthony and I travel the world we bring this infectious etiquette with us. From county to country we make friends and are welcomed into their homes and their lives as "family". On the flip side, we still invite friends to "Dinner Time". Some old and lots new. Between the monthly supperclub we host on my back deck, the myriad of places we travel and our frequent visits to our "family" tables we will never run out of delicious and interesting stories to write on this blog.
What started as a place for us to put all these stories has evolved into a list of people, places and things that we define as Forking Tasty. At it's core it is still about the next meal. Speaking of the next meal, I think it's time I close my mouth, swallow and figure out what I am eating next with who. It's nearly, "Dinner Time".