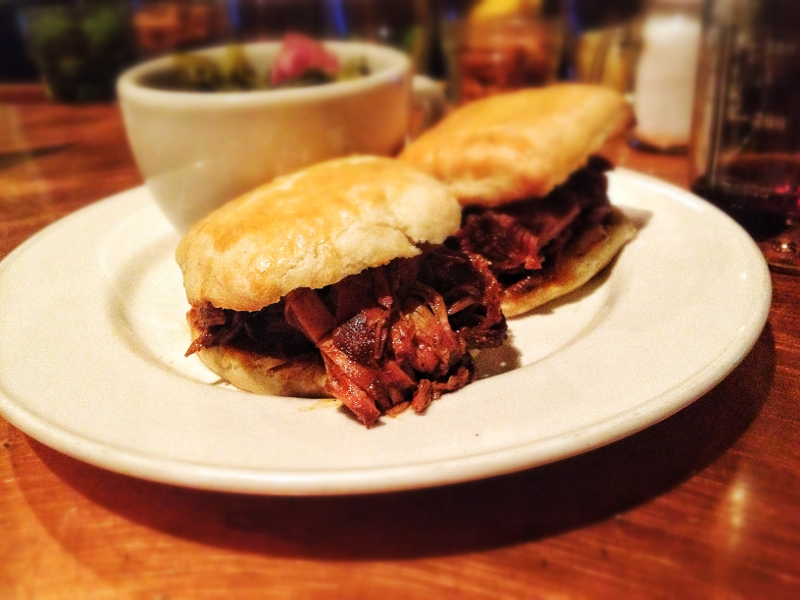 Eating San Francisco
I left my heart and confused my brain! San Francisco definitely has my heart. I consider it the only other place I have really lived other than NY. I sometimes dream of moving back for the landscape, weather and food. Unfortunately my hyper active, NYC brain quickly reminds me that I love NY for many reasons San Francisco sometimes seems to lack. This struggle will never end. The conflict will flip flop in my brain depending on the season, the day and sometimes even the bite.
This year I have been there a lot. It's not a cheap city but it is possible to do on the cheap. Below is a mix of those cheap and NOT so cheap possibilities. The itinerary covers a tasty and fun tour of my second favorite city in the US.
The Bites
Philz Coffee: San Francisco is arguably the most snobbed up town when it comes to coffee. Sorry Seattle. The barista royalty runs the spectrum of shops from Blue Bottle (for foodie's with time to spare) to Four Barrel (cycler hipsters) to Ritual (dot commers). Forget the hype and make a trip out to one of the oldest small batch bean to cup shops in town. Philz not only has an incredible selection of coffee to choose from but they add the milk and sugar for you. That's a custom that has fallen by the way side in this new counter coffee culture. I can get behind better roasted and brewed coffee but I still like a barista who "makes up" my coffee. Philz is worth the trip to the Noe Valley neighborhood. When your done caffinatting, take a walk down 24th street and check out all the specialty, mom and pop shops from cheese to kids clothes.
Calabria Bros: SF has lots of Italians which means lots of salumi. Add fresh bread to that and you have the makings of some killer sandwiches. The boys over at Calabria brothers use the best meats, many of which they make themselves. They pile it high and have all the necessary add ons that make these monster Italian sandwiches a small feast. Be careful you don't slip into a salumi coma. Plan to walk it off by heading into the mission neighborhood afterwords. Although, you might want to take a bus for the first leg of the trip to digest.
M+L Market: San Francisco has a lot of sleeper spots that you'd never even give a second look. M+L is one of those. Inside it looks like a run of the mill market but it's home to one of the best roast beef sandwiches I have ever had. Check dates and times because their hours are wacky. Plan a day around this sandwich. I promise you won't be disappointed.
SOMA StreetFood Park: One of the newest spots in SF is this brilliant amalgamation of the cities food truck trend. Part parking lot and part Asian hawker market the trucks rotate weekly so you're bound to always have new cuisines to try. On my last visit we sampled some BBQ, Indian and pizza all in one trip. Plan to spend a few hours eating and sitting. The people watching is as good as the grub.
Tartine: Heralded as the best patisserie in the country by many, the treats at Tartine hold up to it's reputation. On a recent trip I stayed in an AirBNB property just down the road. This afforded me the ability to get up early enough to beat the line. Yes, there is a line, always. You will wait. Just be patient. My alarm buzzed 30 minutes before they opened springing me up and out the door in less than five minutes. My two block walk to Tartine's front door gave me 15 minutes before their doors opened and I was still 5th on line. Once inside the smell of fresh everything was over whelming. I went for a giant sampler box but if you are not feeding a group I'd say the must haves are the plain croissant, it rivals Paris, and the morning buns.
Farmer Brown's: A BBQ Soul Food restaurant on the edge of the seedy Tenderloin neighborhood and Market Street has been around for a few years now. They run the expected southern specialties but twist them up a touch. Eat at the bar for a more authentic and casual experience. I hit it hard on this visit with salad, ribs, sliders and mac + cheese making up my over zealous order. Wash it all down with a few ice cold beers that fit the theme. With names like Lost Coast 8ball Stout and Brother Thelonious how can you not drain a few. The name sake dish here is the fried chicken. It's so good it spawned a mini outpost called Lil' Skillet (see below).
La Ciccia: A Sardinian restaurant in Noe Valley this family owned and operated spot is a true gem. Make sure to get the fish roe pasta it is unique and a specialty of Sardinia plus, it's super tasty.
Sodini's: My favorite Italian-American restaurant in San Francisco lives in North Beach. Down the block from the famous Caffe Trieste and Molinari's Italian store. Now run by the brother and sister of the original owner, be prepared to wait but one of them will take care of you at the bar with a nice glass of vino to pass the time.
Ike's Place: One of the best and most unique sandwich shops in San Fran. Long, long lines though. Be prepared.
El Toro: My favorite burrito spot for the last 15 years. Go super burrito. The story of how I discovered this is not for publication. Let's just say it happened when I was 20 on my first visit to San Francisco where I stayed above a strip club and battled mouse sized roaches before bed.
Little Skillet: Farmer Brown's alley out post for delicious fried chicken.
Rhea's Deli and Grocery: The latest in the hidden SF Sandwich Shop craze. Their signature Korean Steak Sandwich is marinated rib-eye in soy sauce with garlic, ginger, honey & spices served on an acme organic roll. Plus, your choice of cheese, chili garlic sauce, house pickled red onions, jalapenos, grilled onions, fresh red onions, iceberg lettuce & garlic aioli. Choose it all and dive right it. Other outstanding sandwiches are the hot link Sandwich and Tartine panini. The drink selection is extensive as well with some interesting and rare finds. Walk one block to Dolores Park and pop a squat on the top of the hill to eat your monster with one of the best city views ever.
The Rest
Thrift Town: I've been patronizing this mega second hand store in the heart of the mission district since my first trip to San Fran. You'll find everything from clothes to houseware's to trophies.
St. Regis Hotel: Don't stay here unless you have crazy money, can splurge or finagle get a deal (as I did for a work project I was doing in town). The experience the service and luxury are unparalleled. Every person in the hotel knows your name and their famous butler service is no joke. It's well located between SOMA and the financial district. A walk to North Beach, Union Square and Chinatown are easy plus it's right by the bart/MUNI station which can take you deeper into the residential neighborhoods of San Francisco or to Oakland.
AirBNB Near Tartine Bakery: An awesome find that includes parking. Marcus' two bedroom private house only goes for $265 a night. Divide that by you and your three pals and that's cheaper than you can find anywhere in San Francisco, let alone a place to crash one block from the white hot Valencia street scene.
The Pictures
Philz coffee in Noe Valley
Dandelion Chocolate's store is on the super hip Valencia St. in the mission.
San Francisco sunset
Mac And cheese at Farmer Brown's
Del Popollo Pizza at the SOMA Street Food Park
Breakfast amuse bouche at the St. Regis.
Room at the St. Regis
Korean Steak Sandwich at Rhea's Deli Grocery