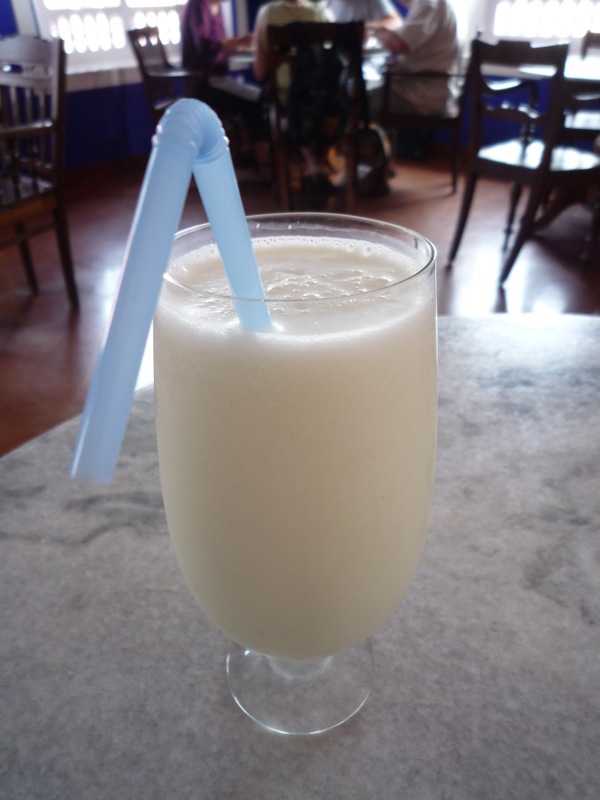 People say India is completely crazy and that it fries your nerves. They are right to an extent. As a New yorker and avid traveler i think I was able to deal with the constant horns, movement, shuffling of people, spitting, cow crossing and blazing sun. But from time to time even I needed a refuge. After a long morning exploring Jewtown in Cochin I poked my way around the side streets looking for a spot for lunch. I happened along Caza Maria, which was noted in my guide book, and I started up the long set of stairs up to the restaurant. Once upstairs the corridor opened up into a large room with large, arched, glassless, windows along the wall that looked out onto the street. I was seated at a table on the opposite wall where the sound of the street was muffled into background music. Three giant fans blew around the warm, think air in the room creating just enough breeze to be cooled. I browsed the menu that had been placed in front of me with little regard for time. After the waiters third attempt to take my order I had finally decided.
I started with the yogurt drink pictured at the top. It was made with cucumber and sea salt. It was very fresh, cold and tasty. This chilled me out even more both mentally and physically.
Next up was this fish curry and coconut rice. Again they used kingfish, an apparent staple in Cochin. Both were good.
They were not great and not bad but with my current mind set and ultra-relaxed mode the food was perfect. I sat nibbling for at least an hour. My mind drifted in and out of thoughts from what I did yesterday to the paint color on the wall to what would my next meal be.
Once I finished the plates the waiter removed them leaving me with an empty table in an empty restaurant. I ordered a chai and sauntered over to one of the windows to look down at the street happenings.
I stood in that window sipping my tea for another hour just watching the comings and goings of Cochin. To say I was relaxed at this point would be an understatement. I had managed to put myself in a near sleep state by finding this gem of a spot perched up above the chaos. Resisting the need to leave and the inevitable end of my calm I lingered as long as I could with out becoming a nuisance to the staff, who by the way had cleaned up the restaurant and were relaxing in the living room in the adjoining room. Finally I convinced myself if I didn't leave now I would have to have dinner in this place and with that I slipped back into the corridor, down the steps and back out on to the busy, hot street. I managed to keep my calm for a while after rejoining the hustle but eventually lost it when a tuk tuk and dump truck almost collided behind me avoiding a large white bull that had wandered into the narrow Cochin streets. Nothing lasts forever, right?