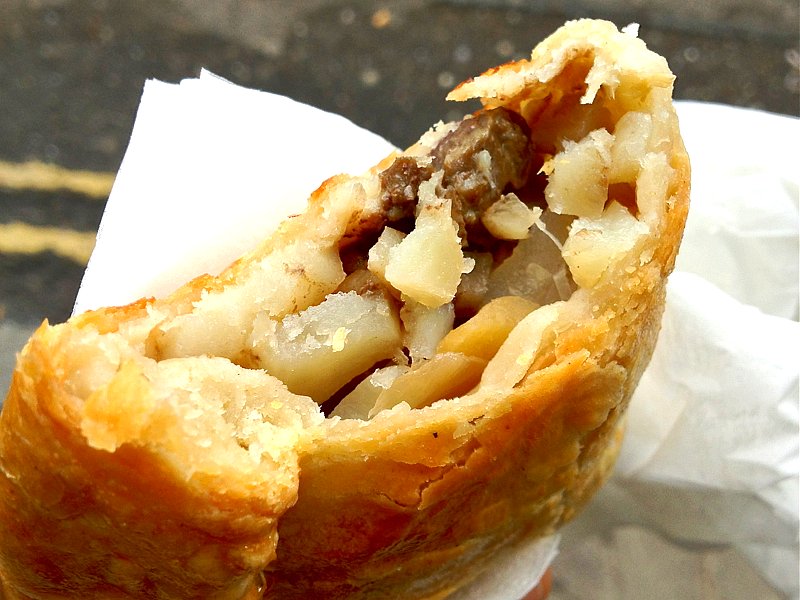 If there's one place you have to visit when in London it's Borough Market. Yes, it's a little touristy. Yes, It can be crowded. Despite these negatives the culinary wonders that can be seen, smelt and tasted far outweigh the annoyances. I've been here before. You may remember. This time it was all about a traveling snack. Having just walked from Tower Bridge and heading to Knotting Hill, I needed a tie-me-over for this uber London crossing.
Pocket snacks have been around for a long time. To credit the origins we must thank Cornwall, Great Britain. The spread of this brilliant idea came from Cornish Minors and their need to have a hot pocket snack with them deep in the mine for lunch. As they travelled the world to mine different lands the Beef pastie, what you see above, became filled with local ingredients. Most known now is the empanada and the Jamaican beef patty.
The english make amazing meat pies, which is a whole different post from this trip, but I needed something that could travel. Meat pie ingredients in pocket form was just the thing to keep the momentum and fill my empty stomach. Believe me it was hard to pass up the bangers, pies, sausage rolls and Maria's famous bubble and squeak bap but my choice won on functionality. Delicious and fresh in it's own right the potato, cabbage and beef filling gave my stomach something to focus on for the next 2 hours until I reached a suitable Knotting Hill pub.
Entrance to the market.
Maria's delicious and famous stand in Borough Market.
Butcher in Borough Market.
Pie stand.
Award winning pie stand. This is where my pocket came from.