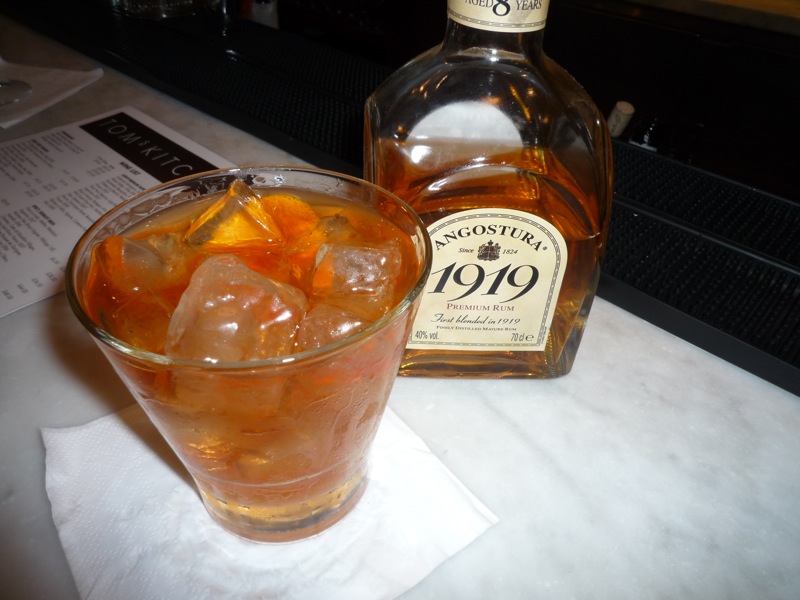 You all know I am not the biggest fan of London food. But this meal definitely turns that idea on it's head. I am going to let the pics speak mostly for themselves here. Before we get into that here is some ambiance. We arrived in a quaint part of chelsea and sauntered into the clean but rustic feeling restaurant. Because we were a bit early we were asked if we wanted to have a cocktail at the upstairs bar. (part of Tom's). We headed up the steps, parked ourselves at the slightly more modern designed bar and ordered some cocktails. Continuing with my "surprise me spirit" game, I asked the mixologist to make me something with rum. The drink he returned with was so great that it warranted being the lead pic for this story.
I never liked Old Fashioned, but when made with this delicious aged rum it changed my entire perspective. In fact, it was so good that it instantly became a drink in my very slim repertoire. Finishing the low ball the rest of our party arrived and we headed back down to the restaurant to start the feast. Tom's Kitchen is chef Tom Aikens more casual Chelsea restaurant. Tom is talented. He joined Pied à Terre as head chef in 1996, after stints under Pierre Koffman, Richard Neat, Joël Robuchon and Gérard Boyer, and opened the much-fêted Tom Aikens in 2003. He then opened Tom's Kitchen after that.
So what did we eat? All the below was deliciously prepared upscale takes on British comfort food. The quality, preparation and taste temporarily made me stop bashing British cuisine.
Pan Fried Foie Gras with Free Range Duck Egg, Ventrèche Bacon and Balsamic Shallot Jus.
Fish and chips. Beer Battered Line Caught Cod with Big Chips & Tartare Sauce.
Mac and cheese with Braised Ham Hock
Bottom line here is, if you are in London, GO TO TOM's.
Tom's Kitchen
27 Cale St, London
+44 20 7349 0202
http://www.tomskitchen.co.uk/