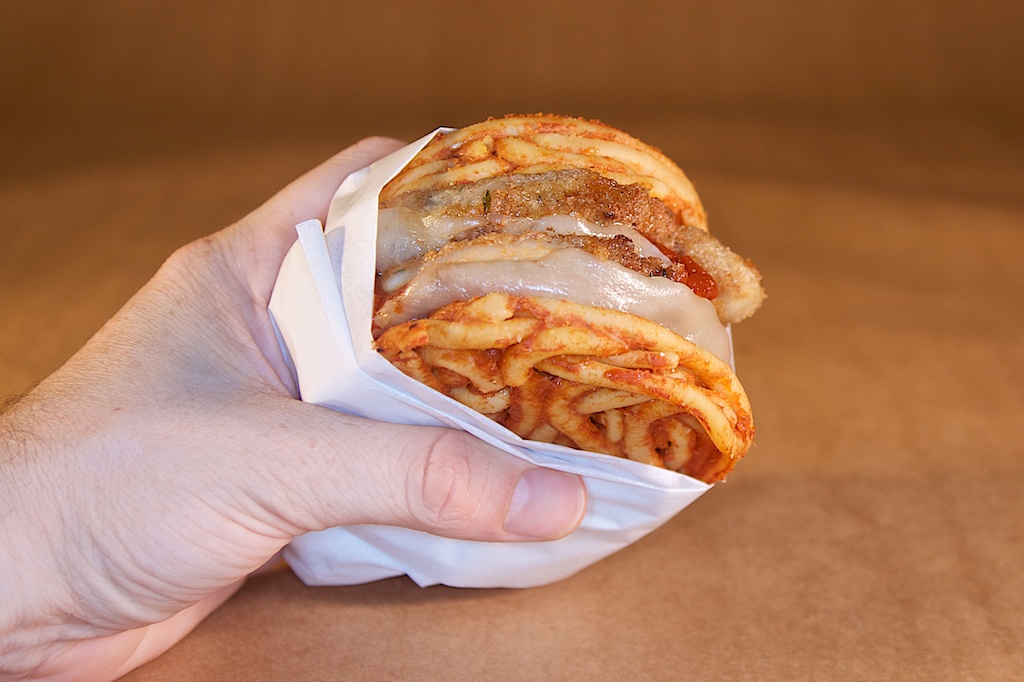 Two Goombah's answer to the Ramen Burger
In celebration of fanatical food culture hitting overdrive and the onslaught of Italian-American reality shows putting us batchagaloop's temporarily in vogue, we thought we'd contribute to both with our own little creation, The 'Roni Roll. Obviously inspired by the now famed Ramen Burger, we took what we knew and made our own little sensational(ized) sammie. At first we thought it was a quick end of summer test kitchen escapade but after a few taste tests and the stamp of approval from Uncle Tony, we realized we we're onto quite a tasty, compact, on-the-go, goodie. Seriously, these things taste AWESOME! Not nearly as messy as you'd expect too.
We started with the bucatini-chicken parm. It took a few rolls to perfect the technique of a fresh pasta bun holding together but still tasting delicious. The right temperature proved key. Once we had the bun, building the rest of the ingredients was as simple as your standard classic preparations. Next we brainstormed some of our favorite pasta and sauce combos as well as classic meat dishes. A game of mix and match netted us out with the below menu that we're pleased to announce will soon be available in select locations in North Brooklyn. We threw in a succulent eggplant recipe for the veggie set which rounded out the six different 'Roni Roll combinations.
We're still in final development so jump on the 'Roni Roll list to be notified when we start serving. Ahhh. Ohhh. Boom! Done!
Subscribe

for 'Roni Roll availability.