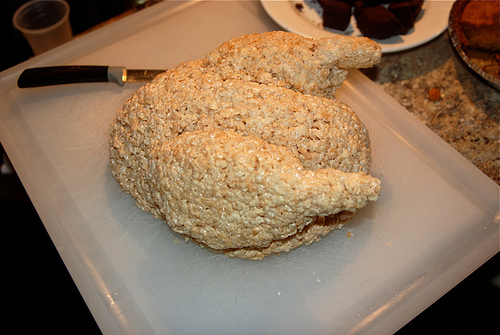 This past Sunday was my annual ThanksBRINGING Potluck. As the name implies, I invite my friends into the kitchen to help craft a monumental meal from all cuisines in an effort to unite us around the thing that has been my true north since I was a little boy, dinnertime. I'll spare you the diatribe about dinnertime for now. All you need to know is that it may be the single most important part of any child's upbringing. Mine obviously had significant impact on the food side of things.
This year we tripled the meats added a spit roasted lamb leg and a smoked brisket to the, now traditional, Indian spice brined, fried turkey. From there the dishes ran as far as a Puerto Rican arroz con gandules to a simple Pennsylvanian mashed potatoes. The table was once again covered with sides, mains and appetizers leaving not even an inch of space for more. By the time dessert lined up on the counter the satiation had set in. The troops needed to rally hard to find any spare room in their stomachs. Chocolate cake, Pumpkin tiramisu and fresh cookies galore piled up high making choices very difficult. Just when we thought it was over two more friends showed up with this hand crafted Rice Krispies treat turkey. Amazingly, my crowd mustered up the strength to carve this suger bad boy up until just the wish bone was left.
On that note, I wish you all a Happy Thanksgiving. If you'd like to join us for ThanksBRINGING next year make sure you are on the list. I will leave you with a quickie slide show of some of the tastyness.