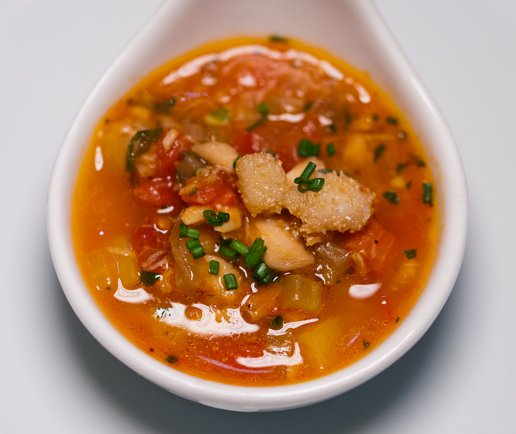 photo credit: Kun Kim
The great escape finally happened.
When hurricane Irene blew in we didn't know if this dinner would ever happen and we never thought a "true" escape from New York would be necessary. Luckily we got it back on the calendar ironically a day before perhaps the most somber escape from New York ever. On September 10, we filled a table of 20 to celebrate NY, it's food and the sci-fi, 80's cult classic Escape from New York.
For those who are unfamiliar with our dinners, Reel Tasty is Forking Tasty's summer supper club where Aimee, my co-chef/host, and I screen a movie on a 2 story building while our guests sample some of our latest and tastiest gourmet dishes. Although, the movie and the very important anniversary don't really compliment each other, it did provide a vehicle to honor New York, get an on screen peek at the World Trade Center and respect those heros and victims in our own little way. The rest of the night was about the sci-fi hilariousness and NYC amazingness (manifested through food).
The evening began with a personalized "fun pass" for each guest which explained the gastronomic ride they were about to embark on.
photo credit: Kun Kim
We started off with a few snacks appropriately made for the theme. Candied mixed nuts, AKA Nuts about Nuts, and chopped liver with bagel chips provided the necessary stomach preparation that a homemade snake bite cocktail would require. For those of you who simply are out of the loop, Snake is the main character of the movie. Ahhhh, now ya get it.
photo credit: Kun Kim
In case the snake bite was a little much, a little early, some Brooklyn Lager was on hand along with two delicious New York wines hand picked by Lily, of Dandelion Wines. As we saw that snakebite pitcher bottoming out we knew we needed to send some more substantial treats to the deck. A delicious first app and great liquid absorber, Aimee's homemade NYC pretzels with mustard seed butter were first out.
photo credit: Kun Kim
Next out was the Manhattan snake chowder you saw at the top of the page followed by our cute and fun little take on diner food, mini gyros with tzatziki.
photo credit: Kun Kim
As our guests enjoyed, the kitchen was busy prepping for the first round of entrees.
photo credit: Kun Kim
Olive oil poached salmon with roasted tomatoes, pickled onions and toasted garlic butter topped bagels got the quick attention of the table.
photo credit: Kun Kim
That was followed by a heaping board of grilled pizza. My cousin Mario showed me this technic a few years ago and he swears by it. It is amazing for a new flavor on pizza, that grilled char, as well as keeping my apartment cool during those hot summer nights. A mix of provolone, salumi and my standard marinara topped the grilled dough giving it just a touch of bite.
photo credit: Kun Kim
The table got busy mingling and munching as we prepped the next two entrees.
photo credit: Kun Kim
Just as our escapees were finishing off the pizza and the salmon we came by with our next two entrees. The first containing our only "service announcement" of the evening. What was to be a roof top farm heirloom tomato salad turned into a green market harvest due to Katrina's little fit which upset the rooftop crops. Never fear, the roof recovered.
photo credit: Kun Kim
The salad which was simple dressed in extra amazing olive oil and a splash of cider vinegar (honestly that is all it needs when the tomatoes are so perfectly ripe) was followed by the namesake dish of the evening. Our New York strip steaks with lemon bearnaise sauce came just in time to fix our carnivores worry that their stomach was filling up too fast.
photo credit: Kun Kim
With the table nearing satiation and the conversation flowing faster than the wine we knew we had done New York proud. The sun had long dimmed behind the building facade movie screen. With a controlled dimming of our fabricated lights, the screen took over the deck and began to dominate the conversation. Of course we wouldn't send our guests into a futuristic New York epic without something to munch on. A smoked bacon salted popcorn accompanied the opening trivia game and following sci-fi madness.
photo credit: Kun Kim
A good 67 minutes later, just as Snake was escaping New York, we had just 2 more official temptations to serve. Aimee's amazing ricotta cheesecake with mixed berries slipped in front of our screen mesmerized guests.
photo credit: Kun Kim
Normally our final course is simply a homemade ice cream but we didn't think we could finish a New York meal with out coffee. To do a coffee ice cream didn't seem creative enough for a city that brims with art and innovation. We decided to pull a retro New York delicacy, an acquired taste I must admit, and mix it with a basic handmade sweet cream. These Manhattan Special ice cream floats provided the caffeinated pop and necessary nod to NYers morning, noon, night, midnight and wee hour staple.
photo credit: Kun Kim
A word on Manhattan Special because apparently it's not as well known as it is in the Anello household. It's an espresso soda made and bottled in Williamsburg Brooklyn. My father would drink this constantly when I was a kid. My brother and I hated it. We never understood the mix of cola and coffee but then again we didn't grow up in the 50's in Greenwich Village. That's to say we always chalked it up to a city thing. Experimenting with the beverage for theme reasons seemed right. But, when I stumbled on the ice cream float I actually found the perfect place for this beverage to live. Deep inside an ice cream filled vessel was a fantastic discovery that I now keep as a staple for any drop by guests with a sweet tooth.
One more small but eye-popping morsel surprised our guests as they departed for the evening. Handmade, mini black and white cookies were individually wrapped for each guests for their journey home.
photo credit: Kun Kim
Of course no recap is complete with out recipes and a shout out to the crew. Without them, these nights would be much dirtier and certainly a lot more difficult. The biggest thanks always goes to our guests, in this case our escapees. You guys are the best. Our next dinner is October 8th. This could be the season finally. Ariba!!
Recipes:
Lemon Béarnaise Sauce
Ingredients:
2 shallots, finely chopped
1/2 cup white wine
1/2 cup champagne vinegar
2 preserved lemons (finely chopped)
Freshly-ground black pepper, to taste
4 large egg yolks
2 sticks cold unsalted butter, cut up
1 1/2 teaspoons chopped fresh chervil
Salt, to taste
Directions:
Combine shallots, wine, vinegar, 1 tablespoon lemons, and 2 pinches pepper in a small pot set over medium heat, and reduce to about 2 tablespoons. Set aside to cool. Beat the egg yolks with 2 tablespoons water over low heat for about 2 to 3 minutes or until they become thick and foamy. Add the butter, about a tablespoon at a time, whisking until the mixture thickens and increases in volume. Add the cooled shallot mixture, chervil, and the remaining tarragon. Season with salt and pepper, and stir to combine.
Grilled Pizza
 Ingredients:
Pizza dough
olive oil
toppings of your choice
Directions:
1. Heat grill to it's hottest possible point. All burners on high.
2. Roll out dough to form pizza. Make pizzas no more than 15″ in diameter. Anything larger will be tough to manage
3. Brush olive oil on one side of the dough. MAke sure to get the entire surface. Do the same to the grill.
4. Place pizza olive oil side down on the grill and close the lid quickly. In 5 minutes remove the pizza from the grill
5. Olive oil the uncooked side then flip pizza so grilled side is facing up. Add sauce and topping. Place back on grill for another 5 minutes or until toppings are hot/melted.
6. Remove and cut to desired size. I love serving it right on the board but you can plate it or use a serving tray just as well.