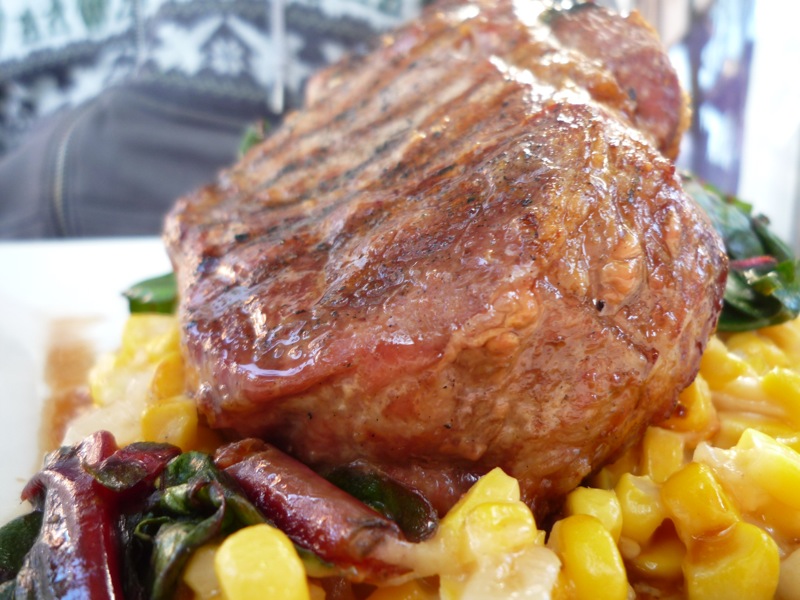 When I say this was a long time, and talk, coming. I am not kidding. I was in Santa Barbera for my great friends' wedding. The night I arrived in town I needed some tasty. I was with my work wife Jen, who most of you know. We walked the main drag in SB looking for the right spot. As we passed Pierre Lafond's Wine Bistro I was drawn in. Then I saw it. On the brunch menu was a double cut pork chop First of all, a pork chop for breakfast is KING. Second, you double cut that and I'll love faster than Tom Cruise saying "Hello" to a swollen Zellweger. But, I had to postpone the infatuation for 18 hours.
The next day I returned (hours before the wedding) ready to roll up my sleeves, sip some tasty white wine and dig on that double cut swine. Yes, I am rhyming. I brought along a few new friends and Jen of course. She was not missing this meal. We were 6 total. A few bottles were popped and we got down to the business of ordering. Ben, sitting to my left, said he would have the chop. I immediately replied by saying I would need to have that too. He gave me a look. I just met Ben. He is a food guy too. In fact, he does a great little supper club in San Fran. He is also married to my good friend Kelly. He followed his look with the best 2 words you can say to me at a restaurant. Let's share. With that, he and I were off to the races. We racked up 4 apps for the table including this lobster salad sandwich.
And then piled on the double cut chop and a roasted free range chicken for entrees.
The chicken was ok BUT the pork chop did not disappoint. Juicy, thick and perfectly cooked as you can see. I think that Lafond's can be hit or miss with what you order but the pork is so good it is worth the visit just to see the plate arrive. The wine held up to the establishments name with two great bottles of wine poured over the 2 hour meal.
Before we knew it the wedding was to begin in 2 hours. With a mild mid day buzz we strolled home to change with the warm Santa Barbara sun keeping us warm and "fuzzy" as we strolled.
Pierre Lafond: Bistro
516 State Street
Santa Barbara, CA 93101-1602
(805) 962-1455