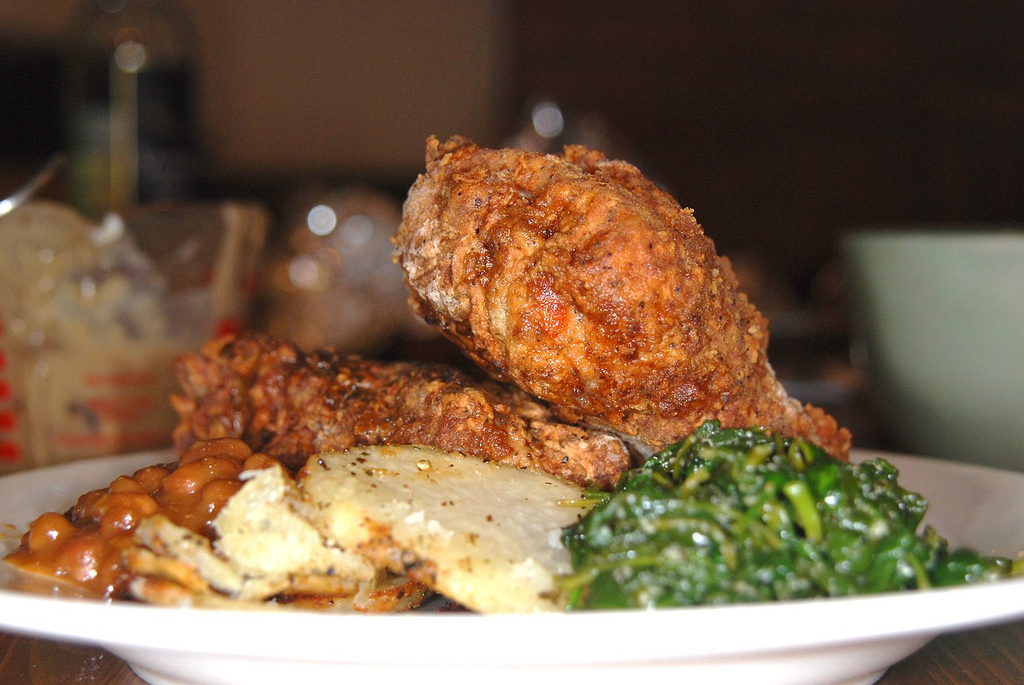 American vs Italian Fried Chicken
Saturday I decided to fry some chicken. After 2 weeks of hints dropped by the Canadian I figured I couldn't escape the gentle coaxing any longer. It's not that I didn't want fried chicken, it's just that…well…it's a big, smelly, oil riddled production that always leaves the far reaches of my apartment smelling like a roadside joint in north Georgia. In addition, you never make just fried chicken. The chicken is just the gateway to creamed spinach, fried potatoes, beans, beer and the occasional hard narcotic. Ok, that's a step too far, unless you can overdose on canola oil. The picture above reveals the ultimate success in the aforementioned madness. It wasn't until Sunday when the point of this post was revealed. After such a calorie-counting-less indulgence I decided to keep it simple and clean on Sunday. Or so I thought.
I popped into the supermarket late Sunday afternoon and quickly, instinctively, picked up a few items needed for the meal. I have done this dish a thousand times. Chicken, arugula and lemons filled my basket as I broke for the checkout and hit the bricks back home in record time. It wasn't until I pounded out the chicken breast and it hit the sizzling saute pan that I realized what I had done. I was making fried chicken again.
I am not an idiot. I realized the ingredients were the same. But, when you think of fried chicken as an American, you think of a 10 piece bucket. You think of a bone-in piece of chicken battered and deep fried. It got me thinking, do Italian's think of chicken scaloppine as fried chicken the same way we do about the Colonel's best? Granted there is less oil involved and it's olive not vegetable oil BUT it's still basically the same. As my giant, flat, boneless bucket of KFC sizzled in the saute pan I pondered this further. Concluding that fried chicken is much like sausages, every culture has one, I resigned myself to this notion. Having grown up with fried chicken scaloppine as a fast mid week meal my mother would pull together I incorrectly categorized it as normal. Normal usually equals healthy in my house. Clearly not the case. Although, a side by side caloric and fat content analysis probably deems the American fried chicken the loser. The point is that we see things as a result of our environment and our point of reference. As my dad always says, you can be a genius or a fool but you are still a product of your environment. Countless episodes of Wife Swap has shown us that.
Let's not forget the simple truth in this story. I cooked, and ate, fried chicken twice this weekend. Which was better? Ha ha, What do you think?