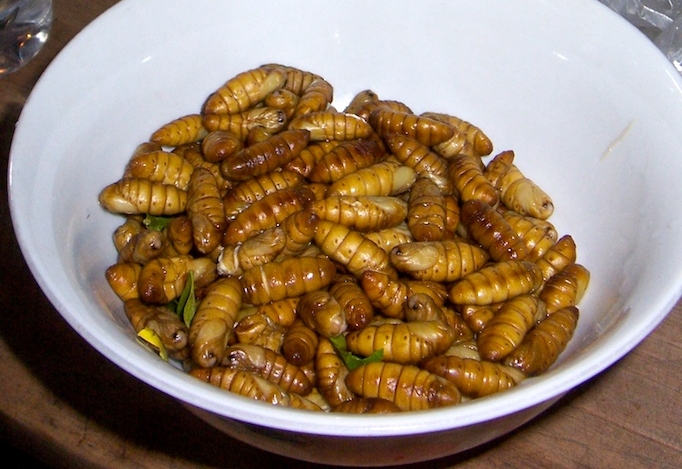 They say bugs are the next big thing. Of course it's mostly scientists saying this not chefs so what that really means is that it's in the marketers hands to listen to the social psychologists about consumer acceptance patterns so that the world doesn't run out of hamburgers. While they are sorting that out let's take a quick trip to a small French hill town in northern Vietnam, Sapa. Sapa is an overnight train ride north of Hanoi. It's only a few miles from the Chinese boarder. The culture mix up there is serious melting pot. Directly surrounding Sapa are a series of small villages that still live with indigenous tribal roots. My guide for my time there was Tran, a barely 18 year old, english speaking Sapa local. Tran and I got along swimmingly and that lead me deep into the villages on motorcycle. On our final day of exploring the villages and meeting the families that inhabited them Tran took me to a families house in the village of BanHo.
All day something was hanging from his handle bar as we motorbiked up dusty paths, down burning rice patties and over streams on craggly bridges. Once invited into the families home I found out the bag contained a gift of pork for the home. As I peered around I saw a make shift kitchen that only this video can explain. (Minute 4:56 for the impatient) A myriad of dishes were already in the works and with the pork now in house the final few dishes were getting started.
The most interesting and noteworthy is the above grubs. Simply sautéed in oil and lemongrass leaves these fat bastards play mental games with you but once you stop your eyes from doing the thinking and let your tongue and nose take control things get really interesting. The warm crispy grubs had a nutty, earthy flavor. Yes, it bursts in your mouth as you'd expect but remember your eyes are not at the steering wheel so you can get past that like a true food adventurer. A fried ravioli does the same thing. So does a soup dumpling, a pot sticker, a bon bon and a piece of Tidalwave gum. (That one is for those of you born between 1971-1988.) Those bites don't bother you so this one shouldn't either. To take this a step further, between the 8 dishes we had at this epic, village hut, lunch, this was better than most if not the best. It beat out all the pork dishes for it's simple, bold flavors and ease of preparation. It's worth noting, I did draw this conclusion before my third glass of snake rice wine. Ohh yeah, that's a thing. So my review is a sober one that surprised even myself. Maybe when we start running out of cows and Western Beef shoves a bugs section between the veal and duck I'll be first in line.
Go there: