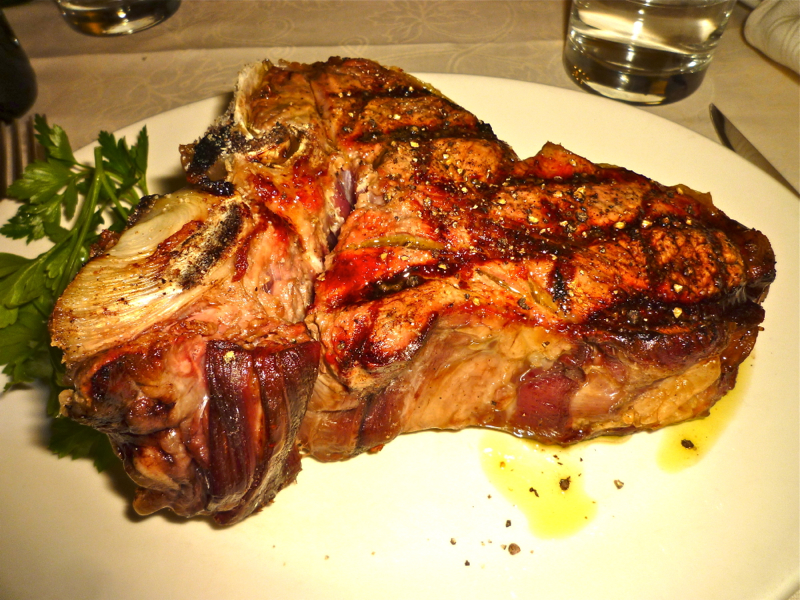 The Peter Lugar of Italy
Today, if you are a strick catholic, you're not supposed to eat meat. I figured that's a great opportunity to write about meat. I personally am about to dive elbow deep into 31 lobsters in prep for tonights feast of the seven fishes. Whether you eat meat or not, this discovery is one to add to your Italy hit list.
Peter Lugars is my favorite steakhouse. I love everything about it but specifically the cut of steak, size of steak and the way you order your steak are paramount to the experience. Florence, all of Tuscany for that matter, is known for it's beef. Just ask Dario Cecchini. It seems like everyone else has. If you ask me, Bistecca al la Fiorentina is a must taste when visiting the city. The place to have it is Buca Mario. This five steps down, dungeons lair is actually as old world as it looks. The meat is displayed in a glass case as you enter and you're escorted through the twists and turns of the low ceilinged subterranean steakhouse to your table. On the way you pass diners with enormous steaks half and three quarters eaten. Your stomach growls and your mouth starts to water.
The menu is where the "Lugars" really shines through. You order this goliath steak by number. Steak for one, two or three. Sides are all a la carte, like Lugars. The cut is a Porterhouse, like Lugars, although, the Florentine cut is a bit less tenderloin and a bit more strip than in the states. It also measures in at 3 inches thick. That's a solid half inch taller than Lugars. The beauty of butchering is how different countries cut slightly portions resulting in new types of steaks to eat. The wine list is extensive, as you'd imagine. Much better than Lugars. When the steak finally arrives it comes cooked only one way. Rare. I made it through most of this meat but slowed at the end thanks to the pasta appetizer I just had to have. In the end I'll say the experience was amazing but the taste is better in the US. Argentina still reigns supreme but that's another trip.