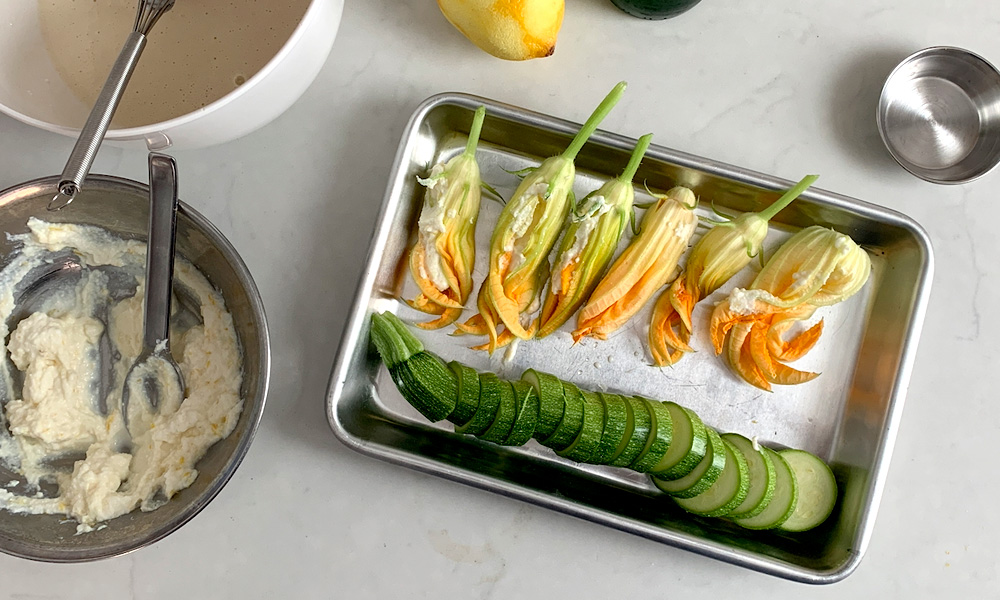 Ricotta Stuffed Squash Blossoms
This is a recipe my family raised me on. Fresh from the garden and into the fryer then straight to my mouth. Often they never made it to a plate. The beauty of this dish is that the zucchini, that's the squash most commonly grown in my fams gardens, blossom window is short. The blossoms don't last long on or off the plant. So it's use 'em or lose 'em. The twist to most of you but traditional preperation for the fellow Sicilians out there, is to stuff with fresh ricotta before battering and frying. I like to keep the stems a s long as possible to add a little bite to the delicate blossoms.
Ricotta Stuffed Squash Blossoms
Ingredients
1/2

cup

fresh ricotta

1/2

tbsp

chopped mint

1/4

tsp

grated lemon zest

pepper

24

zucchini blossoms (stamens removed)

vegetable oil for frying

5/8

cup

cups all-purpose flour

1/2

tsp

kosher salt

6

oz

chilled Pilsner, lager-style beer, or club soda
Instructions
Filling
Combine ricotta, mint, and lemon zest in a bowl.

Season with kosher salt and freshly ground black pepper.

Using a spoon, fill each blossom with about 1 tbsp. ricotta mixture.
Batter
Combine flour and salt in a medium bowl, then whisk in beer until almost smooth (some small lumps are welcome—don't overwhisk or you'll deflate the batter).

One by one, dredge the blossoms in batter, shaking off the excess; gently lay them in the oil, without crowding the pan.
Frying
In a large pot, heat about 2" oil over medium heat until a deep-fry thermometer reads 350°.

Cook, flipping once with a slotted spoon, until golden brown, 2-3 minutes total.

Transfer to paper towels to drain. Sprinkle with sea salt and devour while hot.